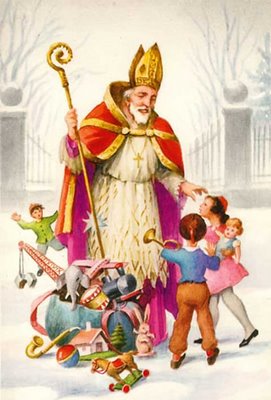 My grandfather makes a perfect Santa Claus. He is a jolly, musical fellow who still has a twinkle in his eye. When my mother was a child, every Christmas she wondered why her dad was always coincidentally at church choir practice the exact same time that Santa appeared for a visit. Each time he would return just moments after Santa left, resulting in my mom telling him he missed Santa yet again. Eventually my mom realized that her father had in fact been quite present in those Santa moments, disguised behind the beard and suit. She often tells this story with a smile on her face.
For some of you this story evokes positive emotions and memories. For others, the mention of Santa may come across as insulting, even threatening. There is a raging battle to 'keep Christ in Christmas,' pitting Jesus against Santa as if the whole season was some cosmic competition between reindeer and shepherds, Jingle Bells and O Holy Night.
Recently I came across something Shane Claiborne had written on his Facebook wall:
The original Old St. Nick who inspired the tradition of Santa Claus – Nicholas was bishop of Myra in fourth-century Turkey. Little is known about his life except that he entrusted himself to Jesus at an early age and, when his parents died, gave all of their possessions to the poor.

While serving as bishop, Nicholas learned of three girls who were going to be sold into slavery by their father. Moved to use the church's wealth to ransom the lives of these little ones, he tossed three bags of gold through the family's window. We remember this ancient Christmas gift, even as we remember that 1.2 million children are trafficked each year in the global sex trade today.
It appears that the 'real Santa' was not in fact competition for Jesus, but actively spreading the love of Jesus.
This convicts me. If it is indeed true that good ole St. Nick sold all he had to the poor, entrusted his life to Christ, and watched out for the "least of these," then Santa is more a reflection of Jesus than I am.
The real message of Christmas is that a Saviour was born to rescue us from ourselves.  It is the greatest news this weary world has ever known.  As followers of this Saviour, we are to imitate Him and love like Him. We should proclaim the Good News of salvation with boldness and celebration, and we should live our faith by addressing the real needs of those around us. In a world where Christmas has in many ways been swallowed by consumerism and greed, and Santa is known as the guy at the mall who gives us what we want, perhaps we need to reclaim the story of St. Nicholas.
It is ironic that today's Santa is associated with materialism instead of the generosity that characterized the life of this man. St. Nicholas sets an example for us of what it looks like to be the hands and feet of Jesus in a broken world. Keeping Christ in Christmas, and promoting the true spirit of our Heavenly Father, might just include telling the real story of Santa.
Michelle and her husband Jay run a not-for-profit organization called Hope for the Sold that aims to educate and fight against sexual exploitation and sex trafficking. You can find Michelle writing about sex trafficking and life on her blog.