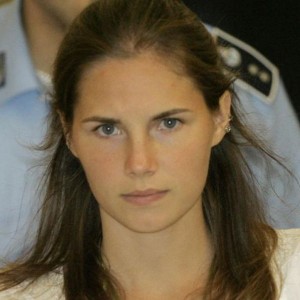 An Italian court has cleared 24-year-old  American Amanda Knox and her boyfriend Raffaele Sollecito of charges relating to the murder of British student Meredith Kercher. They were facing up to 26 years if found guilty of the murder and sexual assault of Kercher which happened four years ago. Knox gave an impassioned final closing statement in Italian. "I did not do the things they say I did. I did not kill, rape or steal. I was not there," she said. "I am paying with my life for a crime I did not commit … I am not the person they say I am. I am not into perversion and violence."
In 2007, authorities found Kercher's half-naked body, with more than 40 knife wounds, in the apartment she shared with Knox. Throughout the many years of the trial, Knox gained a huge amount of supporters in the United States who poked holes in Italy's archaic justice system. Many arguments against Knox were theoretical with no hard DNA evidence or concrete proof that she was guilty.
In Italy, the crowd seemed to be dissatisfied with the verdict with many crying "Murderer" and "Shame" outside the Italian courtroom.
Knox is expected to be released within hours.