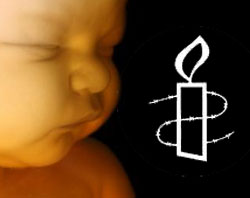 Amnesty International has approved a new policy on abortion that may cost it the support of the Roman Catholic Church.
At its biennial meeting — which concluded August 17 in Cocoyoc, Mexico — the International Council of the human rights organization "affirmed the organization's policy on selected aspects on abortion".
AI launched a 'Stop Violence Against Women Campaign' in March 2004. About a year into the campaign, it began an internal study of how that campaign related to "reproductive rights". From documents on its website, it appears the trigger for this discussion was the systematic rape of women in places such as Darfur and the execution of women in some countries for having an abortion.
The result of that internal discussion was a policy approved in April 2007. It was that policy that was formally ratified in August.
Although no copy of that policy is readily available to the public, Alex Neve, Secretary-General of AI Canada, said the policy advocates three "selected aspects":
Decriminalization. AI is advocating that abortion be decriminalized in every country in the world. It is currently legal in 54 countries but illegal in 97 countries representing 39% of the world's population. Neve said AI is not advocating the "legalization" of abortion, legally requiring governments to provide abortion on demand, but does want women and "health care providers" to be free from prosecution.
Access to health care. AI's policy is that women not be denied access to medical treatment for complications from abortion, such as hemmhoraging and infections, as sometimes happens in some countries.
Access to abortion services. AI says women should have a right to abortion "in particularly grave situations" such as pregnancies resulting from rape or incest and pregnancies that would endanger a woman's "health or human rights".
Neve said it is not AI's "intention directly or indirectly" to take a position on abortion generally, other than in these selected areas.
Roman Catholic reaction
The Roman Catholic Church has a long history of working with Amnesty International — which was founded in 1961 by Peter Benenson, a devout Catholic lawyer — to combat human rights abuses. But that working relationship may now be in jeopardy.
On August 20, the Vatican's Secretary of State, Cardinal Bertone, expressed his regret at AI's action. Speaking on Vatican Radio, he stated, "The inhuman violence of rape must be stopped, and society must be mobilized to protect the dignity of women." However, he added, "Violence cannot be answered with further violence; murder with murder; for even if the child is unborn, it is still a human person."
Michael Evans, Roman Catholic Bishop of East Anglia in Britain, resigned from AI, severing a 31-year relationship. In a statement, he said: "In time Amnesty may seek to develop this policy further, but even this current limited decision makes it very difficult for Catholics to remain members of Amnesty or to give it any financial support."
The Canadian Conference of Catholic Bishops issued a statement in June 2006, when AI was just beginning to consider the policy change, stating: "The Canadian Conference of Catholic Bishops would find it most regrettable if Amnesty International were to adopt a position promoting access to abortion. Such a change in policy would be considered by the Catholic Bishops of Canada to be a step backwards for an organization that has done such outstanding work in defending human life and the rights of the most vulnerable. This change in policy would make it difficult for Catholics to continue supporting the work of Amnesty International."
Sylvain Salvas, director of communications for the Canadian Conference of Catholic Bishops, told CC.com the bishops have made no further statement on the issue but they haven't changed their minds either on abortion or the AI situation. He said a further statement might be made when the bishops next get together in October.
Several Canadian bishops met with Amnesty staff in June, but no details of their discussions were released.
Bishop Fred Henry of the Diocese of Calgary, who had last year written his own statement criticizing AI's proposed policy, told CC.com he has now withdrawn his support for the organization.
Neve said AI recognizes this is an issue on which there will be differing opinions, and said the organization has received support from some Catholics on the issue. Some other Catholics, he said, "may remain active in Amnesty but choose not to be involved in" AI's work when it comes to supporting abortion. "We recognize that some Catholics feel strongly about the issue and may choose to leave Amnesty," he added, saying AI respects all of those decisions.
Other groups
Bill Fledderus, a media representative for the Evangelical Fellowship of Canada, said the EFC is strongly pro-life but has no plans to comment on the policies of a secular agency. He said the EFC has related to AI on some overseas issues from time to time but has no close ties to AI.
Dave Quist, executive director of the Institute of Marriage and Family Canada, called AI's new policy "ill timed and ill formed". He said AI "has done good work on justice issues for prisoners around the world that most of us would commend."
However, he didn't see the connection between that work and AI's promotion of abortion. "In the long run, this will do them harm," he said. "If you try to be all things to all people, you don't do anything well.
"We would be disappointed with any organization that is promoting abortion," added Quist. He also dismissed AI's assertion that it is not taking a position on abortion and is only advocating abortion in cases of rape and danger to the mother. "By virtue of moving into the social policy area, they are making a statement. Around the world, we have seen how [AI's narrow criteria have been] broadly applied. A child is still killed."
Eric Alcock, president of Vote Life, Canada!, was even more blunt. He told CC.com AI's advocacy of abortion only in "particularly grave situations" is "standard fare for those who advocate abortion," and said instances when "a woman's life is threatened by childbirth are extremely rare."
Clauses referring to protecting the health of women "can mean anything," said Alcock. "Laws are initiated for the exceptions, for extreme circumstances, but those exceptions turn into the rule. For all intents and purposes, [AI is advocating] abortion on demand."
Incidents of rape in war-torn countries are "very tragic," said Alcock, but "two wrongs don't make a right. The unborn child that comes from that horrible act is a human being and has rights."
AI's new policy amounts to "the formation of a new international Planned Parenthood, a high-profile group proposing decriminalization of abortion in every country of the world," said Alcock. He said it was "particularly disturbing" that a group that has fought to protect human rights and abolish capital punishment has "signed the death warrant for millions of babies."
Given this, Alcock said the mild protests of Canadian Christian leaders is "an abdication of responsibility." He said he hasn't heard of other Christians speaking out on the issue.
Even Roman Catholic bishops, he said, need to do more, since there are 13 million Catholics in Canada and a large percentage of AI's 60,000 Canadian members are Catholic. "Placing a comment on their website and sitting down for lunch with Amnesty International — there's no way that is enough."
Related stories:
Predictably, the Roman Catholic church has reacted with outrage at Amnesty International's support for abortion when women have been raped or when their health or human rights are in danger. The Vatican, which opposes abortion under any circumstances, has urged Catholics to stop donating to AI. However, I suspect that many good-hearted Catholics will quietly continue supporting Amnesty, realizing that the Catholic church's unwavering condemnation of both birth control and abortion is causing profound misery to the world's most impoverished families.
Mindelle Jacobs, Edmonton Sun, August 21
August 30/2007