Nothing about Jessica could prepare you for the story she tells of her life before coming to Mercy Ministries. Not her radiant smile, her friendly manner or the confidence with which she reads a passage describing the beauty God sees in her.
"To be honest," she says, "I wasn't sure if this day would ever come."
A Living Nightmare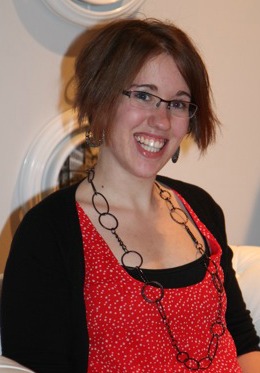 Jessica had been sexually, physically and verbally abused by her father starting at the age of three. Her father cultivated a spirit of prostitution in her by letting his friends use her sexually for a price.
Her grandparents finally discovered what had been happening to her after she attempted suicide at 13 years of age. They rescued her from her father by insisting that her mother leave him, but then her mother blamed her for the divorce, and her life began to spiral out of control.
"Between ages 13 and 20, I was diagnosed with depression and as bipolar and was told I would be on anti-psychotic drugs and have to live in psychiatric hospitals for the rest of my life because I would never be able to function in society," Jessica says. "My life felt out of control, and to gain a sense of control I decided to control my food, which led to me struggling with anorexia and bulimia. The eating disorder ruled every part of my life, and eventually it got to the point where the eating disorder was in control and I was not. I started self-harming and was drinking all the time.
"Being so unhealthy and getting sick all the time, I was unable to keep a job, which meant being unable to have a place to live at times, so I was living on the streets off and on. It didn't take me long to realize that if I sold my body for sex, I could have a place to sleep or money. This realization led me to be involved in stripping and prostitution. For the most part, it was my choice, except at one particular house. While there, I had no say in who, what or when if I wanted to remain alive.
"I have been raped more times than I can count, and I have been in and out of hospitals and treatment programs where they tell you that you are chronic and all they can do for you is teach you how to cope. Finally I got to the point of 'If there is no way to get better, I would rather die than live like this.' So I attempted suicide many times and was almost successful. Then I felt like a failure for not even being able to take my own life."
Coming to Mercy
Shortly after Jessica's 19th birthday, her doctor told her that unless things changed in her life she would be dead within a year. Then a friend who struggled with similar issues died of a massive heart attack at 21 years of age. Around this time, a friend told Jessica about Mercy Ministries, a Christian ministry based in Surrey, BC, which offers help to young women "seeking freedom from life-controlling issues." After resisting for some time, she applied and was eventually accepted.
Jessica made great progress at Mercy, and soon, made the one choice that could bring complete change to her life: "It wasn't until I realized that God loves me and actually got that in my heart, not just in my head, that things really started to change," she says. "I had to fully commit my life to Christ and surrender all that I am before he could make changes."
After only three months at Mercy, Jessica received sad news that her grandma had been diagnosed with cancer and given a week to live. She flew home to be with her and had the privilege of being with her when she passed away. During this time at home, Jessica offered forgiveness to her mother, who, in turn, apologized to her. "We are now working on rebuilding our relationship," Jessica says.
Setback and Perseverance
While Jessica was home to be with her grandma and seeking reconciliation with her mother, the enemy also took the opportunity at a vulnerable time to attack her again in a most vicious way.
"This trip home rocked my world in more ways than one," Jessica says. "Returning to Mercy was ten times harder than when I originally came. I had no idea where to go from here, and I feared that I had lost all the progress I had made, because while I was home I was raped again. This made me feel that my only choice in life was to be a prostitute."
But God was not finished pursuing her yet.
"Once I was finally able to be open with staff, things started to get better again," Jessica says. "I realized that my progress was not lost but instead I had made lots of it. The changes that have been taking place in my life are things that only God could have done. Let's take a look at how big our God is. I have been off my bipolar medication since August and am functioning well. I used to be terrified of food, and now I enjoy eating – especially ice cream and chocolate – and I don't feel guilty for the most part afterwards. I don't desire to self harm. I have dreams and hopes for my future and am excited about life. I for the most part no longer have night terrors, and I am healthy physically. I can see how throughout my whole life God has had his hand on me even before I knew him. An example of this has been walking through getting tested for HIV. Praise God that, as of two weeks ago, I know for sure that my health has been protected through it all."
Jessica has high praise for the Mercy Ministries program. "Had Mercy not been free, I would not have been able to come or been able to still be here," she says. "I came in feeling rejected, broken, alone, used and afraid. This is not the case anymore. Now, by the grace of God, I know that I am wanted, loved, redeemed, forgiven and free."
Beauty for Ashes
As Jessica stood to tell her story at her graduation from Mercy Ministries in February 2012, she began by reading a passage from the book Do You Think I'm Beautiful? by Angela Thomas: "God enjoys my laughter. He takes pleasure in the way I think. He is not bored with me. He would never consider me ordinary. I do not go unnoticed by Him. I am incredibly, breathtakingly beautiful to Him. He never holds His love back or plays games with my heart – there are no riddles with God. He does not stand me up. He always remembers, always keeps His promises. He doesn't turn away – even if I do. God has seen me from across the room and cannot take His eyes off of me."
By the time she finished telling her story there was not a dry eye in the room.
Reprinted, with permission, from Mercy Ministries of Canada, which "provides hope and healing to desperate young women who are seeking freedom from life-controlling issues such as drug and alcohol addiction, depression, eating disorders, unplanned pregnancy, physical and sexual abuse and self-harm." For more information contact: 604-535-1983