Bob Dylan: Time Out of Mind, Sony, 1997.
The Christian community has not always been kind to high-profile musicians who have espoused Christian beliefs. A prime example is Bob Dylan: although he did some superb Christian albums and a phenomenal gospel tour, and continues to perform faith-affirming songs in concert, I've encountered church musicians who have told me Dylan has "left the Lord." Because of this assumption, they refuse to play his songs, thus depriving congregations of some of the best Christian lyrics ever written.
Dylan has been much in the news recently. In May, he almost died of a viral infection; by August he was touring again. In late September, he sang before the Pope, at a eucharistic conference. Soon after, he made the cover of Newsweek; most of the attention is due to his latest album.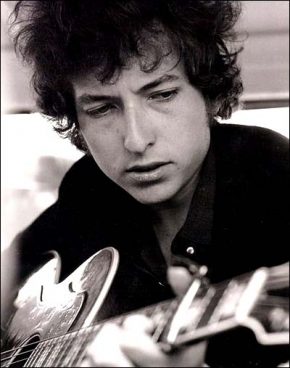 Time Out of Mind consists mostly of songs about failed romance, and world-weary laments. Such material becomes tiresome in the wrong hands, but with the assistance of producer Daniel Lanois, the energy of the music has an exhilarating effect. The album sounds like a long, troubled summer night, with a spooky heat rising from the fierce electric rhythm and blues backups, and Dylan's voice overflowing with experience.
While none of the songs mention Christ, there are several references to faith: "I know the mercy of God must be near"; "I'm tryin' to get to heaven before they close the door"; and "I know God is my shield, and he won't lead me astray."
As to whether this faith is specifically Christian, his Newsweek interview simply states: "This is the flat-out truth … Songs like 'Let Me Rest on a Peaceful Mountain' or 'I Saw the Light' — that's my religion. I don't adhere to rabbis, preachers, evangelists, all of that … The songs are my lexicon. I believe the songs."
Years before accepting Christ, Dylan wrote songs affirming faith in God, such as 'Father of Night' and 'Forever Young'; other songs, such as 'Gates of Eden' and 'Sign on the Cross' made use of biblical imagery.
In 1979 he announced his conversion with Slow Train Coming. The record was a hit, but many fans reacted against his faith. The next album, Saved, was shunned — a pity, considering it is one of the finest gospel albums ever made. A live album, Solid Rock, was shelved by Dylan's record company. Several songs, such as 'Yonder Comes Sin,' 'No Man Righteous' and 'I Ain't Goin' to Hell for Anybody,' were recorded, but never released.
From 1979 to mid 1980, Dylan's concerts consisted exclusively of Christian material, prompting some nasty audience reactions. The shows were outstanding, incorporating black gospel soloists with Dylan's fervent evangelistic monologues and passionate performances of songs like 'When He Returns,' 'Saving Grace,' 'Pressing On,' 'Are You Ready?' and 'Blessed is the Name of the Lord.' On the following tour, in an effort to reach a wider audience, he combined gospel songs with his more familiar hits.
He has continued to write and perform songs clearly expressing faith, such as 'Every Grain of Sand,' 'Death is Not the End,' and 'God Knows.' Others contain biblical references, including 'Caribbean Wind,' 'Ring them Bells,' 'Man of Peace,' and 'Shooting Star.' He has also performed gospel standards like 'Precious Memories,' 'Rank Strangers' and 'Go Down Moses.'
Dylan has not spoken often about his beliefs, but a 1986 interview indicated that his faith had not waned: "All that exists is spirit, before, now and forever more … Messiah will rule. He is, was and will be about God, doing God's business. Drought, famine, war, murder, theft, earthquake and all the evil things will be no more … God is coming."
He has never renounced his overtly Christian songs and, in 1991, he included some previously unreleased material on The Bootleg Series: the moving 'Lord, Protect My Child'; the apocalyptic 'Foot of Pride'; the stunning, mystical 'Angelina'; and the joyous, unrestrained 'You Changed My Life.'
Most significantly, he has continued to perform two of his finest gospel songs, 'I Believe in You' and 'In the Garden.' The latter begins: "When they came for Him in the garden, did they know He was the Son of God?" It ends: "When He rose from the dead, did they believe?"
Has Bob Dylan left the Lord?