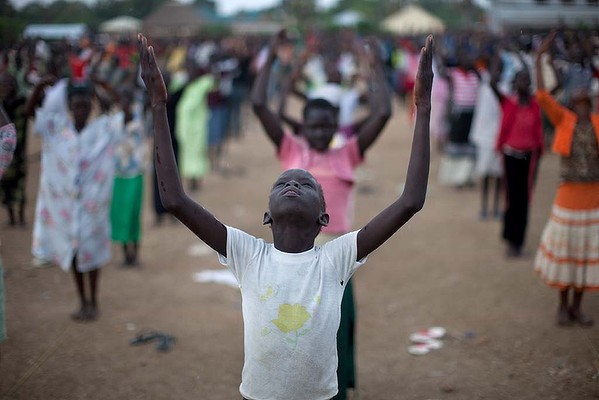 After half a century of civil wars and oppression, the people of South Sudan can finally rejoice in their independence as the world's newest country on July 9 2011.
The new nation will be recognized as the Republic of South Sudan with Juba as its capital, sworn in on a day filled with celebrations, bells, music and parades.
Citizens are encouraged to make way to churches and public squares on the eve of independence to light candles and pray for their new nation. At the stroke of midnight bells will be rung across the country marking it's hard-fought birth.
The way to their independence was made successful when nearly 50 years of conflict finally ended under the signing of the 2005 Comprehensive Peace Agreement. The agreement ensured the south would have regional autonomy and a referendum on independence on January 2011, in which 99% of southern Sudanese voted to split from the north.
Though this landmark on Saturday brings South Sudan the needed hope, they will still have to face the countless struggles as an inexperienced government to one of the most underdeveloped countries in the world.
With a population of approximately eight million in one of the world's poorest regions, only 15 per cent can read and there are hardly any roads or schools or health services to provide.
They will have to deal with the issue of political power, borders, currency, teams, symbols, debt, rights, providence and relations between the north and south. Though several peace deals have been signed, years of resentment and blood have kept the tensions between the countries war-fearing high.
However, since the 2005 peace accord, South Sudan has seen an economic revival with Juba, originally a small outpost, becoming on of Africa's fastest growing towns.
History:
The road to independence began with harsh footing in 1956 when Sudan sought freedom from joint British and Egyptian rule establishing a government in the Muslim populated north. The southern people, who follow traditional religions and Christianity, did not agree with the discrimination they were facing and the Arabic and Islamic identity the north were imposing, thus sparking a civil war.
A peace agreement giving the south a measure of autonomy was signed in 1972 ending the conflict only briefly. When the Sudanese government canceled the autonomy agreements, the Sudan People's Liberation Movement and the Sudan People's Liberation Army rose again in 1983.
At least nearly 2 million lives were lost in the years of guerrilla warfare.
The conflict was once again ended with the 2005 Comprehensive Peace Agreement which then lead to the independence movement to today.