There was a Canadian in the mix, last week, as a string of Christian and political luminaries eventually persuaded Terry Jones, a Florida pastor, not to burn 200 copies of the Qur'an, on September 11.
Geoff Tunnicliffe, the CEO and secretary-general of the 420 million strong World Evangelical Fellowship (WEA), talked to Jones by phone two days before the pastor announced, unannounced and reannounced cancellation of the holy book burning.
Tunnicliffe's tack, according to an online newspaper, the Christian Post, was to try to get Jones to consider the fallout from any Muslim-originated violence emanating from a highly publicized book burning exercise.
Tunnicliffe told CP reporter Michelle A. Vu: "I pled with [Jones] on behalf of the global church to abandon his idea. I asked if he went ahead [with the plan] and violence followed and lives [were] lost, if he would be willing to sit with a widow of a pastor and explain to her why his church felt it needed to take this kind of action."
Dove World Outreach Center is not a member of the WEA or its American regional group, the National Association of Evangelicals. But Tunnicliffe said his organization has a responsibility to intervene, as some might consider the 50-member Florida church at the "fringe" of the evangelical family.
The WEA head noted that, after his conversation with Jones, he had the sense that the Florida pastor was growing "ambivalent" about his book burning plans.
Tunnicliffe and his wife, Jewel, live in Delta, south of Vancouver. They have a lot of early background in Christian (Plymouth) Brethren assemblies and, in more recent years, in a suburban Baptist church. Presently, they are part of The Way Community Church, a Christian and Missionary Alliance theatre-sited Richmond church pastored by Mike Sherbino.
Through the years, Tunnicliffe has been a missionary, then a missiologist. In the 1980s, the WEA began tapping his skills in the interests of bringing evangelicals together globally. He is in his second five-year term as the organization's CEO.
The Tunnicliffes do a fair amount of travelling and, since the WEA decided to put its global office in New York City, maintain a small apartment near Battery Park, close to 9/11 Ground Zero.
It was at that NYC office where I tracked down Tunnicliffe last Friday (September 10), for a phone interview. My first question: "Your office is in Trinity Place. Is that close to Ground Zero and the proposed location for the controversial Islamic centre?"
The answer was in the affirmative. The WEA's14th floor office is as close to Ground Zero on one side as the Islamic centre would be on the other – about two blocks away from where the planes flew into the World Trade Center.
"I can just about see where the Islamic centre will be, from the window," he told me.
There is an intriguing irony to the WEA office location. It is in an office tower on property which is a part of the holdings of Trinity Wall Street Church, a long established Episcopal (Anglican) congregation housed in a classic Gothic 164-year-old edifice. The parish actually received its charter from King William III in 1697, when what is now New York state was a British crown territory.
It does not escape either Tunnicliffe's attention, or mine, that Trinity has been part of the neighbourhood for over three centuries. Community acceptance, for them, is no problem.
For the Muslims, it is different. In the American mindset, 9/11 was all about radical Islamists who arguably use the Qur'an as justification for a jihad against the west. To them, putting a 'mosque' so close to Ground Zero is like a sacrilege.
I asked Tunnicliffe why people insist on calling it a mosque when its proponent, Imam Feisal Abdul Rauf, insists that it is an 'Islamic centre' – sort of like an Islamic version of a YMCA community centre.
Tunnicliffe gently reminded me that the Imam has taken, recently, to referring to his project as an "interfaith centre."
That is a point to ponder. The Muslim presence in New York City is considerable, but relatively new. Nevertheless, there are an estimated 200 mosques in Manhattan and its adjoining boroughs – an area that would likely be home, also, to 2,000 or more Christian churches of various stripes and close to 1,000 Jewish synagogues.
Listening to Imam Rauf, one gets the impression that he believes he is the soul of reason, wanting to build bridges to all the disparate parts of the community that was so raucously impacted by the destruction of the World Trade Center. But his detractors see his rationality as more of a hard sell for Islam acceptance.
There seems to be a consensus in Manhattan that a mosque elsewhere than in line of sight of Ground Zero would be relatively more acceptable.
For his part, Tunnicliffe wanted to avoid getting too deeply into what is, in some respects, a local problem, albeit with global side currents. The WEA, he suggested, is cognizant of the fact that the great world religions need to get along with each other.
But he spoke of a countervailing signal as well. In a Washington Post online interview, he suggested: "I feel that in the midst of this … an important message … could be missing. It has been absolutely the right thing for leaders of various faiths and politicians around the world and the media to condemn the acts of this small church in Florida. My question is: Can these same groups come together when there are significant acts of violence in other parts of the world?
"For example, last year in India, churches were burned, and 50,000 Christians had to flee for their lives.
"One more example: A radical politician in Afghanistan stands up in parliament and says Muslims that leave their faith and become Christians must be executed.
"Will we do the right thing and speak out against these kinds of acts as well?"
* * *
Tunnicliffe has blogged about this issue in more detail.
* * *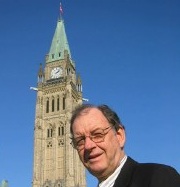 Lloyd Mackey is a member of the Canadian Parliamentary Press Gallery in Ottawa and author of Stephen Harper: The Case for Collaborative Governance (ECW Press, 2006), More Faithful Than We Think: Stories and Insights on Canadian Leaders Doing Politics Christianly (BayRidge Books, 2005) and Like Father, Like Son: Ernest Manning and Preston Manning (ECW Press, 1997). Lloyd can be reached at lmackey@canadianchristianity.com.