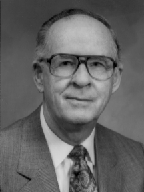 Described as a gifted leader who had a great love for people, C. Howard Bentall, passed away July 13, 2008, at age 94.
He was one of three sons of Charles Bentall, a construction mogul and Baptist lay leader. While his Robert and Clark carried on their father's Vancouver-based business, Howard sensed a call into pastoral ministry.
Educated at UBC and McMaster Divinity College, he served successively, between 1938 and 1970, as senior minister at Baptist churches in Regina, Toronto and Calgary.
Known for his preaching skills, he served in several administrative roles after retiring from pastoral work. Bentall was predeceased in 2005 by his wife, Shirley, herself an outstanding leader who served as a vice president of the Baptist World Alliance in the 1990s.
In 1992, the couple moved from Calgary to Vancouver. In so doing, they returned to the east end Vancouver church where Howard grew up, Grandview Calvary Baptist.
There, they assisted the church in acquiring five neighbourhood houses, which became 'communities' characterized by diversity and providing support for resident refugee claimants. The homes are operated under the name of the Salsbury Community Society. They also developed Rivendell Retreat Centre on Bowen Island, in Howe Sound.
A Canadian Baptist Ministries website tribute stated:
"Howard served wherever God called him with distinction. But more than that, he was a wonderful example of what the Bible calls a righteous person. He lived a life of faith, integrity and humility. He was generous with his friendship and finances. He endeavoured to encourage, rather than criticize."
Bentall is survived by his brother Bob; his four children;14 grandchildren; and four great-grandchildren. A celebration of his life was scheduled July 26, at Grandview Calvary Baptist Church.