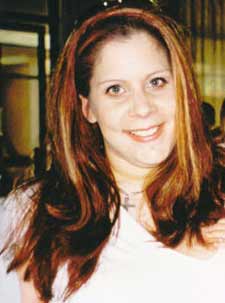 As the trial of alleged serial killer Robert Pickton winds down in BC, CC.com presents the perspective of Trisha Baptie, a former sex trade worker who once worked in Vancouver's Downtown Eastside and counted some of the murder victims among her friends. This article was first published by the Orato Media Corporation in January 2007.
I HAVE managed to make it to 33 — which, considering what I have been through and the subject I am covering, is a minor miracle in itself.
Transition homes
I grew up in the Lower Mainland in a middle-class family, with one brother and one sister — and a dad who liked to beat his wife. I remember a lot of transition homes, times of staying with grandma — and always, always living in fear.
Times were different back then — and laws were different. It was way harder for my mom to leave my dad; and I don't really recall the police being there for us. I do remember them walking out the door, while my mom was sobbing and there were broken lamps and such all over the house.
Eventually, my mom and dad had a very bloody battle, with me stuck in the middle. My dad had to get dozens of stitches, from putting his hand through a window. Believe it or not, he was not ordered to leave; he was ordered to live downstairs. That made for some fun family dinners!
When mom finally left dad for good, I was a pre-teen emotional disaster. I was a danger to my mom and siblings. I had a wicked temper and was quickly spiralling out of control. Mom had her own issues; we were like oil and water.
I was removed from her care just before my 13th birthday, and went to a group home. Group homes were just like criminal boot camp. I was soon smoking, doing drugs, drinking, compulsively running away, committing petty crime, hanging out with a way older, rougher crowd, sleeping around — and trying to escape the one person I never could: myself.
I stayed in group homes until I was 16 years old — at which time, I had my first child, and moved out on my own.
Sexual abuse
I was sexually abused when I was younger — which should not at all be a shocker, considering where I come from. I think most, if not all, women — and most boys — involved in the sex trade have been abused in some way.
I will not go into details about it. Just suffice to say that it happened more than once, but less than a million times — and it severely skewed my perception of life, men, myself, love and what it means to be a female.
I got involved in the Downtown Eastside through one of my 'street brothers' when I was 19. I wish I could truly convey what it was that hooked me in down there, but I think it was mostly because of my addictions — and I got sucked in.
All I can say about my time down there is that I remember the violence. It permeated everything. I was in a nightclub with a girlfriend, when a bullet took out the beer bottle on the table next to me — and I didn't even flinch. I was just cranky that my shirt was wet, and now I smelled like beer.
I remember going out to work and thinking that I might not come home. It didn't even faze me; it was a job hazard. Getting beaten, raped or robbed were all job hazards, and nothing more. Standing out there at night, I had this innate understanding that I did not matter — that I was worth less than every other person on the planet.
This seemed to be an absolute truth, given the way some of the other girls and my friends were disappearing. I suppose it was this feeling of worthlessness, and my inability to make sense of — or deal with — anything I had gone through, that fueled my drug and alcohol dependency. All I wanted was to be loved — and I sought it out in all the wrong places.
Life was long and hard. There was little joy, and much pain. I have no desire to share horror stories, or the atrocities I witnessed and suffered. I feel they are too private and raw to have scrutinized with a public microscope; but I hope that, because of these situations, I will be able to give a voice to those who are now gone — and those still trapped in hell.
Forever changed
Six years ago, I met a woman who would forever change my life and the life of my family. Her name is Amanda, and she did street outreach work with an organization in the Downtown Eastside. When she came around and offered me hot chocolate on a cold October night, I accepted gratefully and started walking away — but she engaged me in conversation.
I still remember, with tears in my eyes, the thing that caught my attention: she smiled at me. It was this big smile with great white teeth — which seemed to convey, without saying a word, "I am glad to be talking to you."
I was mesmerized, and ended up talking to her at great length — and an immediate bond was formed. I could not, for the life of me, remember the last time I felt someone was actually happy to be talking to me. I ended up agreeing to leave the streets, and began to start a new life.
Since leaving, I have been abundantly blessed with love, support and acceptance. I have amazing friends, attend an amazing church, have been given a chance to show my three children a whole new way of life, have a solid relationship with God — and am working on healing in all my relationships. I can say that I am healing more and more every day.
From the vantage point I now have, looking back over the destruction and miracles which have brought me to where I am, I feel blessed to be able to be a voice for those who have not yet been able to find their way out of hell — and for those whose voice was taken from them against their will.
I know all too well their struggles; and while I do not miss the struggles, I miss the people. I hope I can show them that, while it is a hard road, one can make it out.
I also hope I can impress upon people the value of the women still out there. They are not wastes of human beings; they are someone's daughter, mother, sister, cousin, lover, friend — and like anyone else, they have value. Above all else, they are people. They hurt, they love, they struggle, they laugh, they cry — and they, too, can heal.