Last week, two Ottawa events communicated the faith-political interface on different levels.
*  *  *
The Hill Lecture featured National Post columnist Raymond de Souza, a Catholic priest and editor of a newly-established periodical, Convivium, committed to communicating "faith in our common life."
The lecture and periodical are sponsored by Cardus Centre for Cultural Renewal, a faith-based think tank formed a few years ago out of two organizations. One had Catholic roots and the other drew from a Reformed (Calvinistic) theological perspective.
That the two streams have come together so effectively is a tribute to, among others, two people. One is Michael Van Pelt, the founding president of Cardus, formerly known as Work Research Foundation. The other is Peter Stockland, a journalist by profession and Catholic by faith. Stockland held senior posts at the Calgary Herald, Montreal Gazette and Reader's Digest before taking on the leadership of the Centre for Cultural Renewal a few years ago from its founder, Iain Benson, a Canadian lawyer who now lives in South Africa.
The Cultural Renewal stream originated the Hill Lecture over a decade ago. It is aptly named both for its benefactor, the late Frederick Walter Hill, a long time Regina business leader, and for the fact that it takes place close to Parliament Hill.
The divergent, yet substantively common, roots of the two groups are well reflected in Convivium.
Its regular publication will begin early in 2012. What follows is a listing of a few of the articles featured in the preview issue distributed to Hill Lecture attenders:
Under the topic of Small Talk, editor-in-chief de Souza dissects Michael Ignatieff and decodes GBLTTIQQ2SA.
Defending the assertion that The God Squad has a Left-Wing, Too, long time former NDP MP Bill Blaikie reminds readers that New Democrats once had real religion.
CRTC Commissioner and former Calgary Herald Publisher Peter Menzies finds a new world in Canada's North.
Jan Harvey and former Tory-cum-Liberal MP David Kilgour explore The Torments of China's religious believers.
To discover more about the diverse enthusiasms of Cardus, including the names of its Senior Fellows, who make the think tank work, go to www.cardus.ca.
*  *  *
The Ottawa Civic Prayer Breakfast, held October 21, was developed by a group pulled together by former CFL footballer Gerry Organ.
Already established for close to half-a-century in the Capital is the National Prayer Breakfast, which attracts close to 1,000 each spring, including, usually, over 100 MPs. Sometimes, the prime minister of the day attends.
But Organ and his colleagues saw a need for something that focused prayer and faith-based interest on Ottawa City leaders and – not insignificantly – its first responders, fire fighters, police, paramedics and so on.
This was the second year for the Civic breakfast. It was held, purposely, away from the Hill, in a suburban convention centre.
Mayor Jim Watson, a mild-mannered and very competent fellow, had a chance to speak to the 500 or so attenders. And a video, entitled The Church@Work, prepared by CHRI, the local Christian and family radio station, focused on city groups, many  of them faith-based, who members help to serve social needs that would otherwise go unmet.
The videos took the morning theme's question: Who is my Neighbour?
Jennifer Wilson, an Uxbridge, Ontario, physician, was the featured speaker. A mother of five, Wilson takes a few weeks off each year to lead health-care teams of as many as 50 people into a particular underserved region of Ghana.
Intriguingly, Wilson says she was inspired to begin this work by a speech Ontario HIV/AIDS activist Stephen Lewis gave a few years ago, asking his listeners to answer the "Who is my Neighbour?" question.
Her answer came out of both her social conscience and her Christian faith. And she left her listeners with the same question, to answer in the way to be thought most appropriate.
*  *  *
And, by the way, who takes care of the five Wilson children while Jennifer is off looking after her Ghanian neighbours?
Why husband Graham, of course. And according to the good doctor, he loves his child-minding duties.
*  *  *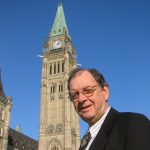 Lloyd Mackey is a member of the Canadian Parliamentary Press Gallery in Ottawa and author of Stephen Harper: The Case for Collaborative Governance (ECW Press, 2006), More Faithful Than We Think: Stories and Insights on Canadian Leaders Doing Politics Christianly (BayRidge Books, 2005) and Like Father, Like Son: Ernest Manning and Preston Manning (ECW Press, 1997). Lloyd can be reached at lmackey@rogers.com.