This is two-for-one week at OttawaWatch.
That means we will cover two separate topics. The first relates to crime and the census. The second offers some brief comments about Harperland: The Politics of Control, the new book by Globe and Mail columnist Lawrence Martin.
My comments on the book will begin below, under the headline of 'Another side to Harperland.'
In line with my usual practice, I will try to weave some aspect of the faith/political interface into my analysis.
* * *
It might well have been in a statistical analysis class at Simon Fraser University, where I earned my MBA in the early 80s, that I heard the following 'parable.' I am not sure, but I do know it was in a situation where a teacher was trying to instill certain principles into the minds of some mathematically-challenged students.
The parable went like this: It seems there were two people standing on opposite sides of a large room. They were interested in being able to communicate more easily on some unspecified levels.
So they decided that each would begin an approach to the other. Being mathematically inclined, they did so carefully and cautiously.
On their first approaches, each advanced halfway toward the other. The second time around, they again advanced half way toward closing the
remaining distance. And so on and so on.
The question was: Would the two people ever reach each other? There were two answers. The first was: "No. It is theoretically impossible." The second was: "Yes, for all practical communication purposes."
This tale came to mind in considering the current dustup over the long form census. Not to oversimplify, but there seems to be two possible conclusions on the workability of a voluntary long form census.
The first comes from the statisticians. The answer is "No. It is impossible to get accurate data from a voluntary census, because people in some groups chosen in a random survey will not fill out the form unless required by law."
There is one relatively unpublicized difficulty with that answer. It is
that, in fact, only about 93 percent of the people receiving the long forms answer them, even though not answering is against the law.
The other answer is the suggestion by statisticians that, if the threat of punishment under the law is removed, even fewer would fill out the form. Some suggest it would be no more than 80 percent.
However, relatively unpublicized is the contention of some in the public
Sphere: that efforts to encourage, rather than coerce, would move that
figure much closer to the aforementioned 93 percent.
At present, there appears to be a struggle between the statisticians and the lay people on how to proceed on this matter.
The little parable about the two people in the big room might provide some food for thought.
True, it is a bit of a risk. But it seems that the people who are on the
side of encouragement should be given a chance to prove their point.
* * *
The other matter that involves statistics concerns the recent revelation that there is a striking increase, in recent years, in the incidence of unreported crimes.
Cabinet minister Stockwell Day, in responding to a skeptical reporter,
suggested this increasing incidence was good reason to build more prisons.
As it turned out, the publicly-released figures confirmed as true what Day was contending. That was outlined in a Lorrie Goldstein column that can be found at Canoe.ca. (Using 'Goldstein stockwell' as a search term and choosing 'canoe.ca' will bring forward the column. Its title is 'Stockwell Day, 1, media, 0.')
The illogic in many of the discussions about crime stats is that it is often assumed that if lawmakers get tough on crime, the prisons will fill up. It would seem, to this non-expert, that if lawmakers get tough on crime, in due course — and other things being equal — fewer people will break the law. The same might be true, as well, if laws that should not be laws are abandoned, thus also reducing the incidence of crime.
* * *
From this perspective, it would seem to make sense to let some of the 'new' statistical thinking of the present government percolate through, at least in some carefully monitored situations. True, "if it ain't broke, don't fix it." But equally logical is the idea that: "If it is not working right, let's see if we can improve it."
Another side to Harperland
Lawrence Martin's Harperland: The Politics of Control (Viking Canada), is an interesting read. Its promotion seems to imply that Martin would have us believe that a lot of people think our prime minister is a control-freak who brooks no opposition.
So far, I have read closely some parts of the book and scanned others. I have particularly examined passages that relate to the faith/political interface. That is my own particular journalistic specialty — and also a major emphasis in my own book, Stephen Harper: The Case for Collaborative Governance.
I want to touch on two particular passages where I believe I can bring another perspective to the picture.
* * *
The first, concerning Chuck and Dona Cadman, is on page 136-7.
Martin tells the tale of the controversy over whether the dying Chuck Cadman, then independent MP for Surrey North, was offered an insurance policy by Tory operatives, in exchange for a vote that would bring down the Paul Martin Liberal government. History shows, of course, that Cadman's vote sustained the Liberals in power, where they hung on for a few more months.
In effect, the author concludes that the evidence of a "deal offered" is inconclusive.
By dint of residency for a few years in Surrey North, I had a few insights into what happened. And, to me, the story was never about a "deal". That was a pretty monumental misunderstanding. It was more about conciliatory politics, involving a number of people in the background who took their faith pretty seriously, and were capable of helping the parties in conflict to ultimately reconcile. And Stephen Harper was involved in that reconciliation process.
The end result, of course, was that, after Chuck Cadman's death, the parties in conflict — the Surrey North Conservative riding association and the 'Cadman group' — came together. This resulted in Dona, Chuck's widow, becoming the MP. And, although she goes about her work quietly, she does a good job — and should be recognized for it.
For whatever reason, Martin does not mention that outcome.
* * *
Next, we turn to pages 246-7, where Martin provides his take on the role of the "Christian right".
He uses a mention of Marci McDonald's book, The Armageddon Factor: The Rise of Christian Nationalism in Canada (Random House Canada, 2010) to make his
point, noting: "Though knocked for being overstated, [Armageddon] showed clearly that evangelical Christians were gaining influence in the country." My perspective, covered in detail in Collaborative Governance, is that
Harper has been quite skilled in helping integrate moderate evangelicalism and social conservatism into the whole centre-right approach to governance
in Canadian politics, in a relatively business-like and harmonious fashion. On page 244, that point is demonstrated reflectively in some November, 2003 quotes from then-Tory-turning-Liberal Scott Brison about what he and Harper discussed regarding the role of social conservatism in the then-merging Conservative and Alliance parties.
Martin's messaging seems meant to imply that Stephen Harper has a high-control governance style. I would suggest that many of the stories he tells help to substantiate otherwise — that the prime minister takes charge, in a surprisingly-collaborative fashion.
My modest advice to both Lawrence Martin and Stephen Harper – as well as to Michael Ignatieff – is that they keep their eyes on the faith/political interface taking place in Great Britain right now, with the emergence of the Conservative/Lib-Dem coalition.
It is in the 'surprises' that Harper offers, sometimes at least-expected times, that Martin could, if he has the will, see unanticipated predictions coming true.
One last illustration of that point: The revelation, last week, that the then-governor-general, Michelle Jean, granted prorogation in late 2008 on two conditions. The first was that Harper recall the House soon. The second was that he and his finance minister offer a budget that would pass. Both conditions were well fulfilled.
In taking Jean's advice in good grace, Harper initiated a conciliatory process that continues, with some periodic turbulence, to this day.
* * *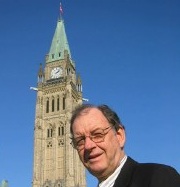 Lloyd Mackey is a member of the Canadian Parliamentary Press Gallery in Ottawa and author of Stephen Harper: The Case for Collaborative Governance (ECW Press, 2006), More Faithful Than We Think: Stories and Insights on Canadian Leaders Doing Politics Christianly (BayRidge Books, 2005) and Like Father, Like Son: Ernest Manning and Preston Manning (ECW Press, 1997). Lloyd can be reached at lmackey@canadianchristianity.com.