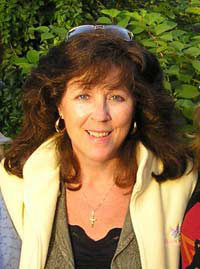 In 2001 Carole, who did not grow up with a religious background, had a powerful encounter with God — which has changed her life. She attends a Roman Catholic church in Regina.
… I spent Holy Thursday in my hospital bed, feeling very much at peace. I was thinking of everyone from church; but I knew in my heart things would be fine.
Control issues
I spent all of the holy weekend in the hospital, and was let go Easter night. I was released because I started to take my control back. I told the doctor: "Things are getting better, and it is time for me to go home."
He was not comfortable with this; but he did feel I might be happier at home and he decided to let me go.
For the next week, I stayed on the couch — getting sicker and sicker. By the end of the week, I could not walk — due to muscle wasting. I had lost 25 pounds, and had not eaten in four weeks. However, I was 'still in control.'
I decided it was time to go back to the hospital, and they admitted me right away. That was where I sat for the next two weeks, waiting for the medication to take effect. I had not eaten in so long that they had to insert a feeding tube into the artery by my heart.
I remember lying on the table having my arm frozen, while two technicians inserted this wire up my arm and down right beside my heart. I could see the procedure taking place on a monitor.
One of the technicians said: "You are very calm. Your heart has not skipped a beat." I told her not to speak to me because I was speaking to the Lord right now; it was him who had a firm grip on my heart, and was keeping it calm.
Major surgery
By the Wednesday of the second week, I still was not responding to any medication. The only thing that kept me going was the feeding tube.
On the Wednesday afternoon, the doctor came into my room and said this did not look good — and he felt he needed to send me to Saskatoon for three weeks to have major surgery.
I was horrified. There was no way I could go to Saskatoon for three weeks. I had a family, I had a business, I was 40 years old and I had a life.
The doctor said the surgeon would want to know that he had tried all available medications before proceeding with surgery. However, we had not tried one particular medicine yet. My doctor was certain this would not make a difference, as it was much weaker than anything he had used up to this point; but the record had to show that all available medicines had been tried.
Scared
Now, I was scared — and so was my family. The praying which had been happening just doubled. I did not realize this at the time. But apparently, once the news got out about me going to Saskatoon in a few days, there were several people who started praying that I would be healed.
Friday came — and before I left for Saskatoon, the doctor wanted another examination.
I remember hearing the words: "She's 60 percent healed. This is strange."
I knew in a second that this was the Lord's work. Instead of going to Saskatoon, I was going home. Praise the Lord!
Healing & miracle
The healing process was very slow. Over the course of the next year, I had gained 50 pounds and lost 70 percent of my hair from the medication. That was okay — because I knew the Lord was at work, and he would take care of me.
My family doctor would ask, each time I came to visit her: "How is the depression?" I would tell her: "I am not depressed. Don't worry about me, because I am in good hands."
I have since found out that my body is absorbing all of the vitamins and nutrients from food, and there are no signs of any scar tissue at all. My hair has grown and I have lost 32 pounds. I went from not being able to get off the couch, to walking five days a week and doing Jazzercise twice a week, to regain the strength in my muscles.
I have gone for 18 months with no signs of this disease. The doctor says I am "in remission." But I feel this is the Lord's work. Remission, no. Miracle, yes.
Thankfulness
Had it not been for the Alpha program, I would not have found this close relationship with Jesus. I would still be going to church in that very mechanical way which we can find ourselves doing.
I can see myself without Jesus: heavily medicated, a lot heavier and weaker than I am now — but 'in control' of my so-called life. Through the Alpha program, I have found Jesus, and he has given me the strength and direction to get through life's trials and tribulations.
I have found so many great friends who help me each day. They have inspired me and kept me excited about this newfound relationship with our Lord.
I found the Alpha program to be like a doorway. Once you walk through the doorway, there is an incredible friend on the other side waiting for you. This friend will never let you down, will always be there and will love you like no other has ever loved you. He will shower you with gifts every day, and he will fill your heart with the most incredible feelings you can ever imagine.
It's now August 2007, and I have experienced no symptoms of Crohns since March of 2001!