He, being dead, yet speaketh. (Hebrews 11:4 KJV)
* * *
That text was the first thought that leaped into my biblically semi-literate mind on Monday, August 23, when I began to read the late New Democratic Party leader Jack Layton's letter to his fellow Canadians.
Layton, with input from several of his key strategists, wrote the letter the previous Saturday, when it appeared that his death might be imminent. The most widely quoted phrase contained, therein, was: "Love is better than anger." Of that, I will speak later.
The text to which I referred is at the beginning of the great "faith" chapter, which includes the profound observation that "faith is the substance of things hoped for, the evidence of things not seen."
It speaks of the ancient Genesis story of the death of Abel at the hands of his older brother, Cain. And it suggests that, because of faith, Abel's life and words still speak out.
The passage has been used often, by orators of various stripes, to illustrate that great words from great people often survive well beyond their own life spans.
* * *
That being said for backdrop, let's get to the life and faith of Jack Layton.
He always enjoyed the opportunity of reading scripture at the National Prayer Breakfast, held each spring in Ottawa.
He had a prop – the well-thumbed leather bound Bible used by his father, Robert (a Mulroney cabinet minister later in life) when he taught a Sunday evening youth Bible class in a United Church in Hudson, Quebec.
And, on occasion, he would segue that reference into his respect for Tommy Douglas's Baptist-style prairie-based social gospel. He would make the point that he went to church at Bloor Street United in mid-town Toronto, a large and liberal congregation. (It is there I once heard the incumbent of the day, Bruce McLeod, preach on Jonathan Livingstone Seagull. He used jazz pianist Oscar Peterson to keyboard the idea that the gospel is full of themes and variations.)
* * *
Prior to the 2006 election, the leaders of the national parties were asked by Faith Today magazine to talk about how their faiths influenced their political perspectives. In his FT statement, Layton openly credited his sometime leadership competitor, Bill Blaikie, a United Church minister well-grounded in social gospel theology and practice, for making sure he stated his own case accurately.
* * *
Layton's social gospel impetus tended to operate in tension with the economic statism of the NDP and the class struggle roots of organized labour.
That was why his first and last across-the-floor battle after becoming leader of the official opposition was significant. It was the three-day filibuster which sent Canadian postal workers back to their walks.
Layton had already called on his MPs to adopt civility in parliamentary debates and was actually achieving some success. Some of my fellow journalists, looking for fights to report, were disbelieving that the peace would last.
And while fiery oratory occurred at times, the end result was that the opposition and government both made their points, both in the House of Commons and the Senate. And, in the latter forum, both union and management were able to make their arguments, and to respond to Senators who challenged them to bring healing in the workplace post-lockup.
* * *
All this brings me back to "love is better than anger."
I would postulate that Layton, in his letter to the people, was addressing his own – particularly those who consider class struggle and cultural warfare a test of faith.
While he would not back off from the belief that Canada will be better when the Dippers replace the Tories, he seemed to be urging his more demonstrative followers to bite their tongues when necessary.
* * *
One of the most frustrating exercises in observing federal politics has been the tendency of some oppositionists to spuriously criminalize and/or demonize any political policy or practice to the philosophical right of their own.
It happened, last week, just a few weeks before Layton's death, on the CBC's Power and Politics. One of the panellists, recently-defeated Montreal MP Marlene Jennings attempted to criminalize Treasury Board Tony Clement,s G-8 funding activities in his riding. Ian Capstick, called Jennings on her attack, maintaining that it way simply "pork-barrelling" in which every party engaged.
I would suggest that Capstick, in taking that stance, was trying to enunciate the kinds of changes that Layton was encouraging. One needs to be very careful about implying criminal motives when the context is pretty clear that the activities in question were much less sinister. Such implications smack of political grandstanding, which is no worse or better, than pork-barrelling.
All of which is to say that Layton will leave a legacy, I believe, of colourful but authentic civility. And, like Prime Minister Stephen Harper, I only regret that the two leader-musicians never had the chance to "jam".
Their faith-stances, while in somewhat different parts of the Christian spectrum, were/are those of "customizing" Christians. That means that both respected and listened to their fellow believers, without necessarily agreeing with every stance taking by their religious leaders.
I hope that Layton's pastor at Bloor Street United will have something to say about this at Layton's state funeral this Saturday.
Whatever, it will be an interesting perspective.
* * *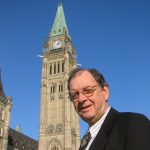 Lloyd Mackey is a member of the Canadian Parliamentary Press Gallery in Ottawa and author of Stephen Harper: The Case for Collaborative Governance (ECW Press, 2006), More Faithful Than We Think: Stories and Insights on Canadian Leaders Doing Politics Christianly (BayRidge Books, 2005) and Like Father, Like Son: Ernest Manning and Preston Manning (ECW Press, 1997). Lloyd can be reached at lmackey@rogers.com.