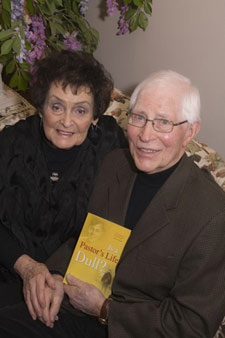 "I truly believe that the latter season of our lives should be exciting," wrote Ross Wightman in his new book Is a Pastor's Life Dull?
Wightman (aged 90) knows what he is talking about. After 33 years in full-time ministry, the last 12 years at Bethel Temple in Mission, he retired in 1983.
But he didn't really retire. He spent the next 20 years as a part-time associate pastor in various churches. Even after finishing his last official pastorate in 2003, at age 83, he still made a mission trip to the United Kingdom, to speak in evangelistic crusades.
Wightman was 80 when he began writing his autobiography. The book almost didn't get published. Four years ago, he had a disagreement with an editor – who wanted to fictionalize the book to make it a better story, and then disappeared with the manuscript.
Wightman was discouraged, but the youngest of his four daughters, Rosslyn Delmonico, had some unexpected time off work and helped him recreate the book.
Wightman said he wrote the book for two reasons. The first was to leave something for his family. The second was to leave something for younger pastors so that they understand that ministry is "not all roses" and they learn to hang in when things become difficult.
Remarkably, one of Wightman's assignments at a church after his retirement was to lead the youth ministry.
Rosslyn said he was able to do this because he has kept "the heart of a young person," remaining current and spiritual rather than legalistic and religious.
"My parents haven't allowed age to make them stale, bitter, angry, small-minded or hard-hearted. They chose instead to remain humble, trust God and forgive. That's why young people want to be around them."
Wightman's wife Barbara has also continued to serve, even taking speaking assignments while battling cancer. She said, "We are all in process for eternity . . . Every day is a gift from God to be used as God has instructed. We have to show the kids how to do old well."
Rather than being parked in a pew complaining, "I want to run out of this earth on top of my game," Ross added.
Rosslyn said the impact of her parents' lives was evident in the people who came to a book signing at House of James bookstore in Abbotsford, BC.
Some went through the check-out with tears in their eyes. And some were non-Christians who had no other interest in God.
"Dad knows how to be Jesus to people."
Wightman wrote toward the end of his book, "We would all do well to remind ourselves that how we live our lives speaks loudly to those who are within our realm of influence. I am continually surprised by the disregard that many people in my own generation have in relation to this question. It is as if our job is done once our children become grandparents. Being a grandparent myself, I guess it would be easy for me to just slip off into the easy chair and have a snooze, but is this what the Bible teaches us to do?
"Are we not instructed to run the race and fight the good fight until our last breath? Does the promise of Jeremiah 29:11 have an expiry date on it? No, of course not. 'For I know the plans I have for you, says the Lord. They are plans for good and not for disaster, to give you a hope and a future.' If I truly believe this scripture, then I must also believe that God still has a plan for my life. He still has missions for me to accomplish, wisdom and revelations that have yet to unfold."
Ross and Barbara Wightman live in Abbotsford. Is a Pastor's Life Dull? is available at House of James.