Was there a faith-based angle in the Monday (October 25) election of Rob Ford as mayor of Toronto?
Well, yes, maybe.
In the small print under the photo of Ford on the front page of Wednesday's National Post, there was an explanation that the football players in the background belong to the team he coaches, the Don Bosco Eagles.
The Eagles are students at Don Bosco Catholic Secondary School (DBCSS). And, as most sports-and-recreation-minded Catholics can tell you, Don Bosco (or St. John Bosco, as he is known more formally) is a formidable name in both muscular and intelligent Catholicism.
The website of the school (www.donboscotoronto.ca) points out that DBCSS "continues to be a community of people engaged in Catholic education in a Christian and Salesian atmosphere."
Bosco was a 19th century Italian priest, educator and writer who founded the Salesian Order. He is described in Wikipedia as "dedicating his life to the betterment and education of poor youngsters, and employing teaching methods based on love rather than punishment, a method that is known as the preventative system."
He was canonized in 1934 by Pope Pius IX.
Ford, for his part, seems to have the loyalty of the young men he coaches. One told the Toronto Star that the new mayor teaches them, off the field, to be gentlemen and, on the field, to be "monsters." Others defended his penchant for shouting at his players, suggesting that if you don't shout, you won't be heard.
Known to be both scrappy and generous, Ford has "tax and spend" type politicos worried that he will gut social programs in his quest to cut "wasteful spending."
One secret to his success will be his ability to practise "tough love" in a way that combines the best of practice on the field and in the council chambers.
Political strategists of all types are wondering if his election, with 49 percent of the vote, marks a breakthrough in Toronto, toward the "coming out" of a more conservative electorate.
Ford's election follows a similar reversal in trends in Calgary the election of that city's first Muslim mayor, Naheed Nenshi.
Early punditry suggested that Nenshi represented a shift left. But it was replaced with a consensus that, while the new mayor is "different" from his predecessors, that difference is likely to be more in a direction that applies conservative solutions to leftward-expressed concerns.
* * *
We shift, now, from a scrappy new mayor to some serious faith-based research.
I have had a fair amount of contact in recent years with two retired Ottawa-based Statistics Canada researcher-statisticians, Frank Jones and Gord Walford.
They are involved in the development of the Christian Commitment Research Institute, whose main work is the publishing of book-length studies on religious commitment. These monographs present data on religious commitment and analyze the nature, causes and consequences of religious commitment.
A new CCRI development is the shift into a series of monographs that focus on "home-making and character-building foundations."
Jones says that shift will "provide classic Christian guidance for families, adults and teens … highlighting central problems facing Canadian families and individuals today."
There are a number of findings reported in the latest round of CCRI materials. Among them are:
People affiliated with conservative churches are generally most involved in the community and less prone to unhealthy behaviours.
Unexpectedly, teens in conservative and evangelical churches are far from what most of their parents would want them to be.
Families with two working parents seem as healthy as those with only one.
Family quality is deteriorating. This is clear from recent CCRI studies of families in Quebec and Ontario, and families in liberal and conservative Christian denominations.
There is much more, of course. Readers wanting to get acquainted with what CCRI is all about can go to www.ccri.ca.
* * *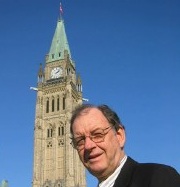 Lloyd Mackey is a member of the Canadian Parliamentary Press Gallery in Ottawa and author of Stephen Harper: The Case for Collaborative Governance (ECW Press, 2006), More Faithful Than We Think: Stories and Insights on Canadian Leaders Doing Politics Christianly (BayRidge Books, 2005) and Like Father, Like Son: Ernest Manning and Preston Manning (ECW Press, 1997). Lloyd can be reached at lmackey@canadianchristianity.com.