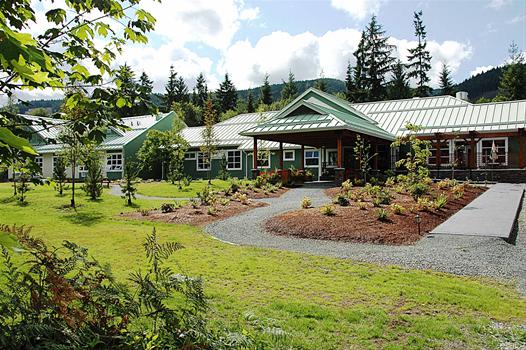 A dream took flight with a snip of the scissors when Ken and Ruth Smith, known for their many creative projects, cut the ribbon (see front cover) to formally open Honeymoon Bay Lodge and Retreat June 21.
"Our idea of a retreat centre goes back years," says Ken. "It's a place where people can get away, smell the roses, refresh themselves, and get closer to God."
Located in the Cowichan Lake area, the lodge was created when a four-room school on three acres went on sale last year. In a remarkably short time, a talented team has transformed it into a stylish getaway for groups or individuals.
The lodge features gourmet meals from the hands of professional chef A.J. Hicklin. He works with guests to provide special menus for weddings and other events.
A nicely-designed lawn, garden and gazebo make this an attractive venue.
While staying at the lodge, people may enjoy a hot tub – or a stroll through Aslan's Garden, complete with a lion statue. There is a comfy library with internet access, an exercise room, a multi-purpose room, and a labyrinth to walk if you're so inclined. You can even request a professional massage.
Does this sound relaxing yet?
Jim Robertson, with background in both business and counselling, serves as marketing manager, but is also available for anyone wanting to talk, receive counselling or request prayer.
Ken Smith's lifetime of supporting unique ministries lies behind this culminating effort. Through the Oswald Smith Foundation, created by his father, Ken and Ruth have quietly created and supported many unusual projects.
In the 1970s, they saw a need for 'Jesus people' – often converted hippies – to be housed in a stable environment, with an opportunity for good teaching and role models. So Matthew's House was opened in Vancouver. Then there was Mount Woodside, a mainland getaway for groups of up to 14. It is often booked for weekends for months in advance.
Chemainus Theatre was born out of the Smiths' vision to invest in the community, but also quietly to encourage Christians who wish to be involved in the arts.
"Ken Smith has been gifted with the eye of possibility," says long-time friend Neil Graham. "He sees possibilities where others just see trees. He's also been gifted with the ability to see those possibilities through to reality."
"He's a man who is humble, who operates out of a great sense of gratitude to God. He fosters life-giving communities in the arts, and in Christian ministry. And he does not give with strings attached. He gives, and trusts you to get the job done without him."
One project that simmered for many years was the Artisan's Village in Chemainus. The original vision was to build a retreat centre as part of that effort.
In 2004 Tim and Karla Erickson moved from Rosebud, Alberta – where he had been involved in the Rosebud School of the Arts and the Canadian Badlands Passion Play – anticipating that he would develop the Artisan Village. But rezoning difficulties slowed the project down.
"At one meeting we said, 'Are we tied to this site?'" says Erickson, now director of Honeymoon Bay Lodge. "Maybe God has something else that would come together quicker."
Before long, they received a phone call from realtor Stuart Price, the Smiths' son-in-law, telling them an interesting property in Honeymoon Bay was available.
"If we'd stuck to the original plan, we'd just be beginning with the retreat," says Erickson. "But here it is, all finished and ready to operate."
Shortly after that, Ken Smith had a stroke and his health started to fail. "Perhaps this is all God's timing," says Erickson. "I see God's hand from beginning to end. For each of us, the project is to bring glory to God. I feel I should always just step out of the way and let God do it. Now that we've opened the doors, we'll see how God will work."
Making God's presence felt in a whole community has always been the guiding vision of the Smiths – and they are finishing strong, passing that torch to the next set of runners.
Contact: 250-749-4252 or honeymoonbayretreat.com.