It looked like an interesting combination – a Christian television host, a young ex-con trying to go straight and a tough-nut CBC business commentator offering advice to both of the aforementioned.
The show was Context, hosted by Lorna Dueck and the CBC business commentator was Kevin O'Leary, who teams up with Amanda Lang nightly to duke it out on the economic issues of the day.
Dueck has transitioned, over the past few years, out of the cloistered Burlington confines of co-hosting 100 Huntley Street with the now-retired Pentecostal pastor, David Mainse.
Today, both her studio environs and her circle of influence are an hour's drive to the east, in downtown Toronto. She has forged a fascinating rapport with the Globe & Mail, Global Television and the CBC, bringing her thoroughly-grounded and socially-relevant Christian faith into direct interaction with mainstream media. (Her show can be seen on Global, as well as on-line at www.contextwithlornadueck.com. )
I watch Context (formerly known as ListenUp) semi-regularly, but the subject of this past week's show, from this corner, was a must-see.
Dueck has made the point, from time to time, that the current federal government's tough-on-crime agenda could backfire, if proper care is not taken to see that young people who tangle with the law are effectively rehabilitated. The social cost could be high, she has suggested.
Now O'Leary is as free-market, make-it-on-your-own as one might be. He is personally pretty well off, by his own admission, from having been highly-disciplined in practicing risk-and-return activities in the economic sphere. Seemingly, he would have no truck-or-trade with young people who let drugs, criminal activity and poor decision-making mess up their lives.
But O'Leary has another activity which helps connect him with some of those very people who need help. He is involved in Dragon's Den, whose television entertainment value is based, in part, on listening to innovative proposals from young entrepreneurs and choosing to help a certain number of them to get set up and on their way.
Some of the people he is helping are precisely those types who have made bad decisions but show promise of heading in the right direction.
Dueck interviewed one of those people on this past week's show. Then she had O'Leary explain his rationale in helping him.
As might be expected, Dueck wanted to know where God and faith played into all this. She set O'Leary up to answer by having a representative of Prison Fellowship state his own view that God needed to be part of the equation in helping people turn around. After all, PF's founder, Charles Colson found, after being Richard Nixon's hatchet man, that when he came to the end of himself, God seemed to be the only way out.
O'Leary wasn't going to let too much fuzzy faith stuff out of the bag. He told a little story about going to church in his youth, where most of the worship was in Latin. He met an Anglican minister who spoke in language he understood and became a friend. He apparently is still willing to listen to this minister-friend.
O'Leary's view was that, whether it is God or something else, people who want to make it in life need to get with the program and not make excuses.
It was a good show. And, to me, the punch line was that people of faith need to pick up where the government leaves off, in motivating people who need a hand up, in getting on with their lives.
Her language sounds a bit like the "big society" and "compassionate conservative" agendas that are prevailing, currently, in both Britain and the United States.
O'Leary, for his part, hopes that his relatively modest social action initiatives will light a flame of interest in the private sector, among people of means, to do something.
* * *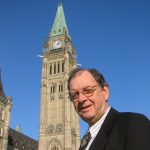 Lloyd Mackey is a member of the Canadian Parliamentary Press Gallery in Ottawa and author of Stephen Harper: The Case for Collaborative Governance (ECW Press, 2006), More Faithful Than We Think: Stories and Insights on Canadian Leaders Doing Politics Christianly (BayRidge Books, 2005) and Like Father, Like Son: Ernest Manning and Preston Manning (ECW Press, 1997). Lloyd can be reached at lmackey@rogers.com.