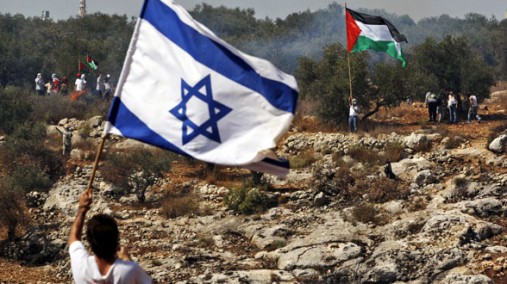 When I arrived in "the Holy Land" this past May, interested in doing research on what it meant to promote a more just and peaceable future for Israel and Palestine, I was directed to the manifesto of the "Christ at the Checkpoint" conference that had been held just months before in Bethlehem. The first article of the manifesto, presented to the conference audience of over 600 international and local Christians (both Jewish and Arab, Israeli and Palestinian) was emphatic: "The Kingdom of God has come. Evangelicals must reclaim the prophetic role in bringing peace, justice and reconciliation in Palestine and Israel."
As my time in Israel-Palestine continued, I considered how we might reclaim this prophetic role and as I talked with people on various sides of the conflict, I began to wonder what it means when we call it "the Holy Land." What are we implying with this title, and how might it affect how we see our responsibility in the conflict there today, especially in light of the Kingdom?
Then in Jerusalem I met Reverend David Neuhaus, the Jewish-Israeli vicar of the Hebrew-speaking Catholics in Israel and a child of Holocaust survivors. Actively involved in reconciliation efforts, Neuhaus was insistent: "You have a responsibility here. These are not just far away people squabbling … The Western Church is directly implicated in what's going on here, and this is not a conflict just like any other." He continued, "We must think: How do we read the Bible and what does the crucifixion and resurrection mean for us today? And we must hold together two problems: a Christian history of a theology of anti-Judaism and anti-Semitism, and people who have been abused by the misuse of anti-Semitism," referring to injustices done to Palestinians in the name of Israeli hegemony and security.
Neuhaus told me of his work with Palestinian seminarians and Jewish schoolchildren and he was firm: "You have a direct personal responsibility in regard to how you speak. Words create reality — the world is created by words, and we have control over that. We must use our evangelical [in the broad sense of the word] imagination regarding how the world should be, and that should define how we speak. We've destroyed the world with our words but we are witnesses to a 'Christ discourse.' We must speak as Jesus would speak, no matter what side we're on. This we can do!"
Throughout my time in Israel-Palestine, Neuhaus' words were repeated in different ways. "We need you to become partners with us, not just donors," said Jean Zaru, a Palestinian Quaker and author of Occupied with Nonviolence: A Palestinian Woman Speaks. "We need you to work to model unity as the Body of Christ," said Hedva Haymov, a Jewish believer. Too often, people told me, Western Christians were either apathetic or so one-sided as to only contribute to the conflict. As Palestinian Melkite [Greek Catholic] Archbishop Elias Chacour often repeats, "We need one more common friend. We do not need friendship [if it means becoming one-sided against] my Jewish brothers and sisters … We do not need one more enemy, for God's sake."
Those in the Holy Land asking us to reclaim our prophetic role also echoed Walter Brueggemann, who noted in The Prophetic Imagination
that the prophets of ancient Israel were a "criticizing and energizing" force. Following this call in the Holy Land might mobilize us, away from the fear-mongering that so often takes place in discussions about the conflict, and empower us to bring the questions and concerns of today into forums where they will be critically engaged. In this we will fulfill our prophetic role, much like the prophets called to public expression the fears of ancient Israel so that they would face them.
Nonetheless, the task of regaining this new imagination for Israel-Palestine is not easy. As John Wilson wrote in an article for Christianity Today, "When Christians gather to talk about war and peace, the ensuing discussion tends to veer either toward naive pieties about Christians as peacemakers or toward cynical worldliness and accommodation."
Additionally, working towards this imagination is exhausting for those in the midst of the conflict. Many of those I met, while working for resolution and reconciliation, spoke about the days they wanted to join the growing numbers of Israelis and Palestinians who are leaving "the Holy Land" for countries where the struggle is less difficult. Yet for the Christians there, hope was rooted in the first article of the manifesto: "The Kingdom of God has come." And as James Skillen described it, this Kingdom "forbids us disillusioned resignation to the status quo, keeps us dissatisfied, hopeful, imaginative, and open to new possibilities."
With this hopeful imagination, Elias Chacour reminds us that perhaps then, "'We shall no longer shout 'Peace, peace!' and see nothing but war, war that goes on getting ever more horrifying. We shall stop trying to establish our security, which at the end of the day is nothing but domination and segregation masquerading as peace. We shall begin to do justly, to have moral integrity. We shall become peacemakers, makers of [God's] Peace. And then we shall know its fruits: peace and love for all in this world, all who are in the Promised Land."