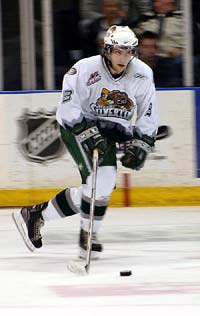 Taylor Ellington was positioned at defence during the season's opener last year, on the Everett Silvertips home ice in the Comcast Arena.
Out of the corner of his eye, amid the fireworks and light show, Ellington spied a wheelchair near the Zamboni entrance — an unusual on-ice sight. As his eyes adjusted, he was surprised to see his older brother, Spencer, in the wheelchair.
There at the invitation of the team's management, Spencer was to drop the season opener's first puck. Taylor recalls, very simply, that "it was cool."
Self-effacing and understated, Taylor has great admiration for his grandfather, Charles Ellington, a well-regarded Victoria-area 'Christian statesman.' For his part, Charles, approaching his 80s, basks in the glow of his grandsons, who used to play road hockey in Saanich when they were in grade school.
Charles Ellington recalls the puck-dropping event this way: "[They] rolled Spencer's wheelchair out to centre ice with 7,500 fans cheering him on. Spencer dropped the puck — and who should be at centre ice to take the face-off, but Taylor. [He] did not know that Spencer was going to be there. Taylor said it was a very emotional affair and that some of his coaches were crying.
"I said to Spencer, when he came home [to Victoria]: 'That must have been a wonderful experience for you.' [His] response was… 'I didn't do it for myself. I did it for my brother.'"
Spencer is in a wheelchair because of a blood disease that paralyzed him from the waist down two years ago. But in an interview with Victoria Times-Colonist sports writer Cleve Dheensaw, on the occasion of his being drafted by the Vancouver Canucks last June, Taylor called Spencer "the biggest inspiration in my life. [He] has always stayed positive and always remained strong. And he has taught me about the meaning of courage."
The Ellington faith/family heritage in the Victoria area goes back to grandfather Charles' boyhood years in what was then known as the Protestant Orphanage. The Charles Ellington story is a profile in patience, courage, persistence and the grace of God. And it is being repeated contemporarily in the grandsons.
For Charles, his growing up years at the orphanage brought him to what was then the nearby Oaklands Gospel Hall (now Oaklands Chapel), where he met Christ.
He went on to become a founding elder of Lambrick Park Church and board chair of the orphanage — which, by then, was known as the Cridge Centre for the Family. It was during his years overseeing the Cridge that the institution became a full-orbed, Christian-based family centre.
Rob Ellington, Taylor's and Spencer's father, leads the Victoria notary public practice which Charles established some 50 years ago. Rob also provides servant leadership in a number of Christian ministry situations on Vancouver Island.
Which all may seem incidental to the Taylor Ellington hockey story. But it is that family/faith/community amalgam, translated into 2007 conditions, that sustains him today.
And right up there with Spencer's puck-dropping event, in terms of Taylor's youthfully fulfilling experiences, is the Vancouver Canucks draft, which took place this past June.
After all, it was only a decade before, when Taylor and Spencer were playing road hockey near the Rob-and-Kathy Ellington family home, that they would don Pavel Bure Canucks jerseys for those recreational occasions.
On June 23, at the NHL draft in Columbus, Ohio, Vancouver GM Dave Nonis gave Taylor a real Canucks jersey to wear. The young Victoria-cum-Everett defenceman had just been chosen third in the second round of the 2007 draft — and 33rd overall.
"Coming from the Island, I've always been a huge Canuck fan," he told the Times-Colonist the day after his draft.
Mind you, it might yet be a while before he actually plays for the Canucks. Nonis wants the strapping 6'2″, 210 pounder to get a little bigger and a little more experienced yet. But if family is a few miles away across the Juan de Fuca strait, both faith and country — those other harbingers of his background — are following him.
Everett is the 'Boeing airplane' city 30 miles north of Seattle. Most of the Everett Silvertips (named for the silver-tipped brown-haired grizzly bears which roam the mountains of British Columbia and Washington) come from Canada. Americans who want to play hockey usually go through their university systems. When Taylor was drafted to Everett at age 16, he still had high school to finish.
As it happens, one of Everett's churches, First Baptist, has a couple of Canadians on its pastoral staff — senior minister Brian Harpell and adult ministries pastor Allan Love.
Harpell, originally from Atlantic Canada, is the Silvertips chaplain. And Ellington affirms that his availability for spiritual counsel and leadership is a big factor with the players, himself included, in integrating faith, hockey and life.
And, while Love does not have all that much to do with the team, it happens that he came from Victoria, as well. His appetite for Christian ministry was whetted at Emmanuel Baptist — a few miles from Lambrick Park Church.
So Love is there, as necessary, to explain to Harpell, the east-coaster, the uniqueness of west coast culture, especially in communities like Everett, Prince George, Medicine Hat, Chilliwack, where the Western Hockey League reigns supreme in junior hockeydom.
So, whether it is faith, hockey or life, what goes around very often comes around.
And, as Cleve Dheensaw wrote in the Times-Colonist: "From that adoring Saanich youngster wearing Pavel Bure's Canucks No. 10 to whatever his own number might be in Vancouver, if that day ever comes, Ellington — in an idiosyncratic B.C. way — will have come a full circle."