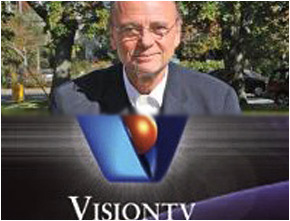 Faith-based television in Canada is facing a major shake-up, with the takeover of several channels this summer.
ZoomerMedia made the offer to buy the channels, including VisionTV and JoyTV, in June 2009. However the purchase was only approved by the Canadian Radio-television and Telecommunications Commission (CRTC) on March 30 of this year, and the sale was finalized this summer.
The sale raises questions because Zoomer Media is a secular, for-profit corporation which markets to people 45 and older.
The primary asset involved is VisionTV, a 'multi-faith channel' launched in September 1988 that is available, via cable and satellite, to over 9 million homes across Canada and attracts 1.6 million viewers each week.
The deal includes control of another cable channel, One: the Body, Mind & Spirit Channel, which offers programs on exercise, meditation, yoga, natural health and living a planet-friendly lifestyle.
The deal also includes two conventional channels, JoyTV 10 in the Vancouver area and JoyTV 11 in Winnipeg. They were started by Willard and Betty Thiessen, who had founded the evangelical Christian program It's a New Day. The stations were later taken over by media giant Rogers and then sold in 2008 to S-VOX, a non-profit organization which already owned VisionTV and One.
S-VOX and its assets were bought for $25 million (although auxiliary costs may push the total closer to $30 million). The purchaser, ZoomerMedia, is a conglomerate that specializes in marketing to 'zoomers' (baby boomers with zip). ZoomerMedia's holdings also include Zoomer Magazine, 50PLUS.com (a website), Zoomers.ca (a social network site somewhat like Facebook), ZoomerSingles.com (an internet dating site), ZoomerShows (consumer and lifestyle expos in Toronto and Vancouver), CFMZ (a classical music radio station in Toronto) and CFZM (another radio station in southern Ontario).
Marketing opportunity
None of the four TV channels has ever been very profitable, but media reports at the time of the purchase suggested that ZoomerMedia's marketing expertise may turn that around.
The target audience for all of ZoomerMedia's efforts are the 14.5 million zoomers in Canada who have, in the words of MZ Media president George Grant, "wealth and the time to spend it." Grant told Broadcaster magazine: "We're a united and unique multi-platform organization that can offer advertisers comprehensive national marketing programs for the 45plus."
In other words, the 'faith-based' TV stations will be used to extend Zoomer's ability to market products to people over 45. Zoomer's focus is stated on its website: "We feature content focused on Health, Travel, Money, Lifestyle, Advocacy, Benefits, Community, Relationships, Events and more … all from a Zoomer perspective."
The prime shareholder and main mover behind ZoomerMedia is Moses Znaimer. In the 1970s and 1980s, Znaimer was a high-placed executive involved with CityTV in Toronto (home of "baby blue" movies) and the CHUM media conglomerate. In this position, he helped launch a string of cable TV channels, including MuchMusic, Bravo!, Space, CablePulse 24, Canadian Learning Television, Star!, Drive-In Classics, FashionTelevisionChannel, BookTelevision, CourtTV Canada, SexTV: The Channel, MuchLOUD and MuchVibe.
Znaimer's personal style has been characterized as favouring a "local, hip and casual format aimed at young audiences" and the "liveness and spontaneity of television, relying largely on hand-held cameras and impromptu shots."
With ZoomerMedia, Znaimer is continuing to appeal to the same boomer generation, except that both he and the boomer generation have gotten a lot older. Regarding spirituality, Znaimer has a Jewish background — but has never been known for any specific religious attachments.
Gerry Bowler, a historian at the University of Manitoba specializing in "the intersection of religion and popular culture," said Znaimer has been very successful as a media executive — by encouraging programming that was "the edgiest of edgy."
"There's a lot of money to be made in marketing to boomers," Bowler suggested, and the purchase gives the impression that "faith is a product" to be bought and sold.
Faith-based content
While Zoomer may see the channels as primarily a marketing vehicle, that does not mean that the content of the stations will change. Mark Prasuhn formerly worked for S-VOX and is now chief operating officer and content officer of ZoomerMedia's television division.
He told CC.com that while there will continue to be evolutionary changes, the programs on the stations will continue "largely as they have been." He said that there is "a strong intention on Zoomer's part to have the faith aspect remain a strong part" of the programming.
In fact, Prasuhn said, Zoomer has plans "to market the faith-based programs more aggressively." He suggested that the marketing of faith-based programming has not been particularly strong, and Zoomer's "considerable expertise in this area" could produce "very exciting results."
VisionTV and JoyTV have religious licenses from the CRTC, and Zoomer has assured the CRTC that it will abide by those licenses. In approving the sale of S-VOX to ZoomerMedia, the CRTC considered the question of whether a for-profit company could operate faith-based channels as well as a non-profit organization and concluded that ownership does not matter as long as the stations retain the same programming mandate.
Prasuhn also suggested that influence could flow the other way, with a religious component being added to Zoomer's other marketing platforms. For instance, Zoomer magazine recently put the Dalai Lama on its front cover. As well, Zoomer has added a 'faith pavilion' at its ZoomerShow in Toronto (which takes place October 30-31 this year) and to its new edition of ZoomerShow in Vancouver (November 27-28), where faith-based agencies can promote their ministries and services.
Tore Stautland is a contractor in charge of procuring paid Christian programs for the TV channels and also encouraging participation in the faith pavilions at ZoomerShows. He told CC.com, "Moving forward, Vision TV will be a major sponsor of this show to motivate and rally the faith community."
However, not everything is going to remain the same. Jonathon Roth, executive producer of content for JoyTV in Vancouver, told CC.com that the entire production department at the Vancouver station (including Roth) has been let go. The changes include cancellation of the news interview program The Standard and another program, P3.
Ironically, Peter Klein, host of The Standard, has been nominated for an Emmy, to be handed out later this month, for a documentary called Over a Barrel: The Truth about Oil, which was broadcast on 20/20 in the US and on The Standard in Canada.
Prasuhn acknowledged that the two programs had not been renewed at the end of their run, but said JoyTV "will continue to carry locally produced programming." He said British Columbia's South Asian community in particular has stepped up to fill the gap with new locally produced programming.
Older demographic
Underlying the purchase of the faith-based channels by Zoomer is the assumption that they appeal to the same 45-plus market that Zoomer focuses on. If this assumption is true, it calls into question the long-term prospects for faith-based programming and perhaps even the long-term prospects for religion in Canada.
"Everything Zoomer does has to do with that market," Stautland said, "But nobody is projecting that demographic onto those channels. If you look at the ratings for any faith channel, you will see that they appeal mainly to people 50 and over.
In interviews with other media, VisionTV President and CEO Bill Roberts agreed that Vision and Zoomer "share complementary audience demographics."
"The boomer demographic — that's our audience," he said.
Roth agreed that Vision TV in particular appeals to an older demographic, but said the same is true for shows such as The Standard and also for American shows such as 20/20 and 60 Minutes and even newscasts on most channels. He noted that camera shots are cut every three seconds on youth-oriented channels such as MuchMusic. The result is that "the younger generation don't have the attention span to listen to a sermon." Similarly, he said, "the long-format interview (such as the half-hour interviews on The Standard) is dying."
It could even be argued that television, once the epitome of modern technology, is now becoming a domain of the older generation. Surveys show young people spend more time surfing the internet than watching television.
Furthermore, Roth observed, "the idea of religion is onerous to young people." He was at a recent focus group to gather input from young people and when the issue of religion was mentioned, they lost interest in the discussion.
The result, Roth said is that it is very difficult for faith-based television to succeed in Canada, especially when even some local secular stations are shutting down. "We are fishing in such a small sea," Roth said, adding that committed Christians may be only 10 percent of the population and Christian broadcasters can't even count on that segment — "Just because you are a Christian, it doesn't mean that you will watch Christian TV. Benny Hinn only appeals to one percent of the Christian audience."
Furthermore, Roth said the whole idea of religious television has inherent difficulties. The biggest lesson he has learned, Roth said, is that the medium is the message: "Television is an entertainment medium, and religion is not entertainment."
Bowler would agree with that thinking. In his opinion, Christian television "is an absolute waste of resources." It is expensive, wins few people to Christ and often "turns people off."
The CRTC regulations don't help either, Roth suggested. Religious stations are not commercially viable, but the CRTC regulations that stations must be multi-faith rather than Christian mean that Christians won't make donations to them either — they don't work as businesses, and they aren't allowed to function as ministries.
Prasuhn agrees that the CRTC requirements for JoyTV are "the most challenging and lengthy of any channel in the country" and that Zoomer may seek some modifications when the license comes up for renewal in a year or two.
However, he is much less pessimistic about the future of faith-based programming. He said that it is true that only 20-30 percent of Canadians are active members of organized religions, but added that there is also a large percentage who are inactive but still affiliated with a religion. And even those who are disconnected from religion often have an interest in spirituality.
He noted that VisionTV in particular is already broad in its approach. It has, and will continue to have, programming produced by specific religious communities, including all the major religions. However, he said, it also has programming that touches on moral and spiritual issues without being faith specific. "We're not pushing one point of view."
Prasuhn suspects that as the Canadian religious reality changes, Zoomer television will continue to adapt to its audience. Noting that VisionTV is available to most English-speaking Canadians, he said the opportunity and challenge is there for VisionTV to be relevant. He added that it is possible since in the last four years VisionTV's prime time audience has tripled and its overall audience has doubled.
Prasuhn is not worried about holding an audience. He said the zoomer demographic is "the part of the population that is growing, and that will be the case for many years to come."
Prasuhn also suggested that religion is not necessarily doomed to die out with the passing of the older generation, but that all generations tend to become more interested in religion as they grow older and begin to face issues such as mortality.
As well, he suggested that young people may not be interested in religion but they often remain very interested in spirituality.
Prasuhn is also not convinced that television is becoming an older person's medium. While it is true that young people spend more time on the internet, they still do the majority of their video viewing via television.
He added that programs such as It's a New Day still draw loyal audiences, and "a compelling interview can still be good television." He said that while it often takes a different approach to programming to attract a younger generation, "what will transcend different platforms is a good story."
Prasuhn also argued that new media do not replace older media but are added to them. He noted that Christian media ministries continue to use radio and television but also use the internet, social media and videos.
"Different media used together can be more impactful," he concluded — and that is what Zoomer is hoping to accomplish by adding television to its other media formats.