The Images bear all the hallmarks of typical children's art: bold use of colours; carefree disregard for perspective; crude but charming likenesses of buildings, animals and people.
But some of the people are bleeding; others are shooting them. Welcome to the world of Darfur's children.
These images are part of an exhibition titled 'The World Must Know: Children of Darfur Speak.' They are the dramatic centre of a December 10 event at Vancouver's Jewish Community Centre, featuring four speakers: former Secretary of State David Kilgour; a survivor of the Darfur conflict; Holocaust survivor Bob Waisman; and Anna Schmitt, affiliated with Waging Peace Canada.
Schmitt, who attends an Anglican church, collected the children's art while doing research in Darfur. Obtaining the images "was not that difficult," she told Canadian Christianity. "I was interviewing the men and women. One woman said: 'You should speak to the children, if you want to know the truth.'"
She decided to do so, and went to the children with a simple request.
"I wanted them to share in writing," she said. However, "one boy said, 'May we draw?'"
Art, she soon learned, "is their way of expressing themselves." While some gave written accounts, most created pictures. She collected some 500 drawings — "mostly Darfur children in camps in eastern Chad, and some Chadian kids."
The frankness of the images had an immediate impact on her. "You can imagine, I was quite shocked. Their drawings were quite telling; 98 percent of them were about attacks. I had to control my emotions. I'm a mother. To see these images from small children… I had to choke back tears. No child should have to carry around such memories."
Despite the emotional power of the images, she strove to approach the project logically. "I wanted to make sure it was their own testimony, not a collective memory," she said. "So I talked to individual children about their drawings, to confirm the details. I spoke to approximately two-thirds of the 500."
The drawings are part of the case being made against the government of Sudan at the International Criminal Court. "Supporting evidence is probably too strong a term" for the images, Schmitt said. Rather, the drawings were a means of "weaving a picture" of Darfur's strife.
Court officials, she said, are using the drawings rather than testimony, because they "don't want to subject the children to re-opening their wounds." The alleged perpetrators of those wounds, known as 'Janjaweed,' have yet to be apprehended.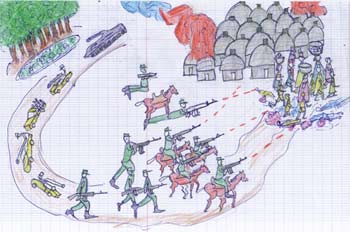 The janjaweed, she contended, "are brainwashed that this is a jihad ['holy war']; they are doing it for Allah." However, she noted a tragic irony: "Most of the victims are Muslims."
Increased attention on the situation, she said, has had some effect. "As long as we have our eye on them, a full-fledged attack may be prevented." But the measures which have been taken so far, she said, are inadequate.
A United Nations resolution was proposed, which would have made Darfur a 'no-fly zone,' and disarmed the janjaweed. The Sudanese government objected to these conditions; they also stipulated that no Western nations be involved in the UN operation. The government, she maintained, has been "stalling" the UN.
A Hybrid Force, combining UN and African Union troops has been proposed, and is scheduled to go to Darfur early next year. They will be able to protect civilians, but not respond to any attacks with force. Consequently, she contended, the Hybrid Force is "a tiger without teeth. I think they should have the power to disarm the janjaweed."
Schmitt is not entirely pessimistic. "I do see hope — if the Western governments have the political will to do something." Failing that, she maintained, "this is on its way to becoming another Rwanda. It's a slow ethnic cleansing — a slow genocide."
While her faith has sustained her in this endeavour, she said she had not initially sought to do this kind of work for God. "I didn't go looking for it; it came looking for me. I was pretty naive about what was going on in Darfur.
"I was reminded of the work of Brother Andrew, and of how Dutch people helped hide Jews during World War II. It seemed the Lord was putting this in front of me."
Aside from the difficulty of the task, she was daunted by the response of some fellow believers. "Some in the Christian community, at one time, opposed my work; but now they don't. At first, they couldn't understand why I would put myself in harm's way."
The work will likely get more intense. "My promise to the children was to give them a voice." The next step, she said, will be to provide a similar platform for some of the adult victims — specifically, "the women, many of whom have suffered from rape."