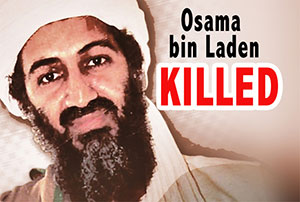 Late Sunday May 1, 2011, news was released that Osama Bin Laden, the driving force behind 9/11 attacks and the Al Qaeda Islamic extremism movement had been killed.
Ten years has been spent in the search for Bin Laden. Previous President George W. Bush made it his personal mission to hunt down the terrorist — famously igniting the 'war on terror'. Despite these efforts, the Muslim extremist always seemed to evade capture and remained in exile.
According to United States President Barack Obama, it was last August that there had been a lead as to where Bin Laden was hiding. "It was far from certain, and it took many months to run this thread to ground," said Obama. "I met repeatedly with my national security team as we developed more information about the possibility that we had located Bin Laden hiding within a compound deep inside of Pakistan."
After months of planning and intelligence gathering, Obama's team was ready to make their move. "A small team of Americans carried out the operation with extraordinary courage and capability. No Americans were harmed," claimed the President.
He also made it clear that the war against Al Qaeda would still be ongoing and stressed that his country "must — and we will — remain vigilant at home and abroad."
The President also took pains to make it clear that the killing of Bin Laden was in no way an attack on Islam. "Bin Laden was not a Muslim leader; he was a mass murderer of Muslims," said the president. " "Indeed, al-Qaeda has slaughtered scores of Muslims in many countries, including our own. So his demise should be welcomed by all who believe in peace and human dignity."
He also stressed that although Bin Laden had been hiding in Pakistan, Pakistani intelligence and cooperation was the reason for the success of the operation. Obama commented that he along with Pakistani President Zardari and his counterparts agreed that this was a "historic day" for both countries.
Obama ended his speech with the usual sign-off, blessing viewers and the country.
Early this morning Prime Minister Stephen Harper also addressed the public. "Bin Laden's death does not end the threat of international terrorism. Sadly, others will take his place," said the Prime Minister. "But this does remind us why Canadian armed forces personnel have been deployed to Afghanistan: To deny al-Qaeda and organizations like it the use of Afghanistan, where the 9/11 attack was conceived and planned."
Harper also commended the troops deployed to Afghanistan and their contributions to Canadian security abroad. He ended his address fairly diplomatically. "Canada received the news of the death of Osama bin Laden with sober satisfaction," said Harper. "We will continue to stand firm with our allies against the threat of global terrorism."
While Canada's reaction to the news was relatively tame, Israel's reaction was decidedly more jubilant. "This is a resounding triumph for justice, freedom and the values shared by all democratic nations fighting shoulder to shoulder in determination against terrorism," said Israeli Prime Minister Benjamin Netanyahu.