Competition can have its downside but there appears to be only silver linings and no clouds involved in the Great Canadian Food Fight, which pits Victoria's Mustard Seed Food Bank against those of two other cities to see who can raise the most food over a two-day period in October.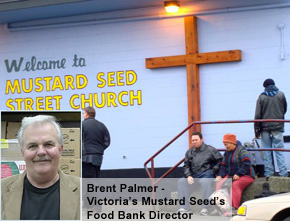 Mustard Seed director Brent Palmer says the contest isn't so much between the food banks as between the people of Victoria, Regina and Halifax and there won't be any losers because the media, both for-profit and non-profit organizations and lots of individuals are seizing on the event to generate food for those in need.
The contest runs from October 14 at 6 pm to the same hour on October 16, which is World Hunger Day.
"It's totally unconnected to Christmas or getting ready for Christmas," smiles Palmer. "People think Christmas is an especially hard time for people, but it's no harder than any other time of the year. But it's a good time for a food drive because Christmas brings out generosity in people."
Two days may seem like a short time for a food drive but Palmer says the food keeps coming for long afterwards. "It raises awareness. That lasts for a lot longer than two days."
The Mustard Seed began small, as a praying bench tucked into a closet at small businessman Gipp Forster's T-shirt store in downtown Victoria. Forster went on to become a Baptist minister and columnist while his informal, one-closet ministry became a vibrant street church and food bank, which also runs a faith-based therapeutic community for recovering addicts at the Hope Farm in the Cowichan Valley.
At the farm there is also a 10,000 square-foot food storage warehouse that distributes food to local banks up and down Vancouver Island, a sizeable proportion of which comes from larger population centres such as Toronto when they have surpluses.
The Mustard Seed also helps 18 other agencies in Victoria that provide food for the needy. Especially perishable food gets quickly moved to organizations providing meals. This is Victoria's second year to face off against Regina, though it is Halifax's first. Last year Victoria raised 103 tons of food against the Prairie capital's 173 tons. The Victoria bank also raised $50,000 cash, which Palmer says should translate into $150,000 worth of donated food because Canada's food banks pool their buying power. And when they buy in bulk, the food chains often throw in a lot of product near its expiration date for free.
Several supermarket chains–Thrifty's, Country Grocer–supported the drive by loaning transport trucks, donating food and organizing volunteer food workers to process the donations (Safeway Canada provides permanent depositories for donations onsite). Volunteers are needed too, says Palmer. "Regina had 3,000 volunteers and we had only 50."
Mustard Seed is relying on free publicity and boosterism from the news media as well as internal promotions by the schools and companies. "It would be great," he says, "to see the great Victoria Real Estate Board getting all the real estate firms doing their own drives."
Since Halifax is boasting that it has the Canadian Navy on board, Palmer is also hoping that talks with the Pacific squadron based in Esquimalt will draw similar support. "They rattled their sabers in Halifax. We are still waiting for a reply." Palmer says the demand for food has grown recently. "I think it's the impact of the HST. There's no tax on food, but the added tax on other things has hit people on the minimum wage or training wages and seniors on fixed incomes. Whenever taxes go up, demand goes up."
Steve Weatherbe blogs at faithvictoria.wordpress.com.