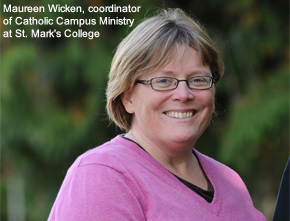 Baptist Chaplain Craig O'Brien recalls a spiritual conversation he had with "a very, very bright guy" who felt his humility ruled out any personal need to pursue God.
"He went on to say, 'In the grand scale of things, my life is insignificant. So what I do doesn't matter, and I just need to be happy and not hurt anyone.'"
That comment, O'Brien said, "launched a really interesting conversation — in which he smiled upon learning of how Jesus took on flesh and entered into the neighbourhood. That's God saying, 'You matter to me — and I will show you how you matter, and that I love you.' He smiled. So it resonates."
O'Brien, who is in the process of planting a church at the University of British Columbia (UBC), noted: "Perhaps now it's a harvest time."
Spirit is moving
The chaplain's conversation captures the hope that numerous Christian leaders at UBC are expressing. They believe the Spirit is moving. For one thing, students have become more interested, of late, in at least checking out the churches and Christian clubs on campus.
"A number of groups are talking about seeing growth," said Rich Carruthers, facilitator of the Born For More club. "They're really feeling like God is focusing their attention on growth, and they're connecting with new people more than perhaps in past years."
"This year in particular," said Tim Horman, lead pastor of U-Town, a Pentecostal church planted out of Point Grey Community Church in mid-2006, "I've seen a big upswing in terms of passion, commitment, people wanting to get involved, people with a heart for the campus, who really want to see [others] come to know Christ and be discipled well.
"In past years, we've tried to push for that, and this year it feels like we haven't really had to push every much at all." "Definitely, there's people enquiring," said Geoff Chapman, the senior pastor of University Chapel, an interdenominational church started in 1985. "We don't seem to have a Sunday where we don't have some guests who are new people to the area – and not all are Christians. If you get 30 guests on a Sunday morning, that's huge for the westside of Vancouver."
"I am amazed," said Maureen Wicken, coordinator of Catholic Campus Ministry at St. Mark's College. "Our chapel is mostly full on a Sunday morning. When we have students walking 20 minutes to come to church, there is something really good happening."
New churches
Further evidence of God at work at UBC is the recent arrival on campus of two new evangelical churches. One is Origin Church, which O'Brien began planting this summer in affiliation with the Canadian National Baptist Convention. The other is Urban Journey. It was started off campus by the B.C. Conference of Mennonite Brethren Churches in April, 2009. Last September, it moved onto the UBC campus. Andrew Stanley, Urban Journey's pastor, believes there is a harvest coming not just at UBC, but across the City of Vancouver as well.
"I think the Spirit of God is doing something – both within the churches that have existed here for some time, and those that are newly planted and being formed," he said. "There is a spirit of cooperation among the churches. We're praying for one another. We're not trying to compete."
And yet, compared to the sheer size of the UBC community, the numbers of those attending a club and/or a church remains small. According to the UBC website, as of November 2008 (the latest figures released), its total student enrollment stood at 44,982. Its faculty and staff numbered 13,622, making it one of the largest employers in the province. In all, people from 143 countries were part of the university community.
In contrast, U-Town's average weekly worship attendance is about 200 people, making it one of the larger congregations on campus.
Hard to grow
"UBC is a really, really, really hard place to grow any kind of fruit," Horman said. "In the last five years, I've seen probably six or seven churches come and go, trying to plant on campus – and giving up about a year in."
The key to new churches surviving, he adds, is "to have really solid support behind them, because it's going to be much harder to gather people and build a sustainable core. In particular, when you're working with students, they don't have any money, so you have to have a plan for that. It's vital."
For this reason, one of O'Brien's top priorities is to make sure Origin has all the support – both on and off campus – that it can muster, before holding regular services.
"We've resisted the temptation to just get something going," he said. "We need to build our prayer base, 300 people who would pray regularly for Origin, for the campus community. The second component is our partner base – churches who are willing to come alongside and join in, when we don't have all the personnel, and help us financially."
Stanley agreed. "Church planting is hard. It's a lot of work," he said. "We need other churches that are maybe outside of our area to adopt us, and support the ministry with prayers and finances – and also those that can, to actually release people to come, even if it's for six months to a year. We definitely can benefit from having more people."
Stanley agreed. "Church planting is hard. It's a lot of work," he said. "We need other churches that are maybe outside of our area to adopt us, and support the ministry with prayers and finances – and also those that can, to actually release people to come, even if it's for six months to a year. We definitely can benefit from having more people."
Opposition
A further hindrance is the apparent reluctance of authorities to grant churches permission to meet on university property. "UBC is generally opposed to church groups," Horman said.
"We've actually had quite a lot of favour in terms of getting building space. But for other groups I've heard of, and I'm not sure why it's been different in our experience, it's almost impossible to book rooms. They make it very difficult."
However, the greatest challenge these campus churches face are the students themselves. For most of them, UBC is just a brief stop of perhaps three or four years in their life journey. That leaves only a narrow window for these clubs and churches to try to make an eternal difference in their lives.
Urban Journey is hoping to turn this challenge into an opportunity for growth by seeking to become a mentoring church, where students can meet career professionals.
"Many of them are away from home, they're homesick, often their worldviews are being challenged greatly," said Stanley. "They just need support and care from adults that are not only really great people, but are interested in their journey at university."
"They respond to genuine love and care," Carruthers added. "I think there's a recognition that the way things have been, it's just not cutting it, and that what the gospel has to offer is a depth of relationship and authenticity that really is key for university students."
Spiritually open
And even if they are not yet ready to believe the Good News, Wicken insisted that students are nonetheless "very, very open to spiritual things. They're open to relationship and open to the possibility of there being something much more than what they can see, taste, touch and smell. They really respond if you respect them in their enquiry and seeking."
Given this high degree of student turnover, Horman said U-Town has chosen to develop a "Kingdom mindset" that acknowledges they may never see the fruits of their labours.
"We understand," he said, "that what we're developing in people, how we disciple people, is for when they go to their next church or go back to their home country. And so our hope is that when they go back, they're going back feeling confident and well-equipped to be able to sort of jump in and serve."
But bringing university students to that level of Christian maturity and commitment poses yet another challenge – since most of the current generation are completely 'unchurched.'
"We've got people who don't know King David from John the Baptist in our congregation," Chapman said. "They don't know who Noah was. For all they know, he's one of the twelve disciples."
Stanley has found a similar lack of knowledge among the families who live in the nearby Dunbar and Point Grey neighborhoods. "We have a number of kids, and many of them have never heard anything about Jesus or the Bible," he said.
"We're really in a kind of post-Christian world here, where parents have no understanding of these Bible stories or anything."
And yet, he added, "No matter what their biases are of Christianity, people do recognize that church is a place where there's a strong value [placed] on ethics and doing good. And so there are people that are interested in bringing their kids to church, because of those reasons."
Blank slate
In fact, it is this virtual blank slate when it comes to matters of faith that is giving campus missionaries an exceptional teaching – and reaching – opportunity.
"They have no baggage. They don't have this thing about all the things the church has done wrong," Chapman said. "So they're quite open and curious, in fact, to discover what church is about and what God is about."
It is this openness and curiosity that encourages O'Brien to believe there will indeed be a spiritual harvest at UBC, which in turn will generate a demand for even more churches on campus.
"Once you see people here coming to Christ," he said, "there will be a congregational need – where people say, 'We need a church.' And if they're not connecting in one, then what do they need to do together with the Spirit of God to actually become the church?
"Planting churches is not a prescription, but I'd say it's worthy of exploration – just because of the scale of lostness, and what happens when you actually engage a campus community with authentic Christian witness."