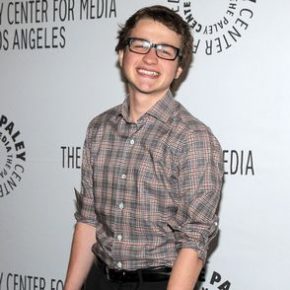 Angus T. Jones has found himself in the middle of a controversy because he has taken a controversial stance against the show in which he stars, Two and a Half Men.
Earlier this week Angus sat down with Forerunner Chronicles, a Seventh-Day Adventist media group that produces what I will call "Christian propaganda," to talk about life and his new found Christian faith (You can watch the videos below). The interview gets interesting when Angus turns his attention to his show Two and a Half Men. Here is part of what Angus had to say:
If you watch Two and a Half Men, please stop watching Two and a Half Men. I'm on Two and a Half Men and I don't want to be on it. Please stop watching, please stop filling your head with filth. Please. People say it's just entertainment… Do some research on the effects of television and your brain, and I promise you you'll have a decision to make when it comes to television, and especially with what you watch on television. It's bad news… a lot of people don't like to think about how deceptive the enemy is.  He's been doing this a lot longer than any of us have been around. There's no playing around when it comes to eternity.
It is not surprising that Angus' words have garnered a lot of attention. It has been made known by almost every commenter on this situation that Angus makes $350,000 per episode and that the show is the only reason that people care about him in the first place. Angus is biting the hand that feeds him, so to speak, which is a cultural faux pas in a society where many people struggle to feed themselves.
Many celebrities have chimed in on the apparent contradiction of Angus's beliefs. Andy Richter from the Conan O'Brien show sympathized in jest with Angus's inner conflict of appearing on a show that he would describe as "filth," and Rainn Wilson and Matthew Perry both parodied Angus's interview in order to garner attention for their own shows.
In many ways, the response to Angus has been fair. To say nothing about the content of Two and a Half Men and Angus's justifiable criticisms of it, Angus was out of line in speaking about his show in the way that he did. Angus's apology acknowledges his misstep:
I have been the subject of much discussion, speculation and commentary over the past 24 hours. While I cannot address everything that has been said or right every misstatement or misunderstanding, there is one thing I want to make clear. Without qualification, I am grateful to and have the highest regard and respect for all of the wonderful people on Two and Half Men with whom I have worked and over the past ten years who have become an extension of my family.

Chuck Lorre, Peter Roth and many others at Warner Bros. and CBS are responsible for what has been one of the most significant experiences in my life to date. I thank them for the opportunity they have given and continue to give me and the help and guidance I have and expect to continue to receive from them. I also want all of the crew and cast on our show to know how much I personally care for them and appreciate their support, guidance and love over the years. I grew up around them and know that the time they spent with me was in many instances more than with their own families. I learned life lessons from so many of them and will never forget how much positive impact they have had on my life.

I apologize if my remarks reflect me showing indifference to and disrespect of my colleagues and a lack of appreciation of the extraordinary opportunity of which I have been blessed. I never intended that.
What is interesting is that Angus's apology makes it more than apparent that having a personal conviction in any way shape or form is a tricky business. The consequences of having a conviction will almost inevitably go beyond the intentions of that conviction.
Thus, what has been missed in this controversy is the deeper conflict between one's personal convictions and one's social responsibilities. Should an individual forgo their personal convictions so as to not disrupt social sensibilities? Is there a place for an individual to speak against the system in which they find themselves? And what happens when someone has a change of heart, or more controversially, a religious conversion?
It seems to me that there is often little space for personal convictions, let alone religious convictions, in the public sphere. I think Andy Richter captures the present situation quite well in his amusing message to Angus:
Well Angus, here is my advice to you. Do what I do: smile, nod politely, and trudge onward through the filth. And as for those nagging little things you call feelings and a personal belief system, well there is a place for those and that place is hidden deep down inside yourself where no one, not you, your family, or even the shrink you have been lying to for years will ever find them. You wouldn't believe how many feelings you can fit down there if you shove really hard.
Instead of speaking about our beliefs or convictions — which are often confused with personal "feelings" — we are to bury our personal convictions for fear of being politically incorrect even if the thing we may be challenging — like Two and a Half Men — is itself politically incorrect. This is why communicating personal convictions in a public setting is a tricky business.
But, just because something is tricky doesn't mean that it should be avoided. This is why Angus's attempt to voice his personal convictions should be defended, because if personal convictions are not defended then we are in danger of conforming to the lowest common denominator – something I don't think anybody would support.
The question then becomes, what would you do if you were Angus T. Jones? Or, what do you do when your personal convictions don't line up with your social responsibilities? Do you evade or engage?