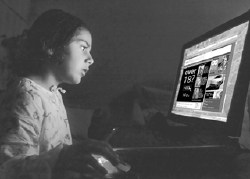 Family life is being increasingly affected by screens … TVs, computers, game consoles, along with hand-held electronic media — the ubiquitous cell phone, and portable devices like Sony's PSP. This generation, more than any that preceded it, do not regard electronic media as anything special. Concerned parents can wonder just how 'normal' all this screen time is, as well as wondering just what their kids are actually doing.
Technology is normal
Parents are commonly baffled and irritated by kids who simultaneously do homework, instant message three friends, and listen to music on their iPods. Studies show that teens consider 'multi-tasking' to be totally normal. After all, this generation has never had to adapt to the information age. Technology and the web have always been present, and are assumed to be a natural part of life — much like their parents view a microwave or a refrigerator.
Erin Research conducted a large study called Young Canadians in a Wired World, released in 2005. They surveyed more than 5,200 students, who were in Grades 4 to 11, from every province and territory, in both official languages, from both urban and rural environments. The study was funded by Industry Canada's SchoolNet program.
A remarkable 94 percent of Canadian teens have internet in the home. This represents an increase of 15 percent in only four years (when Erin researched the same kids). In addition, the majority of kids (61 percent) now have unrestricted 24-hour high-speed (ADSL or Cable) internet service. Thirty percent have their own computer with internet access (as opposed to sharing a family computer). By grade 11, 51 percent have their own computer. The increasingly multi-featured cell phone is becoming commonplace for teens; 23 percent have their own cell phone (six percent in grade 4, rising to 46 percent in grade 11). Further, 22 percent have a webcam for personal use (31 percent by Grade 11).
Smoke and mirrors
Instant messaging using MSN or Yahoo IM was found to be the single most popular internet activity of kids, across the board. This raises concerns for parents who may look over their childrens' shoulders and see an enormous list of indecipherable contact names. The Internet offers everyone an environment of anonymity. Protection of online privacy is a genuine issue of concern. Parents are concerned about stalkers who may prey on children. It appears that kids are savvy to this.
Even when dealing with a bona fida company like Yahoo or Microsoft, when asked about signing up for a free email account, only 30 percent would give their real name and address, 37 percent only an email address, and 24 percent would hesitate to give any real information.
However, the anonymity tempts users to assume a different online identity.
52 percent have pretended to be of a different age.
26 percent have pretended to have different personality characteristics.
24 percent have pretended to have abilities they do not really have.
23 percent have pretended to have an appearance different from their real one.
Offensive sites
Students in grades 7 to 11 were asked whether they had visited certain "offensive" sites on purpose during the current school year. Overall:
16 percent had visited porn sites.
18 percent had visited violence or gore sites.
12 percent had visited gambling sites.
9 percent had visited adult chat rooms.
5 percent had visited hate sites (e.g. those dealing in racial or religious hatred).
34 percent had visited at least one of the above types of site.
More boys than girls visited this set of sites, and more older than younger kids visited them.
What can parents do?
Persuasion and protection
In perhaps the most arresting — and encouraging — of results in this study, parental interest and involvement in teens' internet use makes a measurable difference, specifically by the setting of guidelines and rules. Teens report that their household has rules about:
Meeting someone in person whom you got to know online (74 percent)
Sites that you are not supposed to visit (70 percent)
Giving out personal information online (69 percent)
Telling your parents if something makes you feel uncomfortable (69 percent)
Whether or not these rules are explicit, and enforced in any way, cannot be corroborated. The research focused on four areas parents can discuss with their teens:
Sites you should not visit
Meeting people whom you got to know online
Giving personal information online
How much time you can spend online
The results of such discussions are measurable and significant, with a two thirds reduction in teens' visits to offensive sites.
"In each case the existence of a rule makes a considerable difference in kids' online behaviour," said the Erin study. "For example, in households where there is a rule about 'sites you should not visit,' 14 percent of kids in grades 6 and 7 have purposefully visited sites dealing in porn, gore, hate and related topics. In households that have no such rule, 43 percent of kids have purposefully visited these sites."
With 61 percent of households in Canada now having 24/7 broadband, even if the computer is in a "public place" such as the living room, with continual internet connection, parents cannot possibly be present at all times.
Erin Research disconcertingly states: "For an activity that accounts for a large proportion of children's time, internet use is largely absent from family conversations."