The Lakeland Outpouring, the controversial revival in Florida led by Canadian evangelist Todd Bentley, has come to an end, amid reports that Bentley's marriage is in trouble.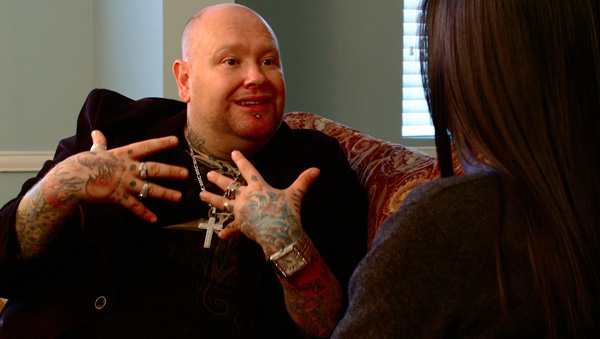 The board of directors of Fresh Fire Ministries, which Bentley founded 10 years ago, issued a news release August 12 stating, "Todd and Shonnah Bentley are presently experiencing significant friction in their relationship and are currently separated. We want to affirm that there has been no sexual immorality on the part of either Todd or Shonnah, nor has there ever been."
On August 15, the board issued another news release stating, "We have discovered new information revealing that Todd Bentley has entered into an unhealthy relationship on an emotional level, with a female member of his staff. In light of this new information and in consultation with his leaders and advisors, Todd Bentley has agreed to step down from his position on the board of directors and to refrain from all public ministry for a season, to receive counsel in his personal life."
The whole story?
Questions have been raised about whether Fresh Fire's board was telling the whole story. After the August 12 news release, Stephen Strader, pastor of Ignited Church, which had invited Bentley to Florida in April, told the Lakeland Ledger, "I've been assured by his people that there is no third party involved."
After the August 15 release, Strader said Bentley "told me he kept me out of the loop for my protection." However, Strader further stated, "Three years ago, he did the exact same thing. He grew out of his relationship to his wife and transferred his affection to another … The bottom line is that he was traveling too much and not taking care of his wife and family like he should." Strader also said he had been informed three weeks earlier that Bentley and his wife had been undergoing marriage counseling for a few years.
Bill Johnson, a pastor from California, said in a sermon August 17, "I was involved in a restoration process to help Todd a couple years ago, in this very area."
Sadness and disappointment
A statement from Toronto Airport Christian Fellowship pastor John Arnott, a key Lakeland supporter, expressed "sadness and disappointment" over the latest turn of events.
Regarding his personal relationship with Bentley, he noted: "I have known Todd for several years and have seen God work mightily through him." However, Arnott conceded that Bentley "has chosen to do something that is wrong according to scripture."
He added that "The Holy Spirit, who is perfect, must use imperfect people even in revival" — and that those who felt blessed by Lakeland should "not allow the seeds of hope and healing that were sown into you there [to] be uprooted by this leader's mistakes. It was God who touched you, and no one can take that away unless you allow it."
God, Arnott stressed, "is able to take the worst situation and turn it into a great blessing."
In their August 12 news release the Fresh Fire board of directors, referring to both Bentley's marriage and ministry, stated: "We are hopeful that the outcome will include restoration, but we can make neither promise nor guarantee."
Bentley had gone to Lakeland April 2 to lead four days of meetings at Ignite Church. The meetings were so successful that his stay was extended. The meetings attracted more attention when they were reported in Charisma magazine and broadcast on GodTV, and soon people were flying in from all over the world to attend. The meetings were moved to the larger Auburndale Life Church, to Joker Marchant Stadium in May and then in late June to two large tents on the grounds of the Sun n' Fun Fly-in Airport, which could accommodate up to 10,000 people.
Healings and revelations
However, the increased attention also led to criticism of Bentley's tattooed appearance, his occasionally violent approach to healing (sometimes kicking and hitting people), his theological emphasis on angels and prophetic revelations, and his claims of healings. Bentley claimed more than 20 resurrections from the dead had occurred during the Outpouring. However, news media such as the TV program Nightline complained that none of the healing claims had been substantiated.
The crowds began to decline, particularly after July 13, when GodTV announced that Bentley "would be taking some time off to refresh and to rest… after nearly one hundred days of ministry."
The meetings returned to the 700-seat Ignited Church, and Bentley was scheduled to resume preaching. It was decided to end the meetings in Lakeland August 23, and then Bentley was scheduled to embark on a series of Outpouring meetings around the world. However, those meetings have now been indefinitely postponed.
Further polarization
Lee Grady, editor of Charisma magazine, told the Lakeland Ledger that Bentley's fall would likely further polarize those following the revival.
This is particularly true in the charismatic community, where a very active debate has been raging, particularly on the Internet, ever since the Lakeland Outpouring began. One notable participant is Andrew Strom, who had already written the first book on the phenomenon, True & False Revival: An Insider's Warning, in addition to posting information on his website.
The intensity of the debate is reflected on CC.com, in the extraordinary number of responses to a feature on Bentley.
Grady said that some who had been ardent followers of Bentley will suffer "spiritual shipwreck" in the wake of the Outpouring's demise; but for others who "are not grounded in scripture … it won't be an issue."
Vision of Christ
While Bentley may be off the revival platform for the foreseeable future, his spiritual insights are available in books called The Reality of the Spiritual World, and Journey into the Miraculous. In the latter, he said he once had an extraordinary vision of Christ as a "warrior king."
"Upon his breastplate," Bentley wrote, "was the imprint of a golden eagle … His biceps were enormous, the size of my head, and he had massive forearms and huge hands. There was Jesus, the mighty warrior God! He towered over me, three to four times my height."
The evangelist further claimed that Christ gave him a special revelation, declaring to Bentley: "I have a hidden, secret army around the earth that I will enlist and uncover at my time. They are hidden away in the secret prayer closets — a generation of nameless, faceless nobodies … You are one of many first fruits of an entire army that I am equipping."
Elsewhere in the book, Bentley exhorted his readers: "The power of the early church that we read about in Acts is an example of the normal Christian life – the way it should be. And that's the blueprint for us, and our lives, too — but the new dimension of this Christian life will be even greater. Have faith in the God who does miracles!"
Bentley's theology was learned from other contemporary figures who are considered prophets by some charismatics, such as Americans Paul Cain and Bob Jones — and Patricia King, whose Extreme Prophetic ministry (like Fresh Fire) is based in B.C.'s Fraser.
While some bloggers have contended the Lakeland Outpouring was based on deception from the beginning, many in the charismatic movement argue the revival was genuine, and needs to be separated from Bentley's failures. Lynne Breidenbach, Bentley's media liaison during the Outpouring, observed, "God uses fallen, flawed people … This doesn't invalidate what Todd did."
Bigger than one man
The Fresh Fire board of directors pointed out in their news releases that the ministry is still running conferences, led by associate ministers, and pursuing missions and relief work in Africa. They cited Bentley's own words: "What God is doing is bigger than one man."
One of the most balanced observers of the Lakeland Outpouring has been Charisma's Grady, who has been writing about the phenomenon from the beginning. While sympathetic to the charismatic movement, he has been urging caution about Bentley and his supporters.
In an article called 'Sorting out the confusion', Grady was critical of people who were so eager for revival that they were "just plain gullible." He was also critical of some Lakeland supporters — such as GodTV, which dismissed any criticism of Bentley as "demonic."
Grady further criticized "respected ministers" Peter Wagner, Che Ahn, Bill Johnson and John Arnott who publicly laid hands on Bentley June 23 to "bring him under their care" — but apparently didn't ask the hard questions, or provide him the help he so desperately needed.
– additional reporting by David F. Dawes