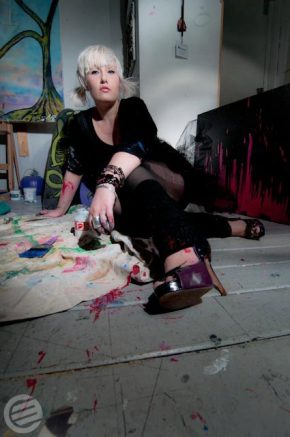 Stephanie Forster is a determined woman. The head of Nehemiah Foundation recently traveled to Haiti to make a documentary. She hopes to do much more, including building a village for survivors of the massive April earthquake. Following are excerpts from her weblog.
Whenever I used to feel blue, my mother would tell me to reflect upon the things I did have – instead of what I didn't have. She taught me to be grateful for small things, like having clean running water.
I would then try picturing what it would be like to not have such luxuries – so I'd feel better about my circumstances.
The reality is that a large percentage of the world lives without these luxuries – including some of our First Nations friends in Canada. Here in Haiti, I have learned to be grateful again – and been reminded how far North American culture is from the Third World.
I was sitting outside, here in Port-au-Prince, looking through Elle Canada's June edition – when I realized how shallow and far removed we are from reality. We don't want to focus on suffering, but rather on ourselves, or what others think of us. This is a battle I fight far too often: to buy the shoes or not to buy … eat out or eat in … new motorbike or keep the old one…
Don't get me wrong. I love fashion and food; but it's fleeting and temporal. So why obsess over it, and let it rule your life?
We think we can come into a foreign country, fix all the problems, and develop new infrastructure. But in the end, we do more damage than good – if we don't come in and study the culture and trends.
For years and years, white people have been coming in and removing the culture in Third World countries – to conform the people to what they think is the right way to live.
This is not the heart of God. If it was God's heart, why would he have made us all so different? God made us all different colours for a reason: so we can learn from each other and grow.
Perhaps you're thinking: "If God loves us, then why all this suffering? Why are all these people living in tents – eating mud cookies, with no food, clothes, human rights or water?"
The answer is that we live in a fallen world, and the plans God has for us don't always work out – because we have free will. Natural disasters happen all over the planet, all the time; the earth is a living machine we never will control.
We simply need to surrender to the fact that we are not in control – and that there is a force far greater than we will ever be, who is running the show.