Marja has recently written a follow-up article to this one. You can read it here.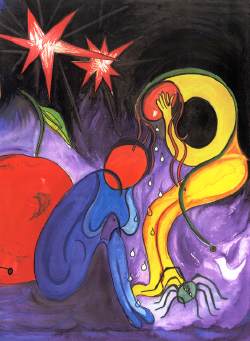 The first time I knew I was sick, I was nineteen. Psychosis had taken over my life before anyone, including me, knew what was happening. It was 1965 and I was a second-year student at the brand new Simon Fraser University. During the opening ceremonies, my senses were overwhelmed by the dazzling silver of the fresh concrete slabs that made up the modern architecture. I felt dizzy; everything seemed unreal. I struggled to stay connected with what was happening around me, but it was as if I were in a dream world, disconnected.
When I was with friends, I expounded on deep philosophical ideas, speaking ever faster until they could no longer make sense of what I was saying. My words could not keep up with my fast-moving mind. The endless overflow of thoughts would not stop. I was convinced that articles I read in the newspaper and programs I heard on the radio contained messages specifically meant for me, even when they were in a foreign language.
I lived through a terrifying sequence of psychotic thoughts and imagined experiences. In November, I was admitted to Crease Clinic, part of what is today Riverview Hospital, a large institution for the mentally ill. Over the next year and a half, I spent a total of nine months there, thought to be and treated as, a patient with schizophrenia. It was not until twenty-five years later that I received the diagnosis of "bipolar 1 disorder."
This physiological brain disorder manifests itself in a series of extreme high and low moods or mania and depression. Fortunately these extremes come only in the form of episodes. Usually my moods are halfway between these extremes and, as long I stay on medication, I function almost as normally as the average person. My medication ensures that psychosis is no longer something I need worry about.
The extreme moods are difficult to bear and I do everything I can to avoid them, but I must live with this disorder and I've learned to accept it. I am not angry at God for having made me this way. I would not be who I am without it. Every episode has had an impact on me. Every time I recover, I find I've learned a little more about life. My faith grows. Each time, it's as though I go through a fire, am tested and survive a stronger person than before. This suffering has also taught me compassion for others.
For much of my life with this disease I lived not knowing Jesus. As a teen I turned my back on the church, unable to believe in someone I couldn't see. I remember how I felt, going through severe episodes without God in my life: With the greatest determination, I used to cling to what was left of my mind's composure. I felt as though I were hanging from the edge of a high rooftop, white-knuckled, panicky with fear. How long can I hold on like this? Can I maintain my strength? What will happen if I let go? Exhaustion overwhelmed me. Far below was the hard ground and no one to catch me if I fell. But I did fall quite often. These experiences were devastating and difficult to recover from.
The support I received from family, friends and my doctor was helpful, but I was alone in the battle.
At the age of forty-two, during a particularly stressful time, I finally turned to God, learning that he loves me too much to let me go. God helps me cope better. Extreme difficulties no longer develop as often. Sometimes I still have a fear of falling, and for good reason. But today I have a Bible that tells me, Don't be afraid, for I am with you. Do not be dismayed, for I am your God. I will strengthen you. I will help you. I will uphold you with my victorious right hand. (Isaiah 41:10, NLT) Remembering this gives me comfort when I need it.
For all my years from toddler to teen, I had heard the Bible stories and learned about Jesus, but it was as though I hadn't been there. I had to learn everything again, from the ground up. But this time my heart was open enough to absorb and accept, to learn about his love for me. This time the message penetrated and stayed with me. My heart had become softened and ready to absorb. Gradually Jesus became a part of my life.
My prayers were a haphazard array of disconnected thoughts directed to God. But one prayer, which held a lot of meaning for me, was a complete request. I often began the day praying, Please, God, fill my heart with your love and help me share it with others. I wasn't planning on converting my friends; I just wanted to love others the way Jesus shows his love in the Bible. I wanted to do what he tells us: to love my neighbors everyone I might meet. This made a lot of sense to me. After I began following Christ, I started educating others about mental health issues. I wrote articles and a book about what it is like to live with bipolar disorder. Riding the Roller Coaster encourages others who suffer as I do. God helped me feel good about myself and gave me the courage to speak up. I, a quiet and shy young girl who had been afraid to open her mouth in school, became an activist.
The urge to speak out and to support others with the disorder never leaves me. Sometimes I get sidetracked, but I always come back to this purpose I have found for my life. God has given me gifts suited to this work, and I receive great satisfaction from them. My life is full, and I'm happy knowing I'm doing something worthwhile. I still struggle with my disorder more often than I would like. In all likelihood, I always will. But, thanks to God and the support of those who love me, including a wonderful group of Christian friends, my mental health is better than it was before I became a believer. I still have bipolar disorder; that won't go away. I will always need medication. But I know that my hope comes from him. He alone is my rock and my salvation; he is my fortress… (Psalm 62:5-6)
Now, I look upon my difficult mood swings as something I can ultimately use for good. With my understanding of what lows and highs feel like I can help others cope with their mood disorders. Challenging periods will always be part of my life. There will be times when I'll have trouble. I may even fall. But I know that when I do, God will be there to catch me and stay with me as I recover. I'll never be alone again.

Marja Bergen is a photographer and writer living in Burnaby, B.C. She is the author of Riding the Roller Coaster: Living with Mood Disorders (Northstone, 1999). Her second book, A Firm Place to Stand: Forty Years with Bipolar Disorder is ready for publication. She is the founder and facilitator of Living Room, a faith-based mood disorder support group at Brentwood Park Alliance Church in Burnaby.
May 2007