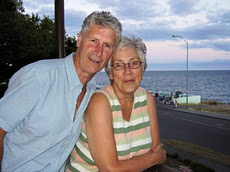 Peter and Isabel Macraild will be living in Quezon City, a suburb of Manila, in the Philippines, for the next five months.
Their assignment: taking care of the SEND International guest house for mission workers.
Peter is retiring from the pastoral staff of Gateway Baptist Church, a handsome cedar-clad edifice that climbs the hillside just south of the Royal Oak Burial Park.
They leave Victoria, but not for long. Peter says it is important, at this juncture in Gateway's history, for the Macrailds to have their minds on other ministry activity.
But they will be back. Children and grandchildren are in this part of the world and will require their congenial attention.
And Peter's time in the pastorate here has given him a sense of what can happen if the 'city church' movement continues to develop momentum.
The annual Good Friday service and, this past year, the Draw Near 24/7 availability of churches for continuous prayer are examples of the kinds of things that Macraild will like to continue to encourage, when they return to the city, next year.
Macraild and his co-pastor for the past 10 years, Gordon Paterson, went through a somewhat complicated but ultimately encouraging experience three years ago.
That was when the congregations of two churches in the same Baptist communion, operating just a few kilometres from each other, decided to become one.
One, Royal Oak Baptist, had an attractive and commodious building and an aging congregation with a traditional approach to worship.
The other, New Hope Baptist, met in rented facilities with two pastors who worked well together and a contemporary, charismatic-leaning approach to church life.
In effect, the merger proved to be the 'Gateway' to the future for the two congregations that became one.
For Scottish-reared Macraild, the pathway to the Christian ministry was triggered by a construction worker colleague in Toronto who provided a clear Christian witness.
Asked to lay the man off from his job because his faith seemed to cause workplace friction, Macraild says, "I felt a pain about that. I found myself as an agnostic, praying for him."
The man did return to his job. And, for his part, Macraild began a reading process that led him to Christ.
The call to ministry came a few years later when he was a deacon at Bayfair Baptist Church, a large congregation just east of Toronto
When the call became clear, the Macrailds headed for New Brunswick Bible Institute, then to a pastorate in Hamilton, Ontario. Masters studies followed at Briercrest Schools in Saskatchewan.
After church planting in Victoria's Western Communities, Peter and Isabel went to Scotland, to pastor an Edinburgh church.
But it seemed like a wrong move almost from the beginning and they soon returned to B.C.
"I felt [like a] failure. If I couldn't read God's will for own life, how could I, for a congregation of 200 people?"
So he did some non-pastoral work in Vancouver while sorting things out.
As it happened, Peter had known Gordon Paterson when they were pastoring different churches in the Western Communities.
Now, Gordon was at New Hope and he asked Peter to join him in a team pastoral arrangement. "I would do most of the preaching and Gordon, the pastoral and small group work."
The same arrangement prevailed when the Gateway merger occurred. Paterson officially is "about two-thirds time" to permit him to do men's retreat preaching and pastoring for other Christian leaders – something for which he is well-suited.
Now, with Macraild retiring, Paterson, who is only slightly younger and a fairly recent widower, will stay on for a year or two.
Meanwhile, Dan Rutherford will become the new senior pastor. He comes most recently from The Meeting Place, a large Mennonite Brethren contemporary congregation in Winnipeg.
For an average-attending congregation of about 200 – if everyone was there on a given Sunday, it would be around 400 – Rutherford is seen as a good fit.