"Manners matter and character counts!"
That's the message of Judi Vankevich, AKA Judi the Manners Lady, Canada's award-winning recording artist and family entertainer who is sweeping North America and capturing children's hearts with her exciting music and vital message of kindness and respect — especially this month as families, schools, churches and communities celebrate 'National Manners Month.'
"Just imagine what Canada could look like, if for one month we were intentional about focusing on manners, respect, integrity and thankfulness in our families, business dealings, school life, athletics and in our churches," said Vankevich, who is also director of the non-profit American & Canadian Project for Manners & Civility.
"Marriages could be healed as husbands feel more respected and wives feel appreciated," she added. "Family tensions eased as children express gratitude to their parents rather than whining and complaining. Road rage would disappear. Employee relationships would be smoother and clients would love the great customer service. People would respect other people's property and not steal. Athletes would play fairly and the schoolyard bully could be won over by kindness.
"It's all about living with courtesy and character. Manners are an outward expression of our inward character — who we really are," said Vankevich, a graduate of Regent University's graduate school of law and government, and of Trinity Western University's school of business and political science.
"Unfortunately, common courtesy is no longer common — with children or adults," Vankevich continued. "Children are often disrespectful to parents, elders and authority figures. Cursing is rampant in the playground, offices and airwaves. Almost every crime in our society — murder, stealing, bullying, graffiti, and road rage — is an extension of very bad manners: lack of respect for others, for their property and for oneself."
Mark Early, president of Prison Fellowship International, agreed: "If more of our teens could learn manners, we'd have fewer of our teens in trouble and in jail."
Canadians may be realizing the need to get back to basics. Prime Minister Stephen Harper has lauded National Manners Month as "a creative approach to promote family and community values."
Vancouver Mayor Sam Sullivan has said that he has a vision to help Vancouver become a "civil city" and will make an official proclamation that Vancouver is celebrating National Manners Month in September. Langley will be celebrating National Manners Month with a Manners Lady concert and a city-wide 'Town Hall' celebration with community leaders and VIPs.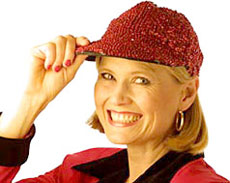 Sponsors have donated the Manners Lady's award-winning CD It's Fun to Have Good Manners! to every elementary school in Langley. "We cannot do enough to reinforce the value of respect," said Langley City Mayor Peter Fassbender. "Politeness is not just a nice thing to do when we feel like it, but rather a quality that should be an integral part of our DNA. National Manners Month in Langley will help remind us of the importance of manners, character and civility in our homes and in our community."
Don Page, professor of leadership studies at Trinity Western University, added: "For far too long we have focused our attention on the results of the aberrant behaviour that flows from a lack of respect and civility in our society. It is time for us to get at the root causes of these behaviours and that is precisely what the Canadian Project for Manners & Civility does. The launch of National Manners Month could be the beginning of a much-needed national societal values rejuvenation based on positive character attributes."
To help families, sport teams, companies and schools celebrate National Manners Month, the American & Canadian Project for Manners & Civility has developed a Family Pledge, Athletic Pledge, Business Pledge and School Pledge focusing on "respectful attitudes, words and actions". They are also sponsoring a national contest to find Canada's 'Most Polite' child, teenager, athlete (professional and amateur), employee or businessperson, politician and neighbour. Contact 604-530-4346 or NationalMannersMonth.com.
ASSIST News Service