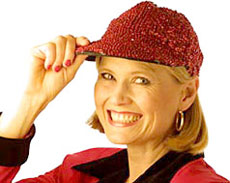 Dubbed North America's emerging 'Martha Stewart of Manners,' a former Paris fashion model — now an etiquette mentor — is hitting the road.
B.C.-based Judi Johnston Vankevich — better known as Judi the Manners Lady — is taking the old-fashioned message of honour, respect and obedience, with a hip twist, to public schools, community concerts and churches across Canada and the United States.
She is also hitting the radio airwaves with her new commentaries, 'Judi's Family Minute,' produced by Salem Communications; and Vankevich was recently featured on James Dobson's radio show, Focus on the Family. Her concert tour this fall and spring in support of her highly anticipated children's CD debut, Everybody Needs Good Manners! will take her to L.A., Boston, Atlanta, Washington, Seattle, Colorado and Toronto, including performing at 'Baby Boom,' the national parenting conference in Ottawa.
Vankevich's signature show for children and parents, 'Being Cool with the Golden Rule,' is delivered in a high-energy, infectious sing-along format that features easily-memorized lyrics set to a variety of original music from her CD — ranging from '50s rock 'n' roll to country western to ballads, including 'The Golden Rule Rap,' 'R-E-S-P-E-C-T,' 'The Bad Manners Monsters,' and 'We Want to Obey Our Mom & Dad!'
On her September tour to Alberta, during which she performed at public schools and churches, Mike Diebert, family pastor at Temple Baptist Church, commented: "Our families loved Judi's program . . . She teaches biblical principles of honour and respect in a fun way! One of our goals in our family ministry is to develop character and integrity in our children, and to encourage them to treat others with respect. It was great to see our families commit to do their best to live with good manners by saying 'The Good Manners Pledge.'"
Vankevich commented: "Unfortunately, sometimes it seems that we're rudest to the people we love the most, our family. So living with good manners starts first in our homes. It's great to have so many families having fun, coming to The Manners Club and learning good manners together."
It all began in Virginia in 1995, when Vankevich started teaching her then three-year-old daughter Alexi about the do's and don'ts of social etiquette. Since then, it has blossomed into an international trend-setting movement that has gotten Vankevich and her Manners Club & Life Skills International organization onto the front pages of the Boston Globe, Christian Science Monitor, Vancouver Sun, The Toronto Star and Today's Parent Magazine.
Television appearances over the past several months include CBS This Morning, Canada AM, the CBC, CTV and WB networks, and 100 Huntley Street. As the National Post put it, "The Manners Lady is on a mission." Recently honoured by the Women of Excellence Awards with the award for Arts & Culture, as well as by the Langley Chamber of Commerce as the 2001 New Entrepreneur of the Year, Vankevich is a nominee in the upcoming Canadian Gospel Music Association Awards on November 2. As well, her CD will be entered in the children's categories for the Grammies, the Doves and the Juno Awards.
Vankevich recently opened for motivational speaker Zig Ziglar at the Queen Elizabeth Theatre in Vancouver, and invitations have come from New Zealand, Australia, South Africa and the Philippines for Vankevich to bring her good old-fashioned message. In August, the Salem Radio Network launched Vankevich's one-minute 'Family Commentaries' in 13 U.S. cities, with tips on parenting and public policy' and her column, 'Ask The Manners Lady,' will be launched in West Coast Parents magazine this November.
Parents, schools and communities are seeing Vankevich's program and music as a preventative and proactive way of dealing with serious social problems. In May, when Vankevich performed in Colorado Springs, she remembered the victims of the Columbine High School massacre. She recently spoke at the West Coast Conference on Bullying and Suicide Prevention, opening with her song, 'R-E-S-P-E-C-T.'
Kurt Alberts, mayor of the Township of Langley, B.C., who recently participated in one of Vankevich's assemblies, said: "Judi's message of respect, basic courtesy, and thinking about the other person will help build better relationships and make our communities stronger. Adults, including our political leaders, can learn from the Manners Lady."
Neil Markva, a Christian attorney in Washington, D.C., noted, "What Judi is doing is important and strategic. She is helping to train the next generation in self-government and self-control." Vankevich responded: "My vision is to make it fun for children and families to learn these important life skills — as well as to provide resources for parents to help them do the job that God has called them to do."
One of the most rewarding things for Vankevich is to receive calls, e-mails and letters from across the continent — from parents and grandparents who are so thrilled with the change of attitude and behaviour of their children and grandchildren. One mom from Toronto said that her neighbour's son was one of the rudest little boys she'd ever seen — and after listening to Vankevich's CD, he was like a different child. One father from Vancouver called to say, "My four and a half year old was developing an attitude, so I got Judi's CD. My son loved it and played it nonstop for days. Then my wife and I started noticing that Lucas was obeying 'right away without delay,' he was wearing his 'happy eyes,' he was helping to set the table, and he even asked, 'Mommy, is there anything else you want me to do? We were amazed!'"
Vankevich's diverse background all seems a natural fit for her recent calling as a children's entertainer. Originally a farm girl from Ontario, she became a Paris fashion model. She then earned degrees in Business & Political Science at Trinity Western University in B.C. and a Masters degree in Law & Government from Regent University in Virginia. Vankevich also worked in feature development at Universal and Disney Studios in L.A., and helped produce the Movieguide Awards. She is currently based in Vancouver with her husband Ned and three children.
ASSIST News Service