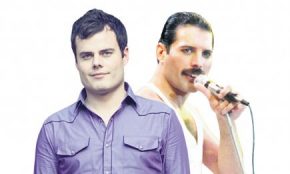 His unique voice ushered in the 90's and survived throughout the 2000's. You've stomped and clapped with "We will Rock You" in sports arenas and you may have even attempted the highs and lows of "Bohemian Rhapsody" on a karaoke night.
I am of course talking about the voice of iconic Queen front man, the late great Freddie Mercury. For decades no one could replace him, until Roger Taylor of Queen, launched a talent search looking for vocalists and musicians to star in "The Queen Extravaganza" tribute tour.
Eager hopefuls immediately started uploading their audition tapes to YouTube for a chance to tour with the band. It was that very week near the end of September when the web went ablaze with uploads from countless Freddie Mercury impersonators.
One person who decided to submit a video was Christian rock band Downhere's Marc Martel. Originally hailing from Canada, (now living in Tennessee), Martel has been the lead singer of the his band for the last 10 years.
The audition video itself appears unexceptional. Martel films in a messy studio space. He's holding a mic and introduces himself as Marc Martel doing his "Somebody To Love" audition. He pushes the play button to his backup music. Then, when he starts singing, you hear what seems to be Freddie Mercury's voice coming from this guy's mouth.
Since September Martel has been winning Queen lovers all around the world. His audition video now sits with over 4.5 million views and, after having made it to the public voting round of the talent search, has a clear shot of winning the competition. We got a chance to talk to him as he wraps up his album tour before he heads back up to Canada for the "How Many Kings" Christmas musical tour.
How did it begin?
A friend in Nashville found out about the contest and obviously for years people have been telling me that I sound like Freddie Mercury and everybody who knows me knows that. He found out about the contest the day of, the day that it began and he sent me the link and I thought to myself, "Wow this is amazing, this is actually legitimately put on by Queen themselves and I thought I don't know if I can pass this up."
Were you expecting your audition tapes to do that well? You're coming up to 5 million views.
It's very amazing. Every now and then I have to remind myself though that Justin Beiber has hundreds of millions of views. Nobody expected it … It is absolutely mind-boggling how something like that can just take off and especially since people have been telling me that I sound like the guy for years. I didn't realize that people really cared that much you know? It was like never that big of a deal, but I guess it is. It's awesome.
Were you a fan of Queen before?
I definitely am a Queen fan. I was introduced to the band through Wayne's World like a lot of people in my generation. Obviously I'd heard "We Will Rock You" and "We are the Champions" at sporting events and what not, but I really got into the band themselves probably 10 15 years ago
Is that your natural singing voice? Or do you mimic others?
I'm definitely a mimic naturally but then there are definitely a few other singers I can do fairly well but even when I'm not trying to mimic Freddie Mercury, people always tell me, people at my shows or come see our band [say that] I sound like Freddie Mercury. Even when I'm trying specifically not to sound like him I still get it. [I use] mostly my normal voice but I put it on a little bit when I want to try to sound exactly like him.
Your audition tape was so natural and flawless. How many takes did you take?
Think I did around 6-8 takes I believe, and that was the last one I did. The first few I did were a lot more animated and I just felt like a bit of a goofball jumping around in my studio and I was like, "You know what? I'm not gonna do that. I'm just going to stand there basically and sing the song and not make a big deal out of it." And I didn't make a big deal out of it by not cleaning my studio!
So it's like the real you.
Heh heh yeah and I was still kind of doubting myself whether or not I should upload the video because you know, I love what I do with my band. We've had a great 10-11 years and I'd love to keep doing this for as long as we can and I was afraid in a way that if I win this it could interfere with my band. There are three other guys' careers at stake here. You know, if it interferes with that.
What would happen then, with your band, if you win or lose?
Well the good thing is that if I win, it's a temporary thing. It's not like a career thing to be in a Queen tribute band. It's a tour that's going to happen next year for two or three months and as far as I know that's all. And I'll be able to keep playing with my band. We're already booking a spring tour next year so we're still moving along with our band as if nothings really changed.
Knowing that Queen was controversial with Freddie Mercury being homosexual, does singing Queen songs harm the Christian-ness of Downhere?
We've had so much positive feedback from the Christian community. I think people know us, people know our hearts and they know that we're strong believers and that is the foundational thing, to all four of us, and me included obviously, and I wouldn't jeopardize that with this and some people have different opinions as to how far a Christian should go..  as far as being in the world and not of it. This tour, this whole thing, when it comes down to it, is a tribute tour for a great band who put out a lot of great music and the reason why its great music is because they said a lot of stuff thats true. And it really resonated with the hearts of millions of people. They're the second or third most selling band ever. And the reason for that is because not only did they write good music but I think their lyrics, obviously they weren't coming from a biblical perspective, but I also believe that all truth is God's truth and when you speak in truth people will resonate with that and want to hear more. And this tour is not about celebrating Freddie Mercury's personal life decision, it's not about that, it's about giving Queen fans something new to cheer about and I can get behind singing truth even if its not proclaiming the gospel, its still truth, and people want to hear that.
How does your band feel about your success? Are they jealous?
Glen, our bass player, has submitted his audition and he's actually made it to the 2nd round as well. So there's a possibility that he might be coming out on the road with me. I'd be so ecstatic about that, it'd be so great to have another one of my band members out on this tour with me. Also my brother, he's in the 2nd round of vocal auditions. He's got a really good chance of winning as well because they're picking three singers not just one. But the band has been really supportive. They're just happy. This whole thing has brought Downhere some exposure to an audience that otherwise would never have heard our music before and its just really cool to go on youtube to read some of the comments by people who aren't believers and don't have any christian music on their iPod yet they're buying our album and they're saying stuff like "Well i don't know how well christian music is going to fit in my iPod music repetoir but I love the music and its in there!"
Lastly, can you talk about your dirty 'stache?
You know what? I really wanted to, and I started it, cause we were on the road and I'm like 'well i got nobody to impress' So i did have the mustache for about just over a week and then I got home and my wife is unfortunately not a mustache fan at all so as soon as I walked in the door I had to cover my face with my hand and I'm like "Aaah I'm sorry honey I'll shave it right away" and she's like "yea you better!"  Well it wasn't very impressive. I think the way to do it is to grow the whole beard out. She can stand the whole beard and then just shave off the beard and leave the mustache so then its actually a real mustache and not just the dirty 'stache. Strategy.
Public voting ends on Monday November 28 so be sure to visit www.queenextravaganza.com to cast your vote for Marc Martel!