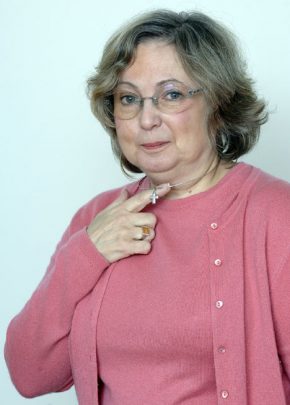 Don't Cross the Government
The European Court of Human Rights will try a case later this year over whether Christians in the United Kingdom have the religious right to wear a cross or crucifix openly at work. According to the Toronto Star, the case brings together four separate cases, including that of Nadia Eweida, who was suspended in 2006 by British Airways, which said her refusal to take off her cross breached the company's uniform code. Eweida lost the case in court, but the airline later changed its policy. The government will argue in the case that employers can ban the wearing of the cross and fire workers who insist on doing so because wearing the crucifix is not a "requirement" of the Christian faith. However, critics point out that it is inconsistent to deny Christians the right to display symbols of their faith while granting special status to the Sikh turban and Muslim hijab.
E is for Evangelical
A study conducted by the Institute for Jewish and Community Research asked 1,269 university professors in the United States: "What are your overall feelings toward the following groups?" Fifty-three percent of the professors said they had unfavourable feelings toward evangelical Christians, 33 percent to Mormons, 22 percent to Muslims, 18 percent to atheists, 13 percent to Catholics, 10 percent to persons not practicing any religion, nine percent to non-evangelical Christians, four percent to Buddhists and three percent to Jews.
Telling stories
A Christian evangelist went into a Muslim community in southern Ethiopia and began telling stories about Jesus. The chief elder of the community, who was also a Muslim Imam, was very distraught over the fact that his ten-year-old daughter had been missing for several days. After hearing the stories of how Jesus performs miracles, he asked if Jesus could still perform miracles today.
The evangelist said, "Yes."
The chief asked the evangelist to pray that he would find his daughter and said that if he did find his daughter, he would become a follower of Jesus.
The evangelist agreed to pray. The daughter was found the next day. The chief elder followed through with his promise to become a follower of Jesus. In fact, everyone in his family became Christian—and the entire village as well.
The evangelist had received "orality training" from Living Water International, one of the leaders in the worldwide Orality Movement. The training emphasizes that evangelists don't have to be great storytellers since they have great stories to tell, such as the story of the Samaritan woman at the well (John 4) and the story of the demon-possessed Gadarene (Mark 5).
Research has shown that 4.35 billion people (70 percent of the world's population) are oral learners—they can't, don't or won't read. Yet, an estimated ninety percent of the world's Christian workers present the gospel using literature.
One man reported that he used to go into villages, pass out tracts and share his testimony—and people wanted to argue with him. Now he says, "We go in to the communities, make friends, tell stories and ask questions, and the people want to receive Jesus and follow Him."
Orality methods are expected to be a key component of future Christian missions strategies.
Adapted, with permission, from a story distributed by Assist News Service.
Fishing with an Internet
Coinciding with the one-year anniversary of Japan's disastrous tsunami, in early March Jesus.net Japan launched a series of seeker-friendly "stepping stone" web sites in an effort to lead Japanese people to Christ. The effort is part of Jesus.net, a global alliance of Internet ministries that is now operating in more than 20 languages worldwide. Jesus.net Japan is also partnering with the Billy Graham Evangelistic Association's "Celebration of Hope" event in Tohuku, a speaking tour in northern Japan by American evangelical writer Philip Yancey, Samaritan's Purse, Campus Crusade for Christ and CRASH Japan. The first stepping stone site, Hope for Living, introduces visitors to survivors of earlier earthquakes and other traumatic experiences and shows how they have been strengthened by faith in God and Jesus. A second site, Hope for Living: Knowing God, introduces inquiring users to the gospel. A future site, Why Jesus?, will offer an interactive five-week course that connects seekers with Japanese Christians (e-coaches) online. At the end of the course, participants will be invited to a gospel meeting at a local church.