Stephen M. R. Covey, who comes from one of my favourite Mormon families, was featured on the front page of the Ottawa Citizen on September 5.
The story was entitled: 'Erosion of trust costing country billions: author.' The subhead read: 'High cost of low trust like a wasted tax.'
The nub of the piece was a speech and amplifying comments delivered by
Covey, author of 'The Speed of Trust.' He was brought to Ottawa a few weeks ago by the Institute of Public Administration, a public service think tank. In the words of reporter Kathryn May, his task was "to explain to nearly 700 bureaucrats how to turn that mistrust around."
As it happens, May's desk is in the next aisle to mine in the Parliamentary Press Gallery office. Much of her reporting is about the federal public service, particularly the periodic clashes between the bureaucracy and the politicians.
After the story appeared, I chatted with her about it. One of her most
intriguing comments was that the story remained unpublished for several weeks after she wrote it.
The fact that it seemed spiked for a while, but ended up on the front page, would (in my modest view) reflect positively on the editorial judgement of the person on the desk who chose to place it as he or she did.
Permit me to put a bit or two from the story into some context.
First the Mormon bit. Yes, I got your attention, didn't I?
Covey and his father, Stephen R. Covey (author of The 7 Habits of Highly Effective People) do not hide, for a moment, their adherence to the Church of Jesus Christ Latter Day Saints (Mormon).
But their writings are carefully couched to reflect the ethical, moral, biblical and spiritual values held in common by Christians of various stripes. I have suggested, in the past, that many Christians trying to get their personal and professional lives in order have benefited extraordinarily from a careful reading of the Coveys' various writings.
Now, let's look at a couple of things in May's story about Covey's Ottawa appearance.
Firstly, she says Covey argues that "trust is a critical economic driver and not [just] a nice soft, social virtue. It can be learned and should be the top competency of all leaders."
Further, "Trust affects everything, not in incremental ways, but in profound ways. It's at the heart and core of relationships and being effective."
Covey argued, in Ottawa, that the biggest thing governments can do to cut costs and save money is to restore their relationship with employees and voters. He suggested that when trust goes up, speed goes up and costs come down.
In reporting on Covey's comments, May provided some of her own analysis.
She noted: "The trust breakdown in government is complicated. Voters don't trust politicians and politicians don't trust Canadians with information. Employees don't trust their managers; unions don't trust management and taxpayers don't feel they can rely on fast, efficient services."
* * *
My observation is that, as far as it goes, May is accurately assessing the situation.
But I would suggest that one of the reasons for lack of trust relates to the adversarial structure of our democracy and its related governance system.
The parliamentary adversarial system tends to mask, in the public mind, the attempts to "make parliament work."
Why should the Conservative and Liberal house leaders, Jay Hill and Ralph Goodale have trusted each other to make for the smooth passage of legislation when each was responsible to make his own party look good before the next election and make the other's look bad?
And why should things be any different, now, with John Baird and David McGuinty being in the same position.
The fact is that things were not all that bad under Hill and Goodale. And
they have potential to be pretty good with their successors. And Hill, as the government house leader, needs credit for setting that tone.
True, and it goes almost without saying, the combative rhetoric will never die, and those who watch or listen need to separate the chaff from the wheat.
But if Baird and McGuinty can trust each other, keep the volume down and
work toward the public good, they will accomplish a good deal – and
perhaps event make an expensive election unnecessary until October, 2012. (That, in case anyone has forgotten, would be four years from the last election. It would allow Canada to actually use the fixed election date law passed in
Stephen Harper's first term.)
The goodwill that would make that possible would go a fair way to build the kind of trust that Covey talked about during his Ottawa visit.
* * *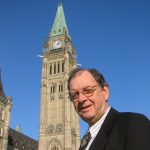 Lloyd Mackey is a member of the Canadian Parliamentary Press Gallery in Ottawa and author of Stephen Harper: The Case for Collaborative Governance (ECW Press, 2006), More Faithful Than We Think: Stories and Insights on Canadian Leaders Doing Politics Christianly (BayRidge Books, 2005) and Like Father, Like Son: Ernest Manning and Preston Manning (ECW Press, 1997). Lloyd can be reached at lmackey@canadianchristianity.com.