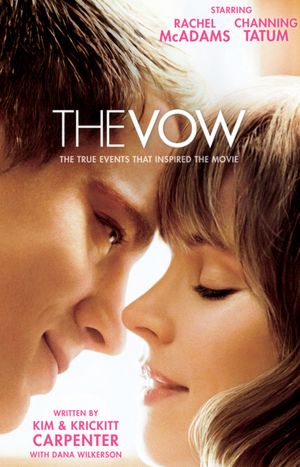 Movies helped place four Christian books on the New York Times best seller list in February.
The Vow, Kim and Krickitt Carpenter's true story of faith and commitment, topped the New York Times non-fiction best-seller list in its first week of re-release. The Vow joins three other film-related, faith-based books as national best sellers. The Resolution for Men, The Resolution for Women and The Love Dare placed 10th, 12th and 13th on the Times paperback advice list. (The Vow: The True Events that Inspired the Movie)
The Vow traces actual events from the 1990s, when Kim and Krickitt Carpenter met, fell in love and married. Just 10 weeks later, the couple survived a terrible car wreck with Krickitt awakening in the hospital married to a stranger. The accident had claimed 18 months of her memories, including all recollection of Kim. With Kim committed to his marriage vows and Krickitt maintaining her strong Christian faith, even if recent memories were gone, the couple began the long road to a rebuilt relationship, choosing to fall in love again and capping that with a second wedding ceremony and renewal of their vows almost three years later.
Their story inspired the number one movie in the United States, The Vow, starring Channing Tatum and Rachel McAdams, which took in over $40 million its opening weekend. The book, originally released in 2000, launched again February 10 with an additional chapter and photos updating the Carpenters' story.
"Krickitt and I feel very blessed that our story might give hope to others facing difficult circumstances," Kim Carpenter said, "and inspire them to stick together for better or worse, in sickness and in health."
The other three books are based on films produced by the Kendrick Brothers.
The Resolution for Men, by Alex and Stephen Kendrick with Randy Alcorn, issues a call to godly parenting, challenging fathers to resolve to be the kind of dads God means them to be. The book title relates to the 2011 film Courageous, which featured four fathers publicly resolving to lead their families well.
The Resolution for Women, by Bible teacher Priscilla Shirer with Alex and Stephen Kendrick, offers "help, hope and challenge" to women desiring to find God's will in their lives and the lives of their families.
The Love Dare, also by Alex and Stephen Kendrick, has now been on the Times best seller list for more than 170 weeks. It was written after a book by that name played a prominent role in an earlier Kendrick Brothers movie Fireproof and people who had seen the movie started asking for the book to help them with their own marriages. The book challenges readers to offer 40 days of acts of unconditional love to their spouses.
All four books are published by B&H Publishing Group, a division of LifeWay Christian Resources.