CompassionArt, Sparrow / EMI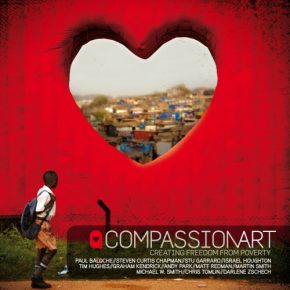 CompassionArt is described as "a charity that joins the dots between art and poverty… restoring hope and igniting justice."
In January 2008, project founder Martin Smith and various Christian music luminaries crafted songs during a retreat in Scotland. Soon after, at Abbey Road studios in London, the vocals were recorded.
The resulting CD/DVD package features 14 new songs and a 50-minute documentary; all proceeds from the songs go directly to combat poverty worldwide.
Standout tracks include 'Come to the Water,' 'There is Always a Song' and 'You Have Shown Us.' The only downside is that the diversity of artists — including Kirk Franklin, Amy Grant, CeCe Winans, Chris Tomlin, Paul Baloche and Steven Curtis Chapman — makes for a somewhat disjointed effort. compassionart.tv
Newsboys: In the Hands of God, InPop
Expectations were high for the Newsboys' 13th studio album. Their first one in three years, it marks the last with Peter Furler as lead singer.
It's a little odd to listen to a new album that only has current lead singer Michael Tait doing backing vocals on a few tracks. There are a handful of great songs, like 'The Way We Roll' and 'Glorious.'
Furler's vocals are in top form here, but his songwriting lacks the wit we have come to expect, despite co-writing with Steve Taylor. Some songs come across as a little serious and dull; and it wasn't necessary for one lyric to refer to Celine Dion's music as "the soundtrack of Hell." In addition to that misstep, the total length of 37 minutes left me feeling a little short changed. newsboys.com
Mandisa: Freedom, Sparrow
One of the most successful Christian artists to be discovered on American Idol , Mandisa returns with her sophomore album — one of the best of the year. Standouts include 'My Deliverer,' 'Not Guilty' and 'Definition of Me.' Ballads showcase Mandisa's amazing vocal abilities — especially on 'You Wouldn't Cry (Andrew's Song),' written for a friend whose baby boy was stillborn.
Stellar production by Chris Stevens (tobyMac) and Brown Bannister (Amy Grant), and co-songwriters such as Cindy Morgan, Ronnie Freeman and Matthew West, make this a perfect pop record — with lyrical substance. mandisaofficial.com
Jonny Diaz: More Beautiful You , INO Records
Diaz has a hit with this debut, offering intelligent acoustic pop. At times, this singer/songwriter reminds me of Chris Rice, with his witty — yet profound — storytelling. The title track is getting abundant radio play, with a much-needed message about self-image, inward beauty and self-worth.
Songs like 'Stand for You' show that the catchy pop hooks here are equally matched with insightful lyrics: "In a world that tries to water You down / Where beliefs cannot be spoken too loud / I'll stand for truth / Where they claim Your way isn't wide enough / And they do their best just to cover You up / I'll stand for You."
Other gems here are 'See The Wind,' 'Prodigal Like Me' and the bonus song, 'The Opener' — a hilarious take on being an opening artist for a big touring star.