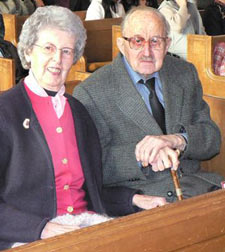 Veteran Christian leader Bob Birch passed away December 4, only three weeks before his 100th birthday. He died peacefully in Burnaby Hospital of natural causes, leaving wife Margaret and three sons. Pastor Bob, as he was affectionately called, was a key church figure in Vancouver during the '70s as the leader of St. Margaret's, a church that was central to a spiritual renewal among hippies. He went on to be a leader at Burnaby Christian Fellowship, another influential renewal church in the '90s. Beyond congregational leadership he was an ardent man of prayer and intercession, and founded Watchmen For The Nations. He often exhorted the church with the verse that says: "He who has an ear, let him hear what the Spirit says to the churches." A public memorial for his life will be held at Harvest City Church in Vancouver January 5.
Catholics observe day of prayer for Aboriginals
Canadian Catholics celebrated the fifth anniversary of the 'National Day of Prayer for Aboriginal Peoples' December 12. The Catholic Aboriginal Council for Reconciliation was created by the Canadian Conference of Catholic Bishops (CCCB) in 1998. In March 2007, the Council was granted a new mandate by the Conference, focusing on the study and analysis of issues related to Catholic Aboriginal spirituality and education.
Unborn Victims recognized
A Parliamentary subcommittee has ruled that the Unborn Victims of Crime Act may be voted upon. This law would allow criminal charges to be laid in the death or injury of an unborn child when the child's mother is the victim of a crime. The bill was introduced by Conservative MP Ken Epp, and will now be able to come before the full House of Commons for a vote. A similar bill proposed last year by Conservative MP Leon Benoit was deemed non-votable at the subcommittee stage. — LifeSite News
New Chinese Christian magazine
Angel's Heart Monthly is set to launch in Vancouver and beyond. Representatives from the Media Evangelism Association and Eternal Heart Media Inc. presented the inaugural issue December 8, and have called for contributors from local Chinese circles. The publication aims to comment on culture, world events and overall life with interviews with people familiar to North American culture.
SEARCH oversees The Christians books
The last six volumes of the book series called 'The Christians: Their First Two Thousand Years' will now be published by a new non-profit society known as SEARCH, the Society to Explore and Record Christian History. The series' general editor is Ted Byfield. SEARCH has prepared schematics on each of the volumes and plans to publish the volumes between 2007 and 2010. It is also preparing a movie and television version of the series.
KAIROS and 'Climate Justice'
KAIROS is calling on the Canadian government to advocate for a "just climate change agreement" at the United Nations Climate Change Conference in Bali, Indonesia. "The unbreakable bond between social justice and ecological wholeness impels Canadian churches to address the issue of climate change and to call on the government of Canada to take a leadership role in Bali, which will set out the framework for negotiations of the second phase of the Kyoto Protocol beyond 2012," said KAIROS in a statement. KAIROS is a church-based nongovernmental organization that works on a wide range of social justice issues in Canada, Africa, Asia, Latin America and the Middle East, including ecology and climate change.
Conservative Anglicans plan new church
Following the conservative Anglican Network's decision to establish a parallel new national Anglican church at a November conference in Burlington, a group of conservative Ottawa Anglicans plans to establish their own church in January. At a meeting and information session held last night at the McNabb Community Centre, members of Anglican Essentials Ottawa spoke to about 35 people about their decision to start an independent church that "will soon come under the authority of the Network." The Network has about 500 members in 16 parishes across Canada, while the main church has 641,000 congregants in 2,800 parishes. Most of the Network parishes are in British Columbia and Alberta, with a few in Ontario.
Safe Third Country Decision
The Canadian Council of Churches has joined with the Canadian Council for Refugees and Amnesty International in welcoming the November 29 Federal Court ruling concluding that the December 2004 Safe Third Country Agreement between Canada and the USA violates refugee rights. The Safe Third Country Agreement effectively closed the border to the majority of refugee claimants who came through the United States on their way to making refugee claims in Canada. Turned away by Canada, these individuals were instead forced to turn to the US asylum system for protection. In launching this court challenge, the applicants had argued that this approach would be acceptable if the US asylum system met recognized international standards for the protection of human rights, including refugee rights, but it did not.
EFC applauds no-Sunday-voting decision
The Evangelical Fellowship of Canada has said it is pleased that a Parliamentary Committee dropped a proposed change to make the Sunday before an election an official advance polling day. Bill C-16 would have increased the number of advance polling days by two — both on a Sunday. The Sunday advance poll on the Sunday before Election Day would have included all polling stations, similar to Election Day, and this was dropped by the committee.
Keep us informed! CanadianChristianity.com is always interested in upcoming events, important milestones, unusual arts and entertainment, and significant personnel changes. If you want the Christian community to know about something important to you, let us know by filling out this form.