With this piece, we will have spent two weeks talking about Jack Layton's death. I promise — and trust my readers to hold me to it — to get onto other faith-community-political topics by the beginning of September.
* * *
Readers of last week's OttawaWatch may recall that I wondered what the clergy at Bloor Street United Church, where Jack Layton claimed to be a member, would have to say at his state funeral in Toronto.
That straight-line and seemingly logical conclusion took a bit of a shift when it turned out that the officiating minister was Brent Hawkes. He is the long time senior pastor of Toronto's Metropolitan Community Church (MCC), often euphemistically described as a "gay-positive" congregation.
It turns out that, while Layton was still a United Churcher, his daughter's involvement as a volunteer around major MCC events drew him into that circle to some extent. According to Hawkes, the late NDP leader was especially supportive of the church's annual Christmas Eve service, held at Roy Thomson Hall, the venue for last Saturday's Layton funeral.
What follows is a brief analysis of ideology and idealism, based on some of Hawkes's comments, as over against those of Layton's eulogist; arguably one of the Canadian left's most able orators.
* * *
Lewis' eulogy was laden with political ideology. He thundered away about "social democracy". And he left the clear impression that Canada would never rise to greatness, poverty and disease would never be wiped out and the world would never be at peace until said social democracy triumphed in the land.
That was ideology.
Hawkes, rather more quietly, spoke of Layton's desire to see an "inclusiveness" reign in the land — a condition that allowed people, no matter their religion or politics, to work together with understanding and in common cause.
That was idealism.
From this particular perch, idealism is difficult to achieve in politics. Not to be overly-simplistic but the reason is the adversarial nature of our parliamentary democracy. That adversarialism can be gentle or ferocious in nature. My sense is that, under the joint influence of Prime Minister Stephen Harper and Layton, the trend has been toward gentle, as both leaders were gradually reining in their more vociferous followers.
As pointed out last week, the major parliamentary post-election event, the postal back-to-work filibuster, was the key demonstration of what was beginning to work.
* * *
Hawkes, it should be kept in mind, is, at his roots, an evangelical Christian, who happened to become an MCC minister because there was, at the time of his ordination, no room for practicing gay clergy in the world in which he grew up and was educated.
Obviously, he has found some success in pastoring people that traditional evangelical ministers might find it difficult to reach. The baggage, or lack of it, plays into the equation.
But, if one were to test Hawkes on the "Bebbington quadrilateral" by which sociologists often measure evangelicals, he would rate pretty high on the scales of biblicism, cruciocentrism, conversionism and activism. (Googling "bebbington quadrilateral" will provide more detail to those who might be curious.)
* * *
True, Hawkes did not press his conversionistic instincts at the funeral in the way that Lewis did, ideologically. I would gently suggest that the pastor took a higher and more ethical pathway, leaving the gospel call, arguably, to a more appropriate time.
Consider his rather risky but humorous illustration that drew Stephen Harper into the circle, rather than excluding him.
Hawkes set up the illustration by saying that, whenever Layton greeted him, he would ask: "how is John, today." John, he explained, is "my husband."
The pastor then suggested that people could draw from the Layton model by, for example, being sure, when greeting Harper, to say: "Prime Minister, how is Laureen, today."
* * *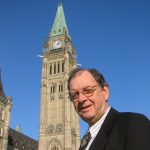 Lloyd Mackey is a member of the Canadian Parliamentary Press Gallery in Ottawa and author of Stephen Harper: The Case for Collaborative Governance (ECW Press, 2006), More Faithful Than We Think: Stories and Insights on Canadian Leaders Doing Politics Christianly (BayRidge Books, 2005) and Like Father, Like Son: Ernest Manning and Preston Manning (ECW Press, 1997). Lloyd can be reached at lmackey@rogers.com.