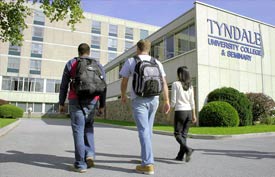 Now that winter is properly launched in the nation's capital, it is time to wish OttawaWatch readers a Happy New Year. And, as well, to talk about some interesting adjustments which I trust will make these weekly pieces more relevant and interactive.
While it would be nice to spend the first week of 2012 on some warm ocean beach, that is not to be. Instead, Edna and I will be in warm Toronto classrooms, participating in an exercise that we trust will take us a little further forward in the semi-retirement activity of "finishing well."
We will be at Tyndale University College and Seminary for a week, where I will be taking Christian Apologetics and Edna will be auditing Cross Cultural Communication.
To backfill for a moment: Some readers will recall that, a year ago, I was anticipating entering the Doctor of Ministry (DMin) program offered at Tyndale Seminary. I hoped to use the study opportunity to produce a thesis that would examine the role of conflict in religious and political organizations.
All that anticipation melted away when the practical means to stay in the program did not materialize.
This past fall, to my surprise, the needed support re-emerged from another source.
So, with the completion of two prerequisites, I will enter the 2012 DMin cohort this spring. (Because my master's degree is in business administration, the DMin leaders at Tyndale understandably felt that my grasp of the doctoral studies would be enhanced by some seminary-level theology and missional brushup. That is the reason for the week in Toronto now. It also gives us a chance to have a closer look at the commodious Bayview campus, acquired over the past few years from the Sisters of St. Joseph.)
Most of the course work will be done on-line. There are two short residencies in Toronto each year, one in mid-winter and the other, late spring.
Once into the program, one of the first tasks at hand is to implement the thesis project. While decisions on this are yet to be made, I don't mind reiterating in OttawaWatch two themes that have occupied my attention in these recent semi-retirement years.
The first, as indicated above, is to examine the role of conflict in religious and political organizations.
The second and more recent consideration came out of the British faith-political scene. That involved the emergence of the "big society" concept – involving faith and community organizations in roles that, in the past few decades, have more traditionally been encapsulated by the state.
Whether these themes, directly or otherwise, form part of my thesis, is yet to be determined.
But – and this is the point in sharing the above news with OttawaWatch readers – much of what I hope to research and write about over the next three years will depend on interaction and feedback.
As it stands, OttawaWatch communicates through two channels. One is through a list of several hundred Canadian leaders who receive the piece each week. The other is through the posting of the piece on the "politics" page on www.canadianchristianity.com.
The latter works like a blog, only not many people really understand that. I hope that some will, and will post responses and comments at the foot of each piece. It may be that, in due course, OttawaWatch itself will need to have its own "blog spot". To that end, I will be drawing on some technical expertise.
The list of OttawaWatch readers, as well, has often drawn helpful feedback. Some people comment directly. I file these comments for future reference and, often, with personal responses of my own. Others forward certain OttawaWatch pieces to friends of theirs. I won't say that anything necessarily "goes viral". But it is interesting to observe that news reports and analyses on certain faith-political issues which appear in public media sometimes have a striking resemblance to ideas that, as far as I can tell, were first enunciated here,
*  *  *
One of the points I hope to raise with my prof and fellow students in my Christian Apologetics class this week this coming week, is represented by the closing paragraphs of Queen Elizabeth II's 2011 Christmas message.
I will leave those paragraphs with readers today, noting only that it would appear that Her Majesty is an experienced and heart-directed Defender of the Faith. And, she so acts without offense to others whose perspectives might differ from hers.
Finding hope in adversity is one of the themes of Christmas. Jesus was born into a world full of fear. The angels came to frightened shepherds with hope in their voices: 'Fear not', they urged, 'we bring you tidings of great joy, which shall be to all people.
'For unto you is born this day in the City of David a Saviour who is Christ the Lord.'
Although we are capable of great acts of kindness, history teaches us that we sometimes need saving from ourselves – from our recklessness or our greed.
God sent into the world a unique person – neither a philosopher nor a general, important though they are, but a Saviour, with the power to forgive.
Forgiveness lies at the heart of the Christian faith. It can heal broken families, it can restore friendships and it can reconcile divided communities. It is in forgiveness that we feel the power of God's love.
In the last verse of this beautiful carol, O Little Town of Bethlehem, there's a prayer:
O Holy Child of Bethlehem,
Descend to us we pray.
Cast out our sin and enter in.
Be born in us today.
It is my prayer that on this Christmas day we might all find room in our lives for the message of the angels and for the love of God through Christ our Lord.
Ditto from OttawaWatch.
*  *  *
Lloyd Mackey is a member of the Canadian Parliamentary Press Gallery in Ottawa and author of Stephen Harper: The Case for Collaborative Governance (ECW Press, 2006), More Faithful Than We Think: Stories and Insights on Canadian Leaders Doing Politics Christianly (BayRidge Books, 2005) and Like Father, Like Son: Ernest Manning and Preston Manning (ECW Press, 1997). Lloyd can be reached at lmackey@rogers.com.