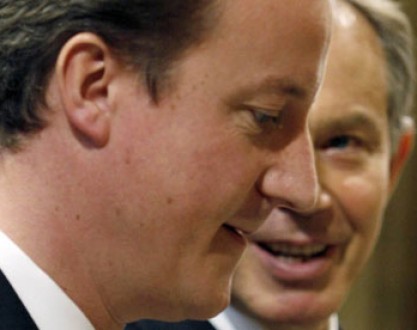 "The difficulty with the 'big society' concept, as it is being worked out in Great Britain, is that, as it stands, we have an emerging 'small state and small society.'"
I will not name the originator of that quote. It came earlier this month from a visitor from Great Britain who was commenting on my continuing interest in the "big society."
For starters, an explanation for those who are reading OttawaWatch for the first time: One of my continuing interests, in embarking on a semi-retirement study regime, is to get a better understanding of the British "big society" experiment.
In a nutshell, that experiment is designed to help Britons to let their community-based, non-government organizations – including those that are faith-based – take over some of the social responsibilities and social justice stances that have generally fallen to the state.
The concept was first coined in the mid-2000s, by Iain Duncan Smith, a former British Conservative leader. He developed several programs and institutions designed to try to bring conservative perspectives to social justice issues (like poverty-reduction and economic equality) that, arguably, had been co-opted by the political left.
There was a certain timeliness to the initiatives. Tony Blair was nearing the end of his tenure as Britain's Labour prime minister.
Blair was pretty much a middle-of-the-road social democrat. He tended to do many things that would have just as easily been done by moderate Conservatives or Liberal-Democrats, had they been in office. He was also known for his willingness to lean to his Christian faith in interpreting what he believed to be the common good. (He was an Anglican who converted, later, to his wife's Catholicism.)
With his pre-arranged departure from the Labour leadership, handing the reins over to Gordon Brown, the party took a leftward, more specifically socialist and union-rooted stance. The 2010 formation of the Conservative/Liberal Democrat coalition government, and the choosing of a new union-backed Labour leader, paved the way for the Conservatives to give feet to Duncan Smith's "big society" concept.
Christian leaders generally lauded the idea, at first, but have grown restive. That is because it would appear that side-loading former state responsibilities has coincided with large cuts to government assistance for the programs religious and community organizations are expected to pick up. Thus my British friend's "small state and small society" comment.
From this perspective, across the pond from the action, there are four short-term obstacles to effective implementation of the "big society" practices:
The inability of non-public, non-profit organizations to build capacity, particularly in the funding area, to replace tax-source revenues available to government.
The opposition of unions, who see one of their major stances to be the protection of state jobs, rather than the implementation of the kind of voluntarism that is endemic to faith-based and community organizations.
The general economic malaise that has affected Europe at the same time as Britain has been trying to implement "big society" concepts.
The apparent failure, so far, for Britain to adjust its tax structures. Such changes are seen as necessary to permit decent tax credits and deductions for contributions to non-public, non-profit organizations and ministries.
How much any one of these four blockages contributed to the large-scale riots that shook some British cities last year, has been the subject of some semi-educated guesswork.
Meanwhile, it would appear useful for Canadians to keep close eyes on what is happening in Britain in the "big society" sphere. And hopefully, this OttawaWatch space will be a good place to plant those eyes.
* * *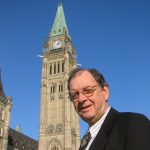 Lloyd Mackey is a member of the Canadian Parliamentary Press Gallery in Ottawa and author of Stephen Harper: The Case for Collaborative Governance (ECW Press, 2006), More Faithful Than We Think: Stories and Insights on Canadian Leaders Doing Politics Christianly (BayRidge Books, 2005) and Like Father, Like Son: Ernest Manning and Preston Manning (ECW Press, 1997). Lloyd can be reached at lmackey@rogers.com.