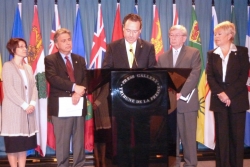 The topics are, among others, suicide and elder abuse.
The vehicle for airing those subjects is Not to be Forgotten: Care of Vulnerable Canadians, a 191-page report released November 17 by the Parliamentary Committee on Palliative and Compassionate Care (PCPCC).
The report didn't get much notice in mainstream media, probably because of such topics as NDP MP Pat Martin's use of the "f" word with respect to House of Commons debate time allocation.
The PCPCC is news, in this journalist's modest view, on two counts:
It is a collaborative effort of 55 MPs from across the political spectrum.
And its leadership comes from politicians whose faith happens to be a matter of public record.
I will "out" the three co-chairs of the committee, then comment on a couple of the report's recommendations.
The co-chairs are Harold Albrecht (Conservative – Kitchener-Conestoga), Joe Comartin (NDP – Windsor-Tecumseh) and Frank Valeriote (Liberal – Guelph).
All middle-aged white guys. Right? And all from Central Canada. True? Yes on both counts, and, as well, all are devout followers and, at times, leaders, in their own particular streams of the Christian faith.
Albrecht is a dentist who has done some pastoral, church-planting and social development work in the Brethren in Christ denomination, a Mennonite spinoff made famous by multi-site Ontario pastor Bruxy Cavey.
Comartin, a lawyer, is a serious Catholic who, in past, has provided marital counselling on the legal level for Catholics contemplating marriage. He stepped down from that work at the time of the same-sex marriage debate to avoid religious-political conflict in his work as an MP.
Valeriote has, in the past, given leadership on the board level in the Catholic school system in Ontario's "Golden Triangle". In more recent years, he and his family have been attending at worship at Lakeside Bible Church, a Guelph Plymouth Brethren-rooted megachurch that has become increasing influential and relevant in that community.
The point to be made is that these three can talk and work together across party lines – with the tacit approval of the leaders of their parties. And, arguably, one of the reasons they can do so is because of the collaborative and conciliatory concepts that are integral to their commonly-held, if slightly divergent, faith.
True, if you watch for any of the three in parliamentary debate, you will find that they will stoutly defend their own parties' positions and even take gentle digs at their opponents. That is all part of the adversarial nature of our parliamentary system and should be seen in context.
As to the contents of the report itself, a full copy can be found at www.pcpcc-cpspsc.com.
Not to be Forgotten is divided into three sections.
The first focuses on research, education and eldercare training. It features an innovative program which trains medical students for palliative care.
The second, after laying out certain facts with respect to suicide rates, proposes a national suicide strategy.
And, finally, the report talks about how Canada can establish a coherent system of intervention for elder abuse.
One part of the elder abuse section takes a look at restorative justice concepts and a faith community response to same.
On page 116 of the report, it is noted that "elder abuse is a crime, but also is often a form of family violence that rends families and communities. As such, an important part of dealing with the abuse of seniors is to attempt to restore family relationships, rehabilitate abusers and achieve a just resolution without tearing a family apart."
Readers who access the report on-line might take a look at the faith-based response of Arlene Groh, a nurse involved in the Community Access Centre Centre in Waterloo (Ontario) Region.
*  *  *
Lloyd Mackey is a member of the Canadian Parliamentary Press Gallery in Ottawa and author of Stephen Harper: The Case for Collaborative Governance (ECW Press, 2006), More Faithful Than We Think: Stories and Insights on Canadian Leaders Doing Politics Christianly (BayRidge Books, 2005) and Like Father, Like Son: Ernest Manning and Preston Manning (ECW Press, 1997). Lloyd can be reached at lmackey@rogers.com.