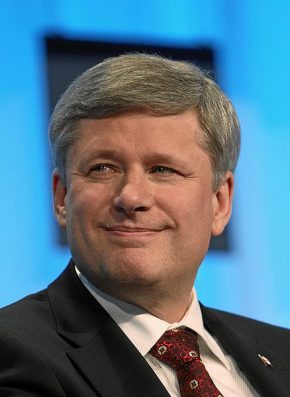 The sign being held by the protester, a few days ago, on Parliament Hill, said, as nearly as I recall, "Why does Stephen Harper hate me."
It was the most recent example of what, IMHO, we used to call the old ink blotter action – soaking it up and getting it backwards.
Harper haters (HH) – real or imagined – occasionally get a bit of a knock. They wax eloquent and belligerent in their responses to news stories and blogs about the prime minister, hiding as they can under the cloak of anonymity.
Some of those HH have been trying to turn the tables. They communicate the idea that it is Harper who hates them. They make up a nice neat sign and make sure that there is a media camera or two in the vicinity to capture their creativity.
But Harper's hatred quotient is very low. True, he has a firm and quiet demeanour. But he uses very little red hot rhetoric to make his points – less than the late Jack Layton used to, and certainly, only a miniscule amount of the flashing anger being regularly exhibited by his successor.
Sometimes Harper's ability to listen carefully and to model such listening to his colleagues and fellow politicians is mistaken by the HH to be aloofness. When he is listening, he is not talking and, in that sense, seems like an anti-politician.
But what motivates the need for people to think that Harper hates us?
When I was first in Ottawa, almost 15 years ago, I talked to a researcher about his job, which was to provide information about the government for an opposition leader to use in his or her speeches.
"It is called 'opposition research'," the researcher told me helpfully.
He sounded a bit like the fund-raiser who was trying to teach me the fundamentals of a successful financial campaign. He noted that "unless you have either an enemy or an emergency – preferably both – you will never be a successful fundraiser."
Substitute "fundraiser" with "protester" or "opposition leader" and I hope you begin to see my point.
I would hasten to add, however, that the fault lies more with our adversarial parliamentary system than with those who feel they must show their opposition to the prime minister by making us think he hates us.
I hope that a modification of our system might lead to a more democratic, conciliatory approach to political – and faith – discourse. It might not come in my lifetime, but who knows?
Why did I throw the word "faith" into that last paragraph?
It is because over the last few months I have been learning about "post-modernity." Not to get into too many details, but one of the characteristics of the post-modern attitude is a desire to enjoy life and a resistance to get into too many arguments over the legitimacy of reason versus values.
I am also learning that there is an equivalent post-modern approach in politics. People are getting tired of the strategies of hatred and class warfare.
I like to believe that in the faith-political interface, change is already on its way. And that makes me feel better already!