Several weeks ago, Prem Watsa, an India-born evangelical Anglican and supporter of Tyndale University College and Seminary, made the school an offer. As it turned out, the school's leadership had little choice but to congenially — and regretfully — decline.
Watsa is president of Fairfax Financial Holdings Ltd. His investment acumen has caused some in the financial field to refer to him as "Canada's Warren Buffett".
On September 20, he hosted a leadership luncheon in Toronto, featuring former U.S. president George W. Bush as guest speaker.
A few weeks before the luncheon, Watsa offered to make Bush available on the morning of the luncheon, for a breakfast. The 150 guests were to be current and potential Tyndale supporters. Bush was scheduled to address the subject of Christian higher education.
In some respects, the timing of the breakfast would have seemed providential. Tyndale is in the final stage of a $58 million campaign in the interests of acquiring a high profile and commodious campus on Bayview Avenue in Toronto. The campus has been the home of the Sisters of St. Joseph and St. Joseph's Morrow Park Catholic High School.
The acquisition, instigated during the presidency of Brian Stiller, has been quite a project. It has paved the way for the one-and-one-quarter-century-old 1,500 student school to grow into a hallmark evangelical Christian university.
Now, under Stiller's successor, Gary Nelson, came the opportunity for potential donors to listen to a talk by a former American president. Not only that, but this particular ex-president was one who apparently believes Christian higher education helps develop a strong, free and democratic society.
In May, 2005, Bush addressed the convocation of Calvin College in Grand Rapids, Michigan. In a seemingly well-researched speech, he spoke of one of the college's mentors, Abraham Kuyper. Over a century ago, Kuyper was, successively, a pastor, a daily newspaper publisher and the prime minister of the Netherlands.
Understandably, not all members of the Calvin community were happy, at the time, with the choice Bush as a convocation speaker.
Many recognized that Bush claims a strong Christian faith (David Aikman's tome, A Man of Faith: the Spiritual Journey of George W. Bush is an honourable recounting of the former president's pilgrimage.)
But Bush's leadership, vis-a-vis the Iraq war, has drawn fire in some parts of the political-religio spectrum. Many Christians who take conflict resolution and management seriously believe that, in those particular areas, Bush seems more of a warmonger than a seeker of peace.
Readers of OttawaWatch who want to track the debate that developed over Tyndale's Bush breakfast plans can pick it up here. Particularly, I would draw attention to writing by Arthur Boers, Tyndale Seminary's endowed Leadership Chair and Larry Willard, a former Tyndale vice-president.
Boers takes the stance that the breakfast was not a good idea. Willard speaks in support of Tyndale supporters' right to hear Bush and regrets that the event was cancelled. (Boers' piece stands alone and is entitled Bush, Tyndale and the dilemmas of Christian leadership. Willard's comments are available by clicking on "letters-to-the-editor". His is one of several letters on the subject.)
Having a long time interest in conflict studies, I was interested in how this subject played out. Because Boers is a conflict studies specialist I wanted to see what his take was.
Boers' conflict studies education and research comes through the prism of Anabaptist/Mennonite pacifism. For that position, I have a high regard, having spent my early newspapering years in the Fraser Valley, replete with Mennonites, Calvinists and other believers, living cheek-by-jowl to what was then Canadian Forces Base Chilliwack.
But my own experience in trying to parse the subject of conflict studies has revealed a conundrum. Conflict studies programs in North American universities fall into two categories, at least. One focuses on the role of the military in conflict management and resolution. The other is categorized as "peace studies" and embraces, among others, the Anabaptist perspective.
* * *
It is time to put a wrap this piece. And I will do so by telling you how Tyndale president Nelson resolved this issue.
He cancelled the breakfast, citing, as the reason, the tension between the two sides over the efficacy of Bush for this particular task.
On the Tyndale website he pointed out that:
… the controversy surrounding the cancelled breakfast with George W. Bush has demonstrated that Tyndale needs to have clearer policies and guidelines in place so that diverse views can be expressed in a respectful and hospitable space. In retrospect, I regret that we did not have such a framework in place. Consequently, we will be working with our constituents and the Board of Governors to develop appropriate procedures and practices for the future. As a university college and seminary, Tyndale will continue to host various people to speak on issues that matter.
* * *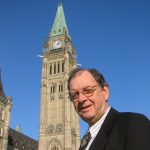 Lloyd Mackey is a member of the Canadian Parliamentary Press Gallery in Ottawa and author of Stephen Harper: The Case for Collaborative Governance (ECW Press, 2006), More Faithful Than We Think: Stories and Insights on Canadian Leaders Doing Politics Christianly (BayRidge Books, 2005) and Like Father, Like Son: Ernest Manning and Preston Manning (ECW Press, 1997). Lloyd can be reached at lmackey@rogers.com.