"We are going to fight hard in all of these by-elections. It's the only way I know how to do politics. I don't concede anything to an adversary – ever."
*  *  *
Those were NDP leader Thomas Mulcair's wo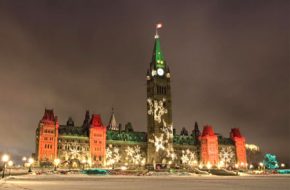 rds, as quoted in a Canadian Press story by Murray Brewster on October 21. They followed the calling of three by-elections which took place on November 26. The quote was buried in the story's 10th paragraph.
It was Mulcair's blunt and fiery "take no prisoners" approach that caught my attention. And I was reminded of them after the dustup between Conservative house leader Peter Van Loan and the NDP leader over a Commons voting procedure last Wednesday, December 5.
Since it is Christmas and all, I hope to use this piece to talk about Christians doing politics Christianly in the crucible called the House of Commons.
While Muclair's words were most directly applicable to NDP strategy with regard to the by-elections, they reflected the style and temperament that he has often and consistently exhibited.
We will take a look at last Wednesday first. Chronologically, here is what happened, based on a variety of accounts.
A few hours before, with deputy speaker Joe Comartin, an NDP MP, in the chair, a vote, in the name of Finance Minister Jim Flaherty, who was not in the House at the time, was allowed by Comartin. The correct procedure, on Comartin's part, would have been to substitute Flaherty's name with Van Loan's.
Subsequently, NDP house leader Nathan Cullen noted the procedural error and seemingly aimed it at government incompetence. Cullen's idea, apparently, was to add this delay to several others that had been used to hold up the votes on budget amendments.
Speaker Andrew Scheer ruled that it was a technical error and could not be used to force a delaying revote.
During the next break in House activities, when the microphones were off, Van Loan, seemingly doing a slow burn, crossed the floor to Cullen, waggled his finger and knelt down in front of him to improve eye contact. He apparently used the "f" word.
According to several reports, Mulcair, who was standing above and beside Cullen, snapped at Van Loan, utilizing similar obscenities and demonstrating the sharp-eyed fury for which he has become quite famous.
Fearing that Mulcair's lashing out might result in some physical or emotional harm to Van Loan, Defence Minister Peter MacKay and Science Minister Gary Goodyear moved in and edged the Conservative house leader back to the government benches.
*  *  *
The point that seemed to get buried in the reporting on this event, was the reason for Van Loan's slow burn: the ethically-questionable tactic of trying to shift the blame for Comartin's technical error over to the government.
*  *  *
The government's attempt to streamline budget debates and the opposition's seeming obstructionism is bound to fray nerves, particularly when Christmas is coming and everyone on all sides profess to wanting to get home to their ridings and families.
But there is an overarching issue that leads to my wanting to bring some Christian Christmas perspective to this piece.
First, let's examine the speaker and deputy speaker in this context. As it happens, both Andrew Scheer and Joe Comartin are serious Catholics of the sort who genuinely and consistently try to bring their faith perspectives to bear in the way they behave around the House.
They are members of different parties. So those who would want to detract from their performance would love to point out that they owe their positions to their respective leaders, who, at election time, sign their nomination papers.
Secondly, let's look at who the "peacemakers and cooler heads" were: MacKay and Goodyear. Both, as it happens are people who quietly seek pastoral care back home in the particular congregations to which they relate. Again, they do so, not to shout their religion from the rooftops, but to help them relate faith-shaped behavior to their work as politicians.
Then, there is Cullen. A British Columbia MP, he has frequently made the point that he wants to bring decorum to the House. He ran fairly strongly against Mulcair for the NDP leadership and was supported, to a small extent at least, by Glen Clark, president of the corporate group led by Jim Pattison, now in his 80s. Clark, some will recall, was the BC NDP premier who got caught up in a conflict controversy in the 90s. He was rescued, so to speak, by Pattison, known for both his faith and his business competence. Pattison took a chance with Clark, knowing that his understanding of both sides of the labour-management coin, could turn him into a very good business leader. Almost two decades later, taking that chance has paid off for both men.
I am sure that Clark knew Cullen had, within him, the ability to build bridges among conflicting political tactics and ideologies.
To return to last Wednesday, if Mulcair could have held his temper and let the two house leaders carry on their conversation for another 30 seconds or so, there would have been no story. They would have made their respective points and carried on.
*  *  *
At Christmas, according to Christian belief, God, the reconciler intervened. We call that event the Incarnation. Many Christians try, with greater or lesser success, to live incarnationally in the communities where they have been placed.
And, here I come to my usual punchline. Part of that incarnational living can involve trying to find ways in which a traditionally adversarial bearpit can be turned into a place where people of differing temperaments and ideologies can walk and work together. And, as usual, my first suggestion is that some of the cultural and class wars that became common in the 20th century could do to come to an end in the 21st.
One small contribution to that discussion could come from a book that is a supplementary reading assignment in my current studies through Tyndale Seminary. Authored by David Cooperrider and Diana Kaplin Whitney, it is entitled Appreciative inquiry: A positive revolution in change.
Briefly, the book proposes means of using appreciative inquiry (AI) for researching an institution's foundations and basic premises to build on those foundations, rather than dismissing them or tearing them down.
AI is an organizational development technique that focuses on what an institution does well, rather than eliminating what it does badly. For me, this little volume was quite a contrast to the kind of research that is common in and around the political sphere. That research seeks to tear down or kill off the institutions that are on the other end of the spectrum from where the particular "researching" politician or pundit might find him/herself.
Edna and I wish you and yours all the best at Christmas.
*  *  *
Lloyd Mackey is a member of the Canadian Parliamentary Press Gallery in Ottawa and author of Stephen Harper: The Case for Collaborative Governance (ECW Press, 2006), More Faithful Than We Think: Stories and Insights on Canadian Leaders Doing Politics Christianly (BayRidge Books, 2005) and Like Father, Like Son: Ernest Manning and Preston Manning (ECW Press, 1997). Lloyd can be reached at lmackey@rogers.com.