Two men who passed away in the past few days – both from the west coast – deserve some mention from this corner.
David Lam was an extraordinary Christian whose ethic and witness touched many. Chuck Davis was a journalist and historian who knew what made Vancouver and its environs tick, and used that knowledge to excellent effect.
* * *
Lam died on Monday, November 22 at age 87, after a battle with prostate cancer. His beloved wife, Dorothy, had predeceased him in 1997.
Many British Columbia leaders and other friends paid tribute to Lam in a story that appeared in the November 23 Vancouver Sun under the joint byline of Douglas Todd and Kelly Sinoski.
I was fortunate to be in a position to write, periodically, about Lam's Christian faith and how he related it to business, culture and life.
He was best known to the general public due to his popular tenure as British Columbia's lieutenant-governor in the 1980s, the first person of Chinese descent to hold such a position. In that office, he quietly and thoughtfully brought his fiscal acumen, his faith and a philosophically Confucian outlook to his work and relationships.
A devout and serious evangelical Baptist, Lam was a banker in Hong Kong. He, Dorothy and his three daughters came to British Columbia in 1967. As he told it, they stayed in a motel room in Vancouver's west end, from which he would go out daily to look for a banking job. He received many offers, all to return to Hong Kong. So he started selling real estate.
Lam built up considerable trust with many of the people who had migrated after him from China. It led to him becoming involved in development, investment and other business opportunities.
After experiencing modest success, he and Dorothy set up a foundation, committing a substantial portion of their business and investment profits to charity, in the educational cultural and religious fields. Their faith was tested, he said, when a building that he had bought for $6 million sold for about four times that figure. It was the first time that they committed to giving away a sum measured in eight figures.
Regent College, an evangelical graduate school, was a substantial beneficiary of his generosity. The Sun Yat-Sen Gardens in Vancouver's Chinatown were an example of his interest in supporting cultural projects. And the David Lam School for International Communication at the University of British Columbia was just one reflection of his interest in education.
I first met Lam in 1982, when Christian Info Society was just starting. He was interested, even then, in effective Christian communication, and intrigued with the idea of a Christian newspaper.
Continue article >>
I was fortunate to be able to help Lam tell his story several times after that. One such occasion was when he was asked to wrote a feature for Decision magazine, which was associated with the Billy Graham Evangelistic Association. My task was to tape a 15,000-word interview with him and condense it to 1,800 words. He signed off on the article without a change. I was grateful for that. But it reflected his nature. He could be tough-minded, but he was kind, gracious, jovial and understanding to a fault.
Reginald Roy wrote David Lam: A Biography in 1996. It is worth a read.
In 1993, Lam told a Vancouver Sun reporter that he would like to be remembered as "a man who preached harmony and goodness and understanding."
* * *
Chuck Davis, who also died of cancer a few days ago, was a longtime broadcast journalist and publisher of Vancouver histories.
It was in the first capacity that I met him. In the second, he provided me the opportunity to write about the sociology of Christian churches and institutions in Vancouver and the Fraser Valley.
When I was a young reporter at The Chilliwack Progress, Davis was a reporter at BCTV. He was interested in the history and future of the Coqualeetza Indian Residential School and Tuberculosis Hospital, in Sardis, south of Chilliwack city, then about to be converted to other uses. Since I had written about the subject in The Progress, he grabbed me away from my desk and took me down to the corner traffic light, where he asked pointed questions.
He was a good and thorough interviewer who could draw out his subject's story without imposing his own opinions.
Close to 30 years later, Davis was assembling his Greater Vancouver Book, a sequel to the very successful Vancouver Book that he had done in 1976.
He recalled that street corner interview and subsequently read some copies of BC Christian News. On that basis, he asked me to provide, on paper, a walking tour of Vancouver churches and religious educational institutions, including some historical and sociological material to bring out their significance.
It was an intriguing assignment and encouraging to me as a journalist. Because he was naturally curious, he was good at coaxing the story out of me, again, rather than trying to impose his own.
The book was beautifully produced and a wonderful read. Unfortunately, it was also was less than financially successful, unlike his earlier efforts. It should be noted, though, that, despite his own losses, he paid well the writers he had assigned.
***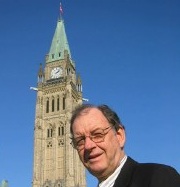 Lloyd Mackey is a member of the Canadian Parliamentary Press Gallery in Ottawa and author of Stephen Harper: The Case for Collaborative Governance (ECW Press, 2006), More Faithful Than We Think: Stories and Insights on Canadian Leaders Doing Politics Christianly (BayRidge Books, 2005) and Like Father, Like Son: Ernest Manning and Preston Manning (ECW Press, 1997). Lloyd can be reached at lmackey@canadianchristianity.com.