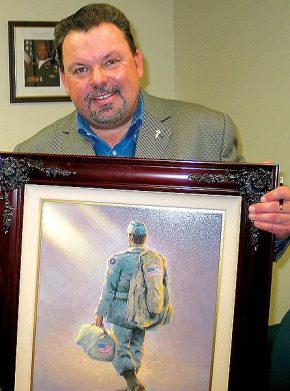 American painter Thomas Kinkade passed away on Good Friday, April 6, at age 54, leaving a legacy that former friend Terry Sheppard called "a story of triumph and tragedy." Kinkade was reputed to be "the most collected living artist in the United States," with reproductions of his thousand paintings in an estimated five percent of American homes.
Kinkade called himself the "Painter of Light." His paintings feature glowing highlights in idyllic settings such as gardens, streams, stone cottages, main streets, snow scenes, churches, Christian images and such popular American icons as the Indianapolis Speedway, Disneyland and Yankee Stadium. Art critics dismissed his work as tacky and sentimental, but his work was very popular with ordinary people. Kinkade put considerable effort into commercializing his work, and his company, Media Arts Group Inc., brought in tens of millions of dollars from prints of his paintings, as well as reproductions on calendars, greeting cards and coffee mugs.
Kinkade spoke very clearly about his Christian faith. He was a church member, and donated and raised money for the Salvation Army, World Vision, the Make A Wish Foundation and other charities.
However, a darker side also became more visible in Kinkade's later years. As the American economy went into recession in the last few years, many of the hundreds of Thomas Kinkade Signature Galleries began losing money, went bankrupt or closed, leading some of those who had bought franchises to make accusations of fraud and misrepresentation and launch lawsuits. Kinkade's own company faces significant financial problems.
As well, a growing alcohol addiction led Kinkade to exhibit crude and bizarre behaviour, including a DUI conviction in 2010. Kinkade and his wife Nanette had four daughters, all named after famous painters, and all given the second name "Christian." However, Nanette filed for divorce two years ago, and Kinkade was living with his girlfriend Amy Pinto when he died. Pinto said he died peacefully in his sleep due to natural causes, but there are reports that he had been drinking heavily all night and that police had previously been called to the house for domestic disturbances. The results of an autopsy have not yet been made public.
Terry Sheppard, a former Kinkade friend and vice president Media Arts Group Inc., parted ways with the painter in 2003.
Dan Wooding, founder of ASSIST Ministries, interviewed Kinkade about 13 years ago. After Kinkade's death Assist News Service re-released an article based on that interview.
"My goal is to touch all people, to bring peace and joy into their lives through the images I create, and I see my art as a ministry tool to share Jesus Christ with the masses," Kinkade said in that interview. "I became a Christian in 1980, when I was about 22 years old, and I would say that when I was saved, my art got saved. It was then that a very interesting transition began in my life. I started to see the characteristic of light begin to develop within my work. The darkness was leaving and the light was beginning to break forth."
Kinkade said that before his conversion, his art was all about himself. "I had little interest in how my art affected other people. In fact, my college professors would constantly make the point that one's art is all about oneself. It doesn't matter if someone else understands or likes it. It doesn't matter if they purchase it. All that matters is you. It was art as self-expression, as opposed to any concern for, or consciousness of an audience, or any desire to impact other people." In contrast, Kinkade said, "When I became a Christian, I began to challenge that notion. To this day, I find it odious that that notion is fostered within the arts. It is very self-serving and a self-absorbed kind of approach to creativity that really is ineffective. In fact, artists have fought the wrong battle over the past 75 to 100 years. The battle has been one for the freedom of expression … Artists have won that battle, but, in the meantime, they've lost the war for cultural relevancy and a positive impact on society."
Kinkade continued, "There was a time when artists were cultural leaders, revered within society as visionaries, people who might point the way to a better world, a better life … All that began to change with the advent of hyper-individualism in the late 19th century, which said one must be apart from society, an outsider." It has become unfashionable for artists to say that they want to have their work accepted, Kinkade said. "Yet, secretly, that's what every artist really desires—not only to be accepted, but also to have their life and their work mean something."
Kinkade suggested, "You will find that in many cases, the artist creates in today's world out of a deep need, out of a pain or out of a lack in their life. This is the opposite to what began to emerge in my art after I put Christ in the center of my life. I had an overflowing of joy, an overflowing of peace and an overflowing of passion for living that began to find itself expressed through my canvases." As that passion worked its way into Kinkade's paintings, he "began noticing light emerging more and more in my work" and then he discovered in the Bible "how light is a fundamental expression of God's character."
Kinkade said this emphasis allowed people to see in his paintings not just visible light but also "a spiritual light … that really touches the inner darkness of their soul. As a result, we receive hundreds of letters a year from people who write, not to comment on the technical aspects of the paintings, but to comment on how God has warmed their heart or changed their life through that painting."
Kinkade also wrote a book called Simpler Time. He said, "I believe the foundational challenge in life in our culture, at least, is not the challenge for more material attainment … The real battle is for the identity of the soul … Most people are just too busy and their life spins out of control in frenzy, and I began to see that happening in my life as more and more commitments would weigh in on my daily schedule and I would lose time with my family."
In the early years of his marriage, Kinkade made an effort to keep life simple. "We eliminated the television and that's a radical thing for most people because it is a drug-like addiction." What many people see as "a form of relaxation" can become a "stressful element in life because people become hooked on certain shows, which create commitments … you have to be there because you can't miss this latest show." Kinkade continued, "I don't have any particular moral objection to television per se. It is a neutral media that is neither good nor evil. It can be either, depending on the content. But as a medium it is neutral. Therefore, television is not intrinsically evil, but to me it is a thief of time."
Kinkade also made some observations about communications media generally. "We are in a post-verbal, post-written-word society. We are fast approaching an image-based society. It is very interesting to see that reading as a skill is probably sustaining itself at a certain level, but reading as a recreational activity is declining. People are surfing the Net or spending time watching television or renting videos rather than spending time with a good book. As a result, the era when you could write a Christian book and hope to change the world is changing. The power of the written word is being weakened and that should not be a scary thing for the Christian church because ultimately, God's Word, though it is a written word, is only of power when it is enlivened by the Holy Spirit in the hearts of men. It is truly the Holy Spirit that communicates with us and not the text-printed page."
Kinkade came to understand that that is why his paintings would have a much more profound effect on people than he had ever expected. "People would have physical healings in front of the paintings, and they would write to share that they had had a salvation experience and had come to know Jesus while standing in front of one of these paintings. People who were in deep despair and depression got hope through the paintings. People who went through mild times of stress had a new sense of purpose in their lives." Kinkade concluded, "It began to be obvious to me that something bigger than me was happening here" and that "God would touch people through these paintings." This should not have been surprising, he said, because "all created work" is a form of "communication with another person."
A painting is an especially powerful form of communication, Kinkade suggested, because "It is a permanent part of the home … You are looking at it continuously." He said that continuously gazing at positive images is part of the important work of "guarding the heart" since the Bible says, "As a man thinketh in his heart, so is he."
Kinkade's words, spoken earlier in his life, have a haunting tone to them now, in the light of his last years.