On Monday, April 16, The Hill Times (THT), the tabloid that serves up sumptuous political and policy fare for the several thousand people who toil in and around Parliament Hill, did a story on what the Parliamentary Press Gallery might do or not do, when renovations begin to the Centre Block in 2019. (To readers outside Ottawa, the Centre Block is where the Peace Tower is.)
THT reporter Laura Ryckewaert did the story and took the accompanying photo, which I have reprinted with permission below.
I am using it as a takeoff point to fill in OttawaWatch readers with information about the place where I have done much of my work the past 14 years and introduce a few of the people who work as journalists within a few feet of me, in this place that has been traditionally known as The Hot Room. The rest of the story is below the photo.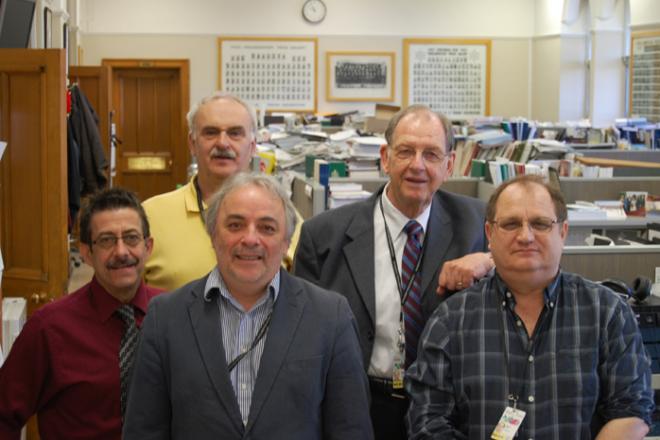 Above is the photo Laura took, of four of the journalists and one Press Gallery staff member who happened to be in The Hot Room on the day she had her camera handy. From left, rear, are Alex Binkley and yours truly. In the front row, from left, are Pierre Girouard, Paul Gaboury and Mark Bourrie. The story can be accessed at 
www.hilltimes.com
. You may have to sign up as
an online subscriber to read the whole story.The people in this photo, among them, likely reach somewhere over 100,000 readers each week. Binkley and Bourrie have work stations adjacent to mine.
Binkley's journalistic specialty is the political/policy side of agriculture/agribusiness. His work can be most easily accessed at www.ipolitics.ca. He has been in the Gallery since 1975. An interesting bit of trivia is that he is a graduate of Queen's University. One of his profs was sometime Queen's history department head, the late, great George Rawlyk, a Baptist minister and historian who, himself, chronicled Canadian evangelicalism and the social gospel. (Alex often congenially refers to the stream of Christians with which I most closely identify as "you 'vangecals."
Bourrie is a military historian with a PhD in the field. His book The Fog of War: Censorship of Canada's Media in World War II (Douglas & McIntyre 2011) has been selling very well. Intriguingly, he usually occupies the work station assigned to Xinhua (pronounced Chinwha) News, the Chinese government news agency. He is not with the agency but they and he have worked out a co-operative desk-sharing arrangement.
Pierre Girouard is one of the Press Gallery staffers. He is one of a staff of about a dozen who manage the Gallery and its two press theatres and serve the elected Gallery executive in keeping the room and its other facilities operating smoothly. The Hot Room is just steps from both the House of Commons and Senate chambers which both have galleries for media immediately behind their respective Speaker's Thrones. The Gallery is, in effect, hosted by the Speaker's Office, according to British Parliamentary tradition.
Paul Gaboury does his journalism for Le Droit, an Ottawa-based French-language daily paper which was initially established in 1913 by the Missionary Oblates of Mary Immaculate (OMI). Through the years, it has had a range of publishers, including Conrad Black. Since 2001, it has come under the proprietorship of Power Corporation, headed by the Desmarais family.
One person I should mention, who was not in the day the photo was taken, is Deborah Gyapong, who writes mostly for Canadian Catholic News. She has a work station adjacent to mine and has built a considerable reputation for faith-based journalism and commentary, mostly in Catholic but also in Protestant faith-based media.The Hot Room itself, is long and narrow, with Gothic windows overlooking the Ottawa River and the National Gallery. At present, 22 full-time reporters – out of a total Gallery membership of over 400 – occupy work stations in the room. Phone banks, mail boxes, internet connections and a variety of other services are available in the room. Most of the other members are housed near The Hill. They work mainly for the large agencies or media outlets, like CBC, Sun News, CTV, Post Media, Globe and Mail and the Toronto Star.
You will note, if you examine the photo closely, large rectangles on the walls, filled with small dots. Those are the photos (head shots) of the Gallery members during various periods throughout the Gallery's history. For a long time, the 1960 members' photo group hung on the wall over my left shoulder. In the bottom row was Peter C. Newman, sometime editor of Maclean's Magazine. Feared, respected and sometimes hated as he was, I always felt like he was staring over my shoulder at my copy, like a pierced-eyed editor, looking to correct every mistake. In fact, my one encounter with him – in print, not in person – was when I wrote my book about Ernest and Preston Manning. I was terrified when my publisher told me Newman had written a review about the book for Maclean's. To my relief, he actually apologized in print for having previously knocked Preston's religion, and said that reading the book, in part, had prompted the apology.
Readers and others who have known me for a while sometimes ask how I can survive in The Hot Room, working alongside journalists who they would expect to be anti-Christian. I have to say that I enjoy the atmosphere and do not find myself to be persecuted. In fact, faith (and doubt) often surface in conversations in such a way as to give the gospel a fair hearing.
On a professional level, we help each other out when we can. And we respect each other's privacy when they are chasing stories which require confidential dealings.
*  *  *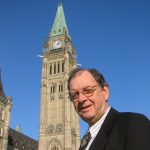 Lloyd has begun work on his doctorate in ministry through Tyndale Seminary in Toronto. He hopes that his thesis research will relate, in part at least, to the role of faith-based organizations in meeting community needs.  He welcomes your feedback into his research through responses to his OttawaWatch columns posted on  canadianchristianity.com.  Please respond in the comments section of his columns, or directly e-mail Lloyd.  Thank you.