Toronto — Some churches believe the moment has finally arrived when poverty is about to mix with politics in Canada, and they say the faith community wants an invitation to the party.
As Ontario's Liberal government begins planning for a year of province-wide consultations on what a provincial poverty reduction strategy should look like, the federal Liberal opposition has announced it will commit to cut poverty by 30 per cent over five years if it forms the next government. An Ipsos-Reid poll for the Daily Bread Food Bank has found that 45 per cent of Ontarians believe poverty reduction should be a high priority for government. Poverty reduction plans with hard targets and agreed measures of poverty already exist in Newfoundland and Quebec.
What's missing from this picture? The federal government, said National Anti-Poverty Organization executive director Rob Rainer.
"There's a huge role for government here. On the federal side we certainly have not seen recently any strong recognition of the problem, or determination to do anything about it," Rainer told the Catholic Register.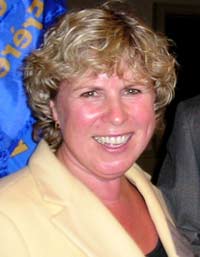 Ontario Minister of Children and Youth Service Deb Matthews plans to use a year of poverty reduction consultations in the most populous and seat-rich province in Canada to try to force the federal government's hand. Provincial poverty reduction plans are important, but they will work much better in the context of a national program, she said.
"We need everybody at the table on this," Matthews said. "We need the federal government."
Matthews has been put in charge of co-ordinating a multi-ministry effort to produce Ontario's poverty reduction plan in time for the 2009 budget. She took an hour out from setting up the civil service team that will schedule and lead consultations to speak to an organization that's been itching for a hearing on poverty for 20 years.
"This is my dream job," Matthews told the people who run church-based food banks, social housing and community development organizations at the semi-annual Queen's Park gathering of the Interfaith Social Assistance Reform Coalition (ISARC).
Matthews asked ISARC to be ready when the provincial consultations begin. She wants the faith communities to make a strong case, grounded in the reality church agencies have been dealing with since welfare cuts in 1995, for a truly comprehensive plan to lift people out of poverty.
"I will need your help along the way," she said.
Starting in the new year, ISARC will be better financed than it has ever been to lobby government thanks to the Atkinson Foundation. The Toronto Star's charitable arm has granted ISARC $45,000 a year for each of the next three years to bolster and sharpen its lobbying acumen. For the first time the coalition will have a full-time staffer to organize efforts of the province-wide network which represents a wide spectrum of Christian churches, plus a healthy selection of other faiths.
Atkinson Foundation director Charles Pascal is also hoping the distinctly grey-haired, pale-skinned bunch begins to more effectively represent the variety of faith communities and cultures in today's Ontario.
"It's extremely important that a progressive, faith-based network get stronger and stronger," Pascal said.
Ontario's Catholic bishops were scheduled to meet November 15 to discuss the social apostolate, and they planned on talking about ways to be ready for provincial poverty reduction consultations, said Ontario Conference of Catholic Bishops general secretary Alphonse Ainsworth.
Catholic Charities of the archdiocese of Toronto will be eager to get a chance to tell the provincial government how to reduce poverty, said executive director Michael Fullan.
"We're going to sustain it. We're not going to meet just one time," he said.
The churches could and should be a big part of shaping a national anti-poverty consensus, said Rainer.
"At root this really is a moral issue," he said from Ottawa. "It goes to the fundamental core of the kind of society we want, and a lot of that moral argument can come from the faith community."
Economist Armine Yalnizyan told delegates their job is to persuade people they shouldn't expect to see the destitute homeless on their streets, long lines at the food bank or children failing at school because they're living in motel shelters and eating junk.
"What we are talking about isn't economics. We are not talking about fiscal politics. We are talking about culture," she said.
Faith communities are going to have to be much more persistent and consistent in lobbying on behalf of the poor if they're going to win the coming poverty debate, Yalnizyan said.
"The war to reduce poverty is not just about child poverty, not just women's poverty, not just disabled poverty — it's everybody's poverty," she said.
— courtesy of The Catholic Register. Please do not reprint without permission.