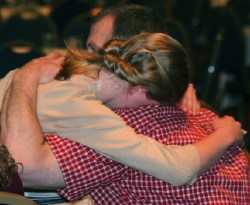 Last week, I told a story that a 36-year-old mom shared with me about how she finally forgave her abusive father for his unspeakable behaviour toward her when she had been a young teenager. She told me how, when she finally did forgive her dad, she'd felt a notable freedom from the weight she'd been carrying for more than 20 years.
I ended my article halfway through her story. After explaining to me about releasing her father from her judgment, and feeling her own freedom, the lady continued.
"Another very strange thing did happen about three months after I forgave him."
"What was that?" I asked.
"My sister called from Saskatchewan, where she and my father still live. She said to me: 'You'll never guess what has happened to dad over these last several weeks! He's been so crippled up with arthritis through his sixties that he's been in constant pain. He's been miserable, even more than normal. But about three months ago, he began to feel better. I can hardly believe the change. It's like he's been let out of prison, and is free for the first time in years."
The effect was dramatic in both of their lives. When the young woman forgave her dad, even though she didn't tell him what she'd done, each had independently experienced an amazing feeling of freedom.
Before I go on to explain why I believe that young woman and her father benefited from her grace-filled forgiveness, let me interject that by forgiving someone, I am not implying that they are guiltless or should not be punished. For example, if a drunk driver runs into your car on the freeway, and causes you not only financial loss, but damage to health: I am saying that we would be wise to forgive him, but he should still suffer the legal and financial consequences of his carelessness. In the case of a man who has illegally and immorally abused a child, I am advocating forgiveness, but not discounting the rightness of him paying legal consequences.
Victor Frankl, a Jewish psychiatrist, had been imprisoned by the Nazis during World War II. He literally lost everything during his torturous incarceration. His wife and children had been taken from him; also, his profession; every material possession, and his human dignity, were all lost. But Dr. Frankl wrote later in his memoirs, Man's Search For Meaning: "The one thing that no one can ever take from us is the freedom to choose our own attitude." No one can make us mad, sad or glad. We alone get to choose our own response to what other people do to us or say to us.
Here's how it works.
When someone does us wrong — whether it's an ugly comment, an immoral money transaction or the infliction of actual physical harm — we have a choice as to how we will respond to his wrong deeds. We can choose to forgive them, or we can refuse to forgive them. We are not in control of the other person's actions, only of our own.
What I've written is enough to chew on for this week. Next time, I'll finish the story my young friend told to me.

Barry Buzza is the author of 12 books including The Red Thread, Life Center, Life Journey and Life Purpose . He is a veteran Canadian pastor and a regular columnist with his local paper. http://www.barrybuzza.com/books.html